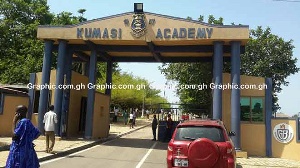 Finally, the health authorities have confirmed that there is an influenza outbreak at Kumasi Academy School. The health Minister assured Parliament that his Ministry was in discussions with the WHO to obtain vaccines for the students and staff of the school.
It appears obvious that there was no plan in place to tackle the outbreak, which killed 4 students and has left another 18 students on admission.

While the plans to vaccinate the student body is appropriate, have close contacts of the dead and the sick been identified? How and where are these been monitored?

Are there plans to provide them with chemoprophylaxis?

In March of this year, 4 students of the same school were reported to have died of Meningitis. If this report is accurate, what measures were taken before the students returned to school?

In an interaction with the Press, the Minister of Health indicated that the President had been exposed. Who determined the exposure?
If indeed the President was exposed, what steps have been taken to safeguard his health? Why was he permitted to go to the campus when there was an outbreak whose source had not been determined? Why was it deemed safe to have the school's anniversary celebration during the outbreak?

Finally, too often, we do not learn the right lessons from such events. Hopefully, our authorities would develop a policy to handle such occurrences in the future.

May God comfort the bereaved families.

Arthur K