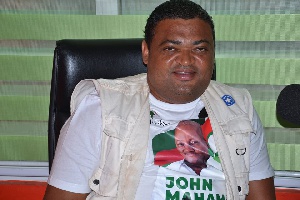 Joseph Yamin is a man being sponsored by John Mahama to become Ashanti regional chairman.
The same guy who gave our government the biggest embarrassment as deputy sports minister at the World Cup in Brazil with the crude pronouncements and money movement activities that made Ghana look foolish in the eyes of the world.

The same person who did nothing to help us increase votes in the Ashanti region but as per his brand, was able to lie time and again to make money of the gbudungbudu of 1.5 million votes in Ashanti and managed to go on TV to bet that NDC will win the 2016 general elections.

Repeatedly, I've said John Mahama does not believe in what's necessary to win. His strategy for victory is exactly what he's executing - scheming. I've always warned their plan is to overwhelm the process with money.

Yesterday I wrote TBC because I was getting information that was so upsetting that I really needed to confirm with multiple sources and it turned out to be true.

There was a meeting at the party HQ where potential aspirants were asked to raise 1 million each for the party. Think about that.

These are not even declared candidates. If simply expressing potential for candidacy can subject you to such a demand, can you imagine what the party may ask candidates to pay for nominations?
The only person who I understand has arranged to make his available as early as today is....you guessed it. This early in the game?

All our financiers are on standby because the executives who will take us to battle are yet to be elected but the current executives are comfortable with the delay tactics as long as they are being fed by the chosen one.

The now chosen one was a tenant who rented his residence at Dworwulu prior to ascending the vice presidency and he's now so rich, he's the only one who can finance the party.

Yet, beyond the demoralizing defeat, his legacy as president and leader of our party for 4.5 years is that months after the elections, we are so broke we can't pay basic bills like electricity and we have to go to his cap in hand and beg for alms.

Prof (RIPP) gave us the party's headquarters in the shortest amount of time and before passing on to glory. Mahama gave us opposition and bankruptcy. Let's shine our eyes and put party first.