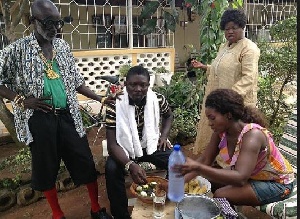 The Ghanaian Movie industry is certainly booming. And Kumawood, with its star actors Kojo Nkansah,Agya Koo and Nana Ama MacBrown, are obviously the main movers and shakers.
Not that I am an ardent fan of the Kumasi made movies, but the evidence of the extent of influence Kumawood has over Ghanaians abounds in the provision stores lined along the dusty road to my house. Come and see young and old jostling for positions in front of the stores; ostensibly to get a better view of Agya Koo and Co on set.

Talking of influence, it is just as relevant to look at the themes of these movies. Having been compelled to enjoy these movies on journeys on the Accra-Kumasi route, I have witnessed a superstitious scenes in almost all the movies.

These scenes are usually depicted by people consulting and asking for juju from a fetish priest; persons engaging in some rituals and men of God fighting evil spirits.

A persistent dose of these movies dished out to Ghanaians on daily basis would definitely have an effect.

And more to the point, when these movies are most enjoyed by children, literate illiterates and absolute illiterates, then the effect would be enormous, for better for worse.
And as we travel periliously on this journey of unregulated irrational emotive adventure, the obvious beneficiary is the 'pray for me' pastor.

For these movies re-enforce and concretise our natural superstitious beliefs. And with so many socio-economic ailments afflicting us, why would one need pausng before ascribing his misfortunes to powers beyound our horizons.

Then the pastor steps in. He has been annointed by God to cast away evil spirits. And we, especially our women, would frock to T. B. Jushua to seek devine intervention.

And the cycle is complete. Kumawood, Superstition and T. B. Joshua!