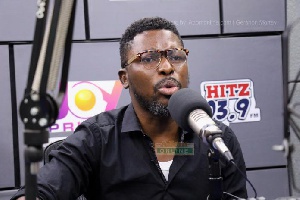 The self-styling cum self-deceiving general election winner maker in Ghana, who is a similitude of a traditional kingmaker, Mr Asare, alias Kwame A-Plus, is clearly an insatiable greedy opportunist.
A greenhorn in the political arena as he is, with a warped mind-set, he believes to have the power to decide who the president of Ghana becomes and who should not; and which political party wins a general election and which one goes into opposition. What a laughable political opportunist overflowing with hallucinatory quest for riches, power and fame, he is!

There is no doubt in my mind that he is lividly avid for power and riches by choosing to be a shameless political prostitute, jumping from NDC to NPP and back to NDC, depending on how best he envisages to milking not only the political parties but also, the nation. This is the personality I am discussing as Ghana is currently putting up with.

I had been listening to, and watching, some of his podcasts posted on YouTube and on Ghana internet news portals. Not long after NPP won election 2016 in which he was no doubt an active canvasser for the party, he began to take some appointees of the NPP government and the entire party to the cleaners. I became suspicious of his actions which are unfamiliar with a person seeking to correct mistakes but are the characteristics of someone maliciously seeking the downfall of his targets or victims. His bitter criticisms have not been constructive, thus, done in good faith but are obviously destructive, thus done in bad faith.

As the truth will always out, no matter how long it is kept concealed, the lid has been blown off the head of Kwame A-Plus thanks to the ingenious work done by Kwame Baffoe, alias Abronye DC, the Brong-Ahafo NPP Regional Chairman doubling as an NPP Communicator.

If the allegations adduced against Kwame A-Plus by Abronye DC as found in the underlying audio were true, then A-Plus could not be anything less than a greedy bastard, the lot of whom are making Ghana poor and difficult to govern.
He has become like the proverbial Akan "anomaa kokonekone" that goes to the upstream of the river to muddy the water then rushes downstream to ask who has muddied it. He selfishly engages in dubious acts that have the potency to render the economy poorer to make the nation unpalatable to majority of Ghanaians then he comes out to point accusing finger at the president, ridiculing his style of governance; accusing him of total failure.

Going by Abronye DC's allegations against A-Plus using the First Lady's (Mrs Rebecca Akufo-Addo) name to clear imported goods belonging to people that consult and collude with him to evade paying the required, but lesser, amount of, import duty, is fraud. He is understood to assist people clear their imported goods from the nation's ports at reduced payment of import duties, on condition that they pay him a share of the actual duty money they would have paid. This actually constitutes duping of the nation by him.

How can such a person be credible enough to point a finger at others accusing them of corruption? By using someone's name without the person's knowledge and approval to facilitate his swindling of the State is a criminal offence. Does he know that he is a criminal?

By the way, does the nonsense of some importers using political party's membership card when the party is in power, to clear their imported goods from the nation's ports without paying import duties at all, or paying a fraction of the import duties due according to honest assessment still ongoing in Ghana?

I once wrote about this canker when some NDC party members were involved in such malpractices. If Kwame A-Plus had been able to do so using the First Lady and other top NPP members' names to defraud Ghana as alleged, then the hype about fighting corruption at the ports with all the much touted "import duty payments going, or gone, paperless" is a mere political gimmick! Much ado about nothing!
If people are still able to find means to deprive the State of money that should come to her, by collusion, connivance and condoning as purportedly taken place between Kwame A-Plus and the importers on one hand, and the Boss of Ghana Revenue Department on another, then the fight against corruption has failed at the porters.

Has the First Lady been made aware of how Kwame A-Plus had been using her name to dupe the nation by not letting certain importers he deals with pay the required amount of import duties on their goods? If yes, what measures has she taken if she had not asked Kwame A-Plus to use her name to illegally enrich himself?

Again, who has authorised the Ghana Revenue Authority to reduce import duty payments for certain categories of persons in the nation of whom the First Ladies, Presidents and top government members and governing party membership card holders are inclusive?

Could there be any such tax exemptions or rebates that Rockson Adofo, the fearless no-nonsense son of Kumawu/Asiampa is not aware of?

Kwame A-Plus, your cup is full, if it is not already overflowing. You must thank your stars that my plate is already full or else, I would have taken you on, as corrupt and greedy individual as you are.
For how long should we allow you to throw dust into people's eyes, accusing all others as corrupt but yourself?

I leave with you, Kwame A-Plus, a bible verse in Matthew 7:4-5 - 4How can you say to your brother, 'Let me take the speck out of your eye,' while there is still a beam in your own eye? 5You hypocrite! First take the beam out of your own eye, and then you will see clearly to remove the speck from your brother's eye.

Hypocrite Kwame A-Plus is paying the price at the hands of Abronye DC!