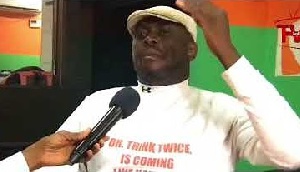 The Chief Executive Officer of Think Twice Foundation Ghana, popularly known in the country as Dr. Think Twice, a leading campaigner against societal pressures in the country, is calling on government and various bodies, to help his outfit tackle societal pressures in the country. Societal pressures are the real problems confronting the country and the entire Sub-Saharan Africa.
DETAILED DESCRIPTION OF PROBLEMATIC STATEMENT (PRIMARY)

Provocative culturally induced questions, when will you marry? When will you give birth?, does your manhood work?, prove it; how fertile are you?, prove it; how responsible are you without a spouse or a child?, don't you think men waste their sperms on you, you can't produce?, wont you give birth to males or females and millions more? These are the primary sources of pressures. This is because, without human beings, we wouldn't have society and these quarries are serving as entry point of many unplanned born children into the system.. The secondary aspects are Your friends are travelling to Libya, why don?t you join them, your friends have permed hair, what do you wait for? You have been working for years, you still use an old phone, why are you without a house, a home, a nice car, a per of shoes, cloths, you have been a minister, you couldn't put up a house, aren't you useless, look at you, you couldn?t buy a good car and millions more" are huge pressures, despite good reasons society has for doing so.

Consistent, reminder disturbs and destructs the human brains. It provokes when it's due to inducement stage. We shouldn't forget, provocation is always in the state of the mind... The fundamentals, when will you marry, give birth, does your manhood works and others are major factor to many unplanned born babies, and whatever affects majority of children negatively affects the entire society. Society shouldn't forget, is also recipe for corruption, inefficiencies in our systems in our society, armed robbery derailment and killing of many talents in children, collapse of jobs and business, sometimes leads to suicides, shoddy works, our inability to tap our natural resources. Dangerously, it affects quality leaderships, Ghana and sub-Saharan African countries over-reliance on foreign support, and millions more stems from these pressures.

With emphasis on the primary, since the culture of the African is strongly built on birth, dependence on children, by parents?, family relations and as a future security, it has become suicidal for many to resist it. The questions are traced from our forefathers, as an encouragement to induce the individual to marry or give birth. When the African society asks the individual to marry, it is never specifically the marriage they look for, but the ultimate, children; for the purpose of procreation as God demands. On the other hand, it has consistently been applied on the individual to marry and have children for the benefit of having them assist on farmlands, inheritance and other useful purposes during our forefathers.

The questions have come to stay and have developed into a more sophisticated societal environment, built up with other millions forms of pressures such that, its negative effects on persons, families and importantly children, has overtaken its usefulness to some extent. Considering the fact that many people in Sub-Saharan Africa still live in abject poverty, talents of many children cannot be nurtured as a result of the vicious cycle and level of poverty the pressure helps to create. In our modern world, managing talent has a direct link with expenditure; that is money.
There are ever increasing social problems which are created by these same humans and many of them are mostly built up from childhood as a results of the extreme pains many of them go through. Parents and many children born out of these pressures are mostly affected and they are the majority. Those who are largely affected are; yet to be parents, that is the youth, those who have just entered into marriage, parents themselves, those who have entered into marriage for a period and have no child or children. Lastly, those who have reached certain age and are either not married or have no baby or babies.

Do not forget, some children also pressure their parents to have their brother, brothers, sister or sisters. Both the primary and secondary forms of pressures have never helped built a better system of society till date.

AWARENESS CREATION

Our outfit created the awareness, through the use of banners, which were tired up at all vantage points throughout the central business of Kumasi, the second largest city. This drew little attention from the public and the media.

We, the Chief Executive Officer devised another plan, by climbing heights of status and overhead bridges both in Accra and Kumasi. These also drew little attention from the public and the media.
PROMPTED SUICIDES ACROSS THECOUNTRY-JUNE 25, 2015

On the above stated date, a strategic prompted suicide was carried out in the Ashanti region. Massive crowd together with the media pulled up. The police came to arrest me, CEO, both the media and public followed up. I was sent to Zongo police command, where I was charged for an offence of, attempted suicide. I was finally cautioned and discharged after I gave an account of my intention. I had the media attention that I was looking for. I have, however, intensified it in all ten regions. What?s currently at stake is, campaign and education which might be followed by employment. The masses need to be educated on the dangers of the pressures for the development of the county.

SPRING BOARD FOR THE CAMPAIGN AND EDUCATION

Society mounted undue pressures on my sister, she got married to someone she never loved, got divorced, depression set in and she died. It came to a time, society was and is still applying same pressures on me to marry and have babies and other forms still persist, which are completely none productive. Negative societal pressures are nothing, but amounts to mental enslavement. There is urgent need to intensify the campaign and education across the country for a better society and the country in general. Is about time to be parents study child behaviour for the purpose of unearthing their potentials for a better society

We are therefore appealing to the above concerned bodies to organize and get involve with required logistics to make this dream a reality.