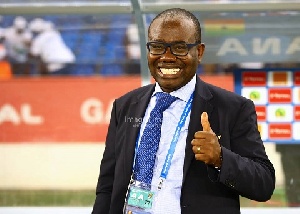 When you listen to Ghana's FA President talking about our league, you will be forgiven to conclude that the Ghana Premier League is the EPL.
A couple of months ago, even with no idea when our league was going to start, the GFA boss whose major interest is to grab every available football related position on the continent said the Ghana Premier League is one of the best organised leagues on the continent.

As if that was not ridiculous enough, today, he is telling the whole world that Ghana's player registration system is so unique and efficient than the English Premier League and Scottish Premier League have written to the Ghana FA to come and learn how our player registration systems work.

His words

"English and Scottish FA have written to the Ghana FA to learn how our flawless player registration system works. FIFA refers several countries to Ghana to learn how we are able to register players that has minimized unqualified player issues. Since we instituted this system, we have reduced protests in the Ghana League and that is why they want to learn"

Yes, from Kwesi Nyantakyi, the English FA, whose player registrations system has ensured that not even one player has been wrongly registered to call for protest over a decade will be coming to study ours which has reduced and not necessarily eradicated erroneous registrations. A league which has never seen a point deducted from a club for fielding unqualified players in a decade will come to understudy how we manage to set up a system of player registration that ensured that Cudjoe Mensah is registered as Daniel Gozar. The resumption of the league's season delayed because Olympics sued the FA and some clubs for fielding unqualified players.

It is sad that at a time when the Ghanaian people are on the verge of giving up on the league, the man who has the duty and power to make the league exciting and profitable is behaving as though he has met all expectations with nothing more to prove.

I am not saying that the FA President should speak negatively about the league in public: he should be seen to be making effort to back those claims because, at the moment, they are empty and insult to our intelligence as a people who wake up to a poorly managed league that struggles to raise sponsorship and produce players for our national team.

We want a quality league and that can't be achieved with empty rhetoric.
It is almost a decade since a Ghanaian team made a meaning impact in the CAF Champions League and Confederations Cup. As we speak, our representatives, Kotoko and Aduana were kicked out after two and four round of matches respectively.

The 2017 Ghana Premier League winners received Thirty Thousand Dollars as price money, exactly 30% of what was given each Black Stars player for appearing in the 2014 world cup.

The last time any of our teams reached the money zone of the CAF Champions League. the Ghana Cedis was less than 1.5 to a US Dollar.

As it stands, Mr Nyantekyi is the only one benefitting from Ghana Soccer. He is on a post grabbing mission and the only way he can get to international prominence is to overrate his achievement in Ghana soccer when in reality he is done little if world cup qualification is placed in the context of coefficient

Apart from using his invention, 'co-efficient' to make it to the world cup, Kwesi Nyantakyi has proven to be a man without a plan for Ghana Football.

For a country that has been in the abyss of Club Football for over a decade, the logical thing to do would have been to draw a development plan, set a target and pursue it vigorously.

Unfortunately, we have an FA boss who runs our football as a Sole-Proprietor and surrounded himself with cheerleaders. When common sense rains on a disciple and he starts probing, then he'd find a way to push him out.

To add insults to injury, our President, Nana Akufo Addo gave a clear indication that he wasn't going to poke his nose into the affairs of Kwesi Nyantakyi and his FA. That alone has given him a firmer grip on his position.
This is an FA that sends its budget to the government of Ghana, if we cannot hold them accountable to the government of Ghana, then some things don't add up.

Soccer is now business, we can earn more foreign exchange from football than cocoa and gold put together. Unfortunately, we still sell players abroad for Three Hundred Thousand Dollar, less than what Asamoah Gyan earned at UAE and China every two weeks.

As we speak today, talents in Ghana are travelling to Congo to seek greener pastures. This should be an embarrassment to the FA but they remain unperturbed. After all, money still flows into their accounts in the name of Ghana soccer. After all, they can still sign sponsorship on behalf of clubs without revealing key details to them.

When a club owner asks questions and pushes them to be accountable, his club miraculously gets relegated.

As a people and lovers of football, a people who'd want to spend our Sunday Afternoons with family and friends watching football at the stadium, we want to see change, we want to see a conscious effort to make our league attractive, we want to see professionalism and adherence to best practices.

Almost every league season doesn't begin according to plan due to unresolved litigations from the previous season.

Club managers got to know the date for the first round of matches in the 2018/2018 season five days prior. This cannot continue.

Every aspect of our league is on its knees. Local players used to be stars in this country. Some fifteen years ago, JHS students could mention the name of every player in Kotoko, Hearts, Goldfields and what have you. Today, the players walk the street like yoghurt sellers with no 'fans' to take home. This is what happens when you kill the joy of a people towards something they cherish: they'd begin to treat it with indifference
Dear Mr Nyantakyi

You have paid your dues for Ghana Soccer with the qualification for three world cups and winning the under 20. Even though you narrowed most of those successes down to the 'efficacy' of coefficient which was confirmed when government refused to open the purse by failing to win a single qualifier at home, we admit that qualifications remain the highlight of your leadership.

However, fact that we were unable to beat even one of Uganda, Congo and Egypt at home should tell you the terrible state you have left our soccer. Unfortunately, you remain at post and change coaches despite knowing that if we don't produce quality players locally, we can't get the right material for our national teams regardless of who coaches us.

We saw how we benefited from the late Ben Kuofie's five years development plan that was laid down in 2001. It was that plan that gave us players like Essien, Muntari, Laryea Kingston, Derek Boateng and the core of the team that qualified us for three world cups in succession. The late Ben Kuofie did not get much plaudits in his time as the FA boss but he laid all the foundation and made world cup possible when you applied a little 'co-efficiency'. You have no plan beyond world cup and this explains why soccer at levels is on its knees.

About the UK and Scotland propaganda, sir, if a league like EPL would want to learn anything about our league, it could as well be about how we managed to make it so poor in the face of many best example to learn from. That is the only thing that can give us an international focus as things stand. In fact, even Ghanaians are in awe about how your FA managed to achieve that.

This is the time to move on so that new people take over. We are tired of empty PR gimmicks that bear no resemblance with the deplorable league we have in this country. This is why you try to brag your way out and make wild intangible claims about the success of our 'failed' league.

Thankfully, Ghana Soccer has placed you highly in International football, you hold enviable positions at FIFA, CAF and WAFU because you succeeded in convincing them that all is well with our soccer due to your able leadership. We'd pretend that is true.

Don't you think it'd be better to reciprocate by leaving for or a different brain to take over and if nothing at all finally collapse it for us? It should always be you, there are many people in Ghana who can do worse than you and they deserve their chance.
In other jurisdictions, I mean in countries where people resign after spectaculars failures, you'd have resigned after the Brazil debacle.

But this is not other jurisdictions, this is Ghana, where people don't resign on the back of bad result and consistent failures: we push them out or beg them out.

Taking a cue from Nana Addo's response to Songo, we'd opt for the latter: please, we are begging you out.

isaackyeiandoh@yahoo.com