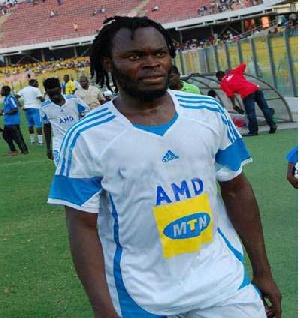 Inasmuch as some people may make the assertion that comparisons with the foreign leagues should not be made when discussions centre on the Ghana Premier League, goal scoring comparisons are definitely inevitable.

For instance, Luis Suarez has scored 9 goals in 6 league games in the English Premier League whilst Sergio Aguero leads the EPL charts with 10 goals in 12 games; Giuseppe Rossi leads the charts in Italy with 11 goals in 13 games and Atletico Madrid striker Diego Costa has 14 goals in 14 games; three behind Cristiano Ronaldo.


Meanwhile, after 12 match days in the Ghana Premier League, Sulley Mohammed of King Faisal leads the goal scorers' chart with, wait for it, five goals.


Clearly there is a serious problem with goal scoring in the Ghana Premier League. Indeed, the league leaders Asante Kotoko and archrivals Hearts of Oak have each scored 14 goals in 12 games this season and believe it or not, that is the highest number of goals scored by any team so far this season.


Goals are indeed the lifeblood of the game and it is astonishing that for a nation thought to be packed with footballing talent, finishing off chances still remains a major challenge in Ghana.


There are many occasions during my time as a commentator where I have been taken aback at times by the poor level of finishing during games. Chances that are easier to score than miss are not taken and most teams end up playing all the good football but fail to do the most important thing; score a goal.

True, Emmanuel Baffour may have scored 21 goals two seasons back and Mahatma Otoo scored 20 last season, but those two are fast proving to be a temporary exception, rather than the rule. I use the word temporary because neither striker has managed to establish a foothold in the Black Stars, and whilst Otoo is getting game time with Sogndal in Norway, Baffour is fast slipping into obscurity after a failed spell at Mamelodi Sundowns.


All of this leaves me asking the question; what exactly is wrong? Why are our strikers not good enough? Is goal scoring an almost impossible art to master, considering the sort of goal scorers we have had in the past, such as Wilberforce Mfum, Edward Acquah, Peter Lamptey, Opoku Afriyie, Kwasi Owusu, Dan Owusu and in recent times Ishmael Addo? Have our coaches stopped working on perfecting goal scoring in their various teams? Is there a sudden dearth of goal scoring talent in Ghana now?


There is the school of thought that too much emphasis is placed on 5-a-side games when a player is developing. As a result, football players end up becoming proficient in maintaining possession and tackling, rather than scoring.


Ghana's strongest component at the 2006 World Cup was its midfield and under Kwesi Appiah, the same thing is happening again. About 90% of our star players are midfielders and very few are goal scorers.


Indeed, Inter Allies head coach Herbert Addo made a profound comment the other day when he said, "I don't want strikers; I want goal scorers." What Addo meant was that he just wanted goals from those who can score and not necessarily players passing themselves off as strikers. In short, he was indirectly bemoaning the fact that goal heroes are at a premium.

Top football analyst and coach Nana Kwaku Agyemang believes that not enough work is done on goal scoring in training by the coaches.


"Most of the training sessions you see these days consist of having 11 v 11 games and there is not enough work done on crossing the ball to the feet and heads of strikers to finish off. Strikers tend to go for power instead of precision and it is more of a case of hit and hope more than anything."


The UEFA License B holder thinks that to begin to try to fix the challenge, an academy for strikers could be set up to identify and help those with an eye for goal.


"Ali Jaraah was able to establish an academy for goalkeepers and I believe that Tony Yeboah can do something similar for strikers. He scored goals in his day and so he should be in the position to do something about that."


Perhaps that is just one out of a plethora of solutions to look out for. For instance, players in Ghana are not very adept at shooting with their instep or the side of their foot. Most players will hit it with the front of their toes or the cleft between their feet and shins. Decision making in front of goals is a real problem and perhaps it is time for the Ghanaman Soccer centre of Excellence to be transformed from a glorified camping centre for national teams into a school for players.

Courses like How to shoot with the weaker foot; Heading the ball effectively; hitting the ball with the instep; Decision making in front of goal; Movement with and without the ball can herald the start of an improvement in front of goal for our strikers.


The fact that local Black Stars head coach Maxwell Konadu is utilizing attacking midfielder Yahaya Mohammed as the lead striker for the team during the ongoing West African Football Union (WAFU) is worrying because it somehow betrays a lack of trust in out-and-out strikers in the Premier League.


Coaches need to do more on finishing on the training ground and perhaps it is time for the technical committee of the Ghana Football Association to begin to dream up ways of improving on the finishing of players.


Medium-to-long term, that is what will improve Ghana football in the long run.