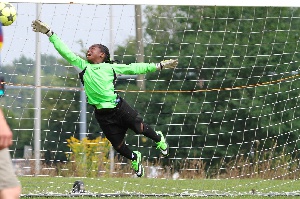 Sat, 12 Oct 2013 Source: Reuben
Lauren Amponsah Boafo, affectionately called "Super Goalie" by her parents in soccer circles is the first of two daughters to Victor and Emelia Boafo, with her little sibling being Vanessa Sakyibea Boafo. Lauren is 10 years old and a 5th grader at Greenbrook Elementary School in Hanover Park, Illinois where she excels academically. Her hobbies include solving Math problems, reading, learning different National Anthems, playing the clarinet, playing video games with Vanessa and swimming. Beginning of the school year in August 2012 when she expressed high interest of being a soccer goalie.

She returned from school one Thursday afternoon and said to her parents, "I've been playing soccer goalie at school during recess and I am very good at it, so today, my friend Mia said she would ask her mum to call their coach to find out if I could try out for their soccer team. This is my dream come true!" About an hour later, Mia's mum called and said Coach Dino of FC Panthers Barcelona would like Lauren to come for try out that same evening since the team trains every Tuesday and Thursday evenings. Without any goalies kits, she borrowed Mia's spare cleats and shin guards for her try out, and she really impressed both the coach and her team mates with her fearless approach in attacking and diving to save incoming balls. She immediately became the only goalie for FC Panthers Barcelona (U10) Girls team since they did not have a regular goalie.


FC Panthers Barcelona (U10) Girls team was already prepping to contest in an upcoming soccer tournament the coming weekend in Elgin, Illinois, scheduled to start on Saturday. Coach Dino asked Lauren if she was confident and eager to play goalie in that tournament which was only two days away, and her response was a big yes! Her coach immediately sought for her biographic information and document to begin the process of registering her with the Illinois Women's Soccer League (IWSL) in order to make her eligible to play in the tournament, and by the close of Friday, Lauren's registration card was completed and she was officially a registered player with FC Panthers Barcelona (U10) Girls team. Lauren played very well in all four games in that weekend tournament, and made some great saves to help her team to win the Championship trophy. She conceded only 2 goals in the entire 4-game tournament, while her team scored 16 goals overall.


Having won her first trophy with an impressive performance to the admiration of her coach and team mates, Lauren's confidence, determination, desire and hunger to excel increased significantly in her quest to become a "Super Goalie" in the future and nothing else. This idea felt very unusual for a 9 year old girl, because most girls at that young age always want to play in-field and do not want to be goalies for many reasons, including fear of being hit by fast travelling balls, injured when catching balls or being ridiculed by their team mates when they concede goals which could affect their morale. Lauren had a totally different mindset, and through lots of coaching sessions offered to her at home, at goalie training, through instructional goalkeeping videos and a 12' x 5' Franklin metal goal post for extra training at home, Lauren gradually began to learn the rules and techniques of goalkeeping and became serious with it. Lauren trains with her FC Panthers club four times each week in the evenings before weekend games; Speed/Agility Training (Monday), Team Training 1 (Tuesday), Team Training 2 (Thursday) and Goalie Training (Friday). According to her parents, her "visa" to attend trainings or play in any weekly league game is solely dependent on her weekly academic results and behavior, and Lauren has always excelled in both areas and therefore enjoys her goalkeeping.


Lauren's abilities in goalkeeping and the amazing saves she makes have been a shocker to many who have seen her perform, especially opposing team coaches, opposing players, their parents and people who really enjoy youth soccer. One of her best moments was a last minute dive to save a well taken penalty to deny Raiders FC Select team from tying a league game against FC Panthers with her team leading by 3-2, and her penalty save made her team winners of that game. Mr. George Golerku, a Ghanaian coach for Raiders FC Select team, was so impressed with Lauren's performance and motivated her after the game to keep doing her best. Lauren's athleticism and speed enticed her coach to introduce her to play as a striker in two games during a tournament when her team was up by a couple of goals, and in both games, she scored great goals with powerful strikes to the admiration of many but then her goals were disallowed since she was flagged offside. Having played as goalie for a little over one year with no goals to her credit as it is normal with goalies, Lauren's star shone last Sunday, October 6, 2013 by scoring her first ever league goal from a penalty kick against LFSA GU11 Select, after one of their players handled the ball in their penalty box. Lauren sought Coach Dino's approval to take the penalty kick, and when given the nod, she placed the ball on the spot, took three steps back and struck the ball powerfully with great precision into the roof of the goal net to increase FC Panthers' lead to 3-0. Coach Dino and FC Panthers fans cheered her up and her team mates run towards her to give her high-five's as she run back into her goal area. Lauren kept her focus without becoming complacent after scoring her first ever league goal, and kept a clean sheet by making a couple of saves to give FC Panthers a 6-0 at the end of the game.


Last year, in order to get more playing time to get better, Lauren took advantage of free sponsorship offered by Chelsea FC in Addison, Illinois to play indoor soccer for them as goalie. She did well and won bronze medal with Chelsea FC at the 2012-2013 Odeum Indoor Tournament. Aside playing in her regular all women IWSL this year, Lauren is also playing in the Northern Illinois Soccer League (NISL) which of one of the largest youth soccer leagues in the state of Illinois, that allows girls to play with boys in one team, and she is doing well in her team which is made up of selected players from both U11 Girls and U11 Boys of the FC Panthers Organization. Lauren's FC Panthers (U11) Girls team is currently in 4th place of the IWSL (U11-A Division), and her FC Panthers (U11) Boys/Girls team is currently in 1st place of the NISL (Classic-Central Division).

Even though it is premature to decide whether to play for Ghana or the United States when she grows up to become a great goalie, Lauren has mixed feelings. She always supports Ghana National teams like the Black Stars, Black Queens, etc. with her favorite field player being Michael Essien (Chelsea FC, UK), but at the same time she always gets worried about missing to play together with her FC Panthers team mates who will end up playing for the United States in the future. With this dilemma battling in her mind, Lauren's family has assured her of their enormous support in every step of the way in any choice she makes when the right time comes, because there are still more academic paths (Middle School, Junior High, Senior High, College, etc.) to cross until that decision making moment comes. Lauren's favorite soccer goalie is Petr Cech (Chelsea FC, UK). We all wish Lauren Amponsah Boafo the very best of luck in her quest for goalkeeping, and hope she becomes a world class "Super Goalie" for Ghana, United States and the entire soccer world in the near future.


Lauren's Trophies (2012 – 2103) with FC Panthers Barcelona:


1st Place: "2012 Back-to-School Classic (U10 Girls) Red Division Red" - Elgin Sports Complex, Elgin, IL


1st Place: "2013 Powerade Championship (U11 Girls) Gold Division" - Lemont, IL


2nd Place: "2013 Schaumburg Soccerfest (U11 Girls) Red Top Division" - Schaumburg, IL

Source: Reuben