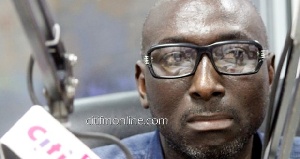 I have read and listened to so many comments and critics about the process invoked to investigate the Chairman of the Electoral Commission, Mrs. Charlotte Osei and her two deputies Amadu Sule and Mrs. Georgina Opoku Amankwah. The comments coming in are very interesting and fascinating in my own point of view.
Comments that interest me most are the comments coming from one lawyer Amaliba from the NDC, his comments are repellent and disgusting to say the list. I'm surprised and still wondering why a lawyer of his status could stood so low in the name of politics. He has established himself so well as lawyer and a practicing for that matter. Lawyer Amaliba is calling on civil society group to condemned the legal constitutional process invoked by our Chief Justice and attempt to throw nation into a confuse mode is a serious damage to his judicial career. He said ""Where are the CDDs? Where are the Occupy Ghanas? If it were to be the NDC government all these people would be speaking by now. Where is Emile Short? Where is Professor Martey? This country will burn and we will see where all of us will be and so they should continue doing it,"

Lawyer Amaliba, with all due respect, Occupy Ghana, Emile Short, Professor Martey and the rest of the civil society groups understand what it take to remove people like Mrs. Charlotte Osei and her two deputies in office when necessary, they understand the constitution and what its stand for, they are not politically polluted like you are, and they will not compromise or would want sacrifice their hard won reputation in the name of politics.

Lawyer Amaliba was in this country when same constitution dealt with the former CHRAJ boss, Mrs. Lauretta Lamptey, we never heard him making noise and chanting war songs, we never heard him calling for civil society groups, we never heard calling on Professor Martey and all other people that matters. My advice to him is that he should be careful not to soil his hard end reputation which is the only way out, now that your party is out of power.
The lawyer for the petitioners, Mr. Maxwell Opoku Agyemang stated 27-point petition in which allegations of misbehaviour, mismanagement have been made against the Electoral Commission Chairperson, Mrs. Charlotte Osei, and lawyer Amaliba want the President and the Chief Justice to overlook and push it down the carpet? How would Ghanaian take President Nana Addo Dankwa Akufo-Addo government if such an evil act is applied? The laws are working and must be allowed to work.

In his attempt to delude the public, he said NPP as a political party is bent on removing Mrs. Charlotte Osei in order to replace her. The point here is, didn't Charlotte Osei preside and declare the results against her will and in favor of Nana Addo Dankwa Akufo-Addo in December 2016? Even in opposition we were able to withstand her arrogant behaviour towards all political parties in opposition except NDC and their candidate former president Mahama.

Charlotte Osei is a lawyer and can defend herself, why is NDC so interested in defending her? What is it that they're disclosing? We need to know. If indeed the NDC is defending Electoral Commission and not Mrs. Charlotte Osei, why are they not equally defending Mrs. Georgina Opoku Amankwah and Amadu Sule? Your guess is as good as mine. Thank you.