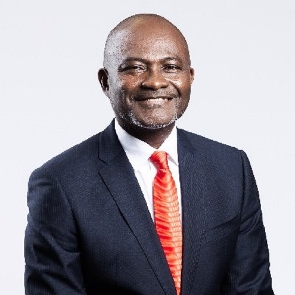 I have come across a video of a Ghanaian allegedly going by the name or nickname Borgaria. From the video, I may assume he has lost his eyesight. If this is so, then I say sorry and do have compassion for him.
However, I disagree with his submissions in refusal of Kennedy Agyapong (Hon.) ever becoming the president of Ghana.

He claims Kennedy is a dictator, however, in his candid opinion, Ghana does not need a dictator anymore in her life.

I disagree with him, although each of us can hold on to our opinions. And opinions are like noses; everybody has one. Nevertheless, some noses are funny and badly shaped, and like some breath, they smell.

I shall be brief with this publication. It is all about informing my fellow Ghanaian Borgaria that in most instances, it has taken dictators to develop their countries to bring them to their current developed states so much admirable to many Ghanaians.

Rwanda President Paul Kagame is said and known to be a dictator, a reasonable and farsighted one of course. Do Ghanaians and many in Africa not love his country and applaud him for having developed his country far ahead of many African countries?

China had, and still has, dictators, ruling her. Has China not become an economic giant about to overtake, if not already overtaken, the United States of America, the largest world economy?
I will only have to advise Mr. Borgaria to endeavor to read about the history of the largest and strongest economies in the world and how they came to be.

Kennedy is a farsighted Ghanaian individual who has the clout and plan to move Ghana forward. On this, no rational Ghanaian can doubt him.

If Kennedy as a dictator will end in seconds of assuming the presidency, the destruction of the nation's water bodies, arable and fertile lands and forests, I will support him any day any time over a Democrat who will stay aloof while such elements of life have come under unstoppable merciless attacks.

If Kennedy as a dictator glows in honesty, pragmatism, and meritocracy, the qualitative cardinal pillars on which the success of every nation revolves, then I will prefer him a million times over to a democrat that will allow corruption, lawlessness, dishonesty, and lack of enforcement of the laws to thrive to the detriment of the Ghanaian masses.

No sensible Ghanaian can sincerely tell me that Kennedy Agyapong has not the love of Ghana and the collective prosperity of Ghanaians at heart. He has a track record to prove he is one such Ghanaian individual that cares about Ghana from the bottom of his heart.

Accusing him of insults is insignificant and pales to nothing when balanced against his demonstrable ability and readiness to develop Ghana for your good and mine.
Kennedy is best suited to become the president of Ghana at this critical stage in her development where both criminal Ghanaians and their colluders have openly teamed up to destroy the country as though tomorrow never comes.

As said in my previous submissions, I prefer a team of strong and honest people in the persons of Kennedy Agyapong, Dr. Alhaji Mahamudu Bawumia, Dr. Kwabena Duffour, and IGP Dr. George Akuffo-Dampare to rule come January 7, 2025.

Ghanaians, please don't make the mistake to vote for John Dramani Mahama, a visionless, clueless, incompetent, and corrupt Democrat. He is up to no good and will be in to bury Ghana under the mighty oceans for her to resurface no more.

I dedicate this article to all discerning Ghanaians, especially, my farsighted Kumawu and Asiampa people.