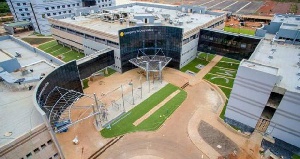 Efficient and effective healthcare delivery is very critical to the holistic development of nations, and as such we need not play with it. It is said that a sound mind resides in a sound or healthy body which is needed to ensure a productive workforce with its corresponding productivity in any economy. Ghana stinks when it comes to functional healthcare system in terms of healthcare delivery and medical infrastructure and number of health professionals.
People die needlessly everyday, in most cases due to our dysfunctional healthcare system, yet, serious and major attempts at ensuring the improvement in the health sector are not given the priority of our elected leaders. In emerging economies such as India, and countries on the continent such as South Africa, apart from having a better healthcare system that meets the needs of their citizenry, it also brings financial benefits to their economy, adding to their GDP. Medical tourism in these and other countries is improving the fortunes of these countries, and our leaders must learn from these examples; but sadly, they are not.

When are our leaders going to improve our healthcare system? When are they going to quit seeking treatment outside the country? When are they going to make sure all of us, the rich and poor, educated and uneducated, the city and rural dweller, the government appointee and the poor teacher, the minister and salt seller at kejetia market benefit from our health system?

The above deficiencies at the health sector are the reasons why the tussle between the University of Ghana and the Ministry of Health is unnecessary and a complete waste of time, leading to the continuous lost of lives of the citizenry, mostly the disadvantaged. Most people throng our religious institutions to seek healing mainly because they don't have solutions to their sicknesses at our hospitals, and not because they believe in the healing powers of some of these faith-based institutions and their leaders.
The government should stay away from the University of Ghana Medical Centre, and allow her to make the facility a CENTER OF EXCELLENCE that will benefit us all. Currently, in this country, doctor-patient ratio is 1 to about 10, 000, a very scary and unacceptable situation. The government should fix this problem, think about making healthcare accessible and affordable to us all, and leave the management of the facility to the university. This unnecessary and needless turf war must stop now!

God bless Ghana!