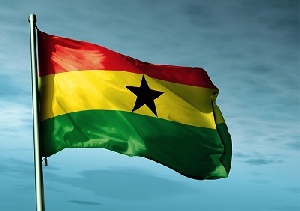 We've been waiting for almost a year and over to exhale.
To see what Ghana could wear on Dec 5th to sail .

We're hoping against hope the Supreme Court won't put the nation's future on hold.

And the Electoral commission won't put us in a nasty hole.

Yes, everyone is counting the days like a pregnant woman.

With anxiousness, anticipation and apprehensiveness but no second plan.

We live in a nation where hope is the only cheapest commodity.

Because our leaders have no humility or integrity and care less for humanity.

In this year's Election speculations and conspiracy theories abound.

Is it true that the rich and politicians are making plans for abroad?

While the middle class is religiously renewing and processing passports and visa to flee with their families and loved ones?

Leaving the poor, old, young and handicaps behind?
Yes, you can bet a lot of cedis will exchange votes and hands.

So as to fill their foreign accounts just in case.

Because our fears, future , concerns and aspirations are their back- case.

Now just check out for whom we have to die.

While their sons and daughters are fully secured outside.

Well, just in case anyone's thinking of the unthinkable.

Rewind the Biafra war tapes.

Watch the Liberian war tapes.

Look at the Sierra Leoneans' tapes.

They will help you to fully digest.

I bet no one wants the Rwanda's fire to be our guest.
Oh Lordy, a nation with just twenty-something millions

With the potential to make zillions.

Is just living on a borrowed time- zone.

We rather think of how to blow it up in flame.

Just for a few individuals' own welfare and fame.

I wonder if these home -front issues can entice the socio-economic, self –

imposed exiles to come home.

When our leaders are busy taking care of their families and hommies.

When are they going to stop Ghana's offspring from being the Globetrotter?

So that they could stay home and be the national assets

They're getting drowned in the middle of oceans.
Just because of poor home-front leaderships and bad government's decisions .

We love to play it rough.

But, how much is enough?

How much money is enough?

Do we really want to tear the nation apart with impunity?

Oh Lord, the churches and prayer camps are filled to capacity.

With the congregation on its knees praying and crying to the Almighty.

Some are going without food or sex for days just for vanity.

I wonder if it's really part of our sanity.

But with all our iniquities and terrible deeds.

I wonder if our prayers have been heard.
All I can say is let peace reign in the land.

From the dry land of Bolga to the sea shores of Anomabo, let the peace reign.

From the Alfagato mountains to the forest belt of Dormaa Ahenkro let peace reign.

From the hamattan land of Tumu to cocoa land of Enchi, let peace reign.

From Salaga to Ashiaman let peace reign.

When we let peace reign in the land forever.

We can one day join hands and sing the old negro song, "We're free at last……..we're free at last!"

"Thank God, Almighty, we're free at last……!"

From Kwaku Adu-Gyamfi (Voice of Reason)

*The author is a social commentator and the founder of the Adu-Gyamfi foundation for the Disadvantaged Youths of Asuom.