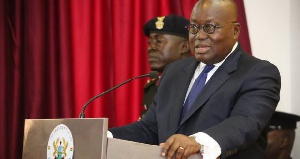 By Katakyie Kwame Opoku Agyemang
A position, the adage says, is not a possession. For, if positions were possessions, the likes of J.A. Kufuor, J.E.A. Mills, JDM and Nana Addo could not have ascended to the presidential throne. Former President Rawlings could have kept the presidential seat from 1993 up to date.

As party members, it is incumbent upon us to work hard for our party to win power when in opposition, and when that is materialised, help the government to succeed in order to retain power for long. I don't think it is in the interest of any genuine party member to have his party lose power after only eight years in government. But, that is the record of history since Ghana ushered in the 4th Republic. The power has been rotated between the NDC and NPP after every eight years.

Could the NPP retain power in 2020 and break the deadlock in 2024? This is the mystery we all need to unravel. There is no doubt that, achieving this great feat depends, to a very large extent, on how our foot soldiers behave from now till 2020. The recent mob action by the so-called Delta Force in Ashanti Region was uncalled for and must be condemned on no uncertain terms. We live in a democratic society and such uncouth behaviour must find itself somewhere.

Did the Delta Force formally sign any contract with the then Presidential Candidate of the NPP about who should be appointed to which positions?

I think it is high time we allowed the President to select the team he deems fit to prosecute his agenda. When that happens, then we would be right in judging him after his stewardship.
We all worked hard for this victory by risking our lives and making financial and time sacrifices, but not everyone could be appointed to serve at the same time. It is only a matter of patience, for he who laughs last, always laughs best.

I would therefore plead with all foot soldiers of the NPP not to use violence to solve problems. We should remind ourselves that, over 5m people voted for us in Election 2016 and they are looking forward to us to provide them with first class governance. It is too early to put the name of our beloved party into disrepute as it could affect our chances in 2020.

In conclusion, I would urge the Police to act swiftly and let the public have confidence in them for once. The law must take its course since the President had already called for end to such horrible things in our democratic dispensation.

God bless Ghana! God bless the NPP!! God bless Nana Akufo-Addo!!!

Asante Bekwai-Asakyiri