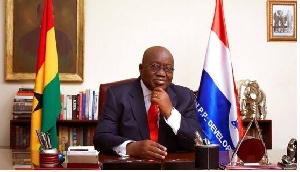 By Kobena A Eyiah
Agriculture

Our agriculture needs revamping. Agricultural output has slumped to an all-time low, yet the people in charge are paid bonuses at the end of every year. Since many of the members of the last Parliament are not returning to the next Parliament, I suspect that many of them, including those who served on the Committee on Food and Agriculture, will be paid heavy 'end of service' sums for bringing agricultural production to its lowest level, possibly since independence.

When was the last time Ghana topped world cocoa production? Yet for decades, Ghana was the world's top producer of cocoa. One of the reasons for the slump is that just as ministers grabbed tractors that were meant for real farmers, the insecticide for fighting the "black pod" disease, which was supplied freely by the Kufuor Government, is now distributed by party hacks.

Without a promise to vote for a certain party, a farmer does not get the insecticide, even to buy, let alone getting his or her cocoa farm sprayed. My forebears have cocoa farms at Otsenkorng, Nkum, Odoben and Nkwanta in the Central Region. I am sure your scouts can easily verify this before the culprits start buying NPP paraphernalia, as is happening all over the country now.

Sir, if we could return to the truly and impartially free cocoa farm spraying of the Kufuor era and eliminate smuggling, we can challenge Cote d'Ivoire within the life of this Parliament.

The Northern part of the country could truly be the bread basket of the country in rice production. Then there is tomato production. One rice mill in each district and a revamping of the Pwalugu Tomato Factory in conjunction with the private sector, and your one district one factory promise would have been fulfilled In that part of the country, QED!

Widening the tax net
Sir, I still remember the lecture you gave at Chartist the King Hall sometime in the late 1980s when you spoke on the fact that Ghana's economy has remained the same, except for more thieves and parasites (emphasis mine), since 1929. The tax net has to be widened to cover as much of the informal sector as possible. I am not sure how that can be done because the "market mummies" especially, are so adept at playing the system while enjoying every benefit that society provides.

Many years ago, I served on a committee at one of the Metropolitan Authorities. There was a cabal of senior officers who shared the major markets among themselves. Each had a number of stalls and or store fronts, from which their agents collected tolls on their behalf every day. Those who did not bring enough takings were banished to the less attractive markets. I am almost certain that it is still happening today. Create, loot and share has been around for a very long time.

The environment

I lived in Akyem Abuakwa for some time as a child and I still remember "Akyemkwaa a onom Birim." Not anymore. With the possible exception of "the only thing we cannot do is to change a man into a woman and a woman into a man," the daftest and most destructive campaign platform promise any politician has ever made in Ghana must be "vote for me and I will legalise galamsey."

Sir, with the same zeal that made it possible to abolish the obnoxious libel law within a few months of taking your position as Attorney-General, please see to the abolition of galamsey from Ghana and send away all those foreigners who have abused our traditional Ghanaian hospitality back to their home countries.

It may not even be too late for rivers like Birim and Subin to be saved. You may remember the Thames River from your days in the United Kingdom. Today, it is booming with fresh water fish. Banning galamsey is the first major step for saving our rivers and farmlands. If you have to deploy a battalion of the Ghana Army to achieve that feat, please do it. Let us declare a special war for one year for the purpose.

Using the current euphoria of your victory, let your supporters channel their energies into cleaning and policing their environments. We do not need special sanitation days. We create domestic and industrial waste every day. If you have to bring back the "Tankese," please do so. In fact, it will actually create jobs for some of the teeming unemployed youth, especially in the countryside. I suspect that in the first year, they will bring in enough "fines" for the system to be self-financing.
Sir, if the destruction of our environment continues at its current rate, in a few short years there will be no trees or firewood in the countryside. Another avenue for the fulfilment of the one district one factory promise is the creation of wood chipping factories.

Corn cobs, corn husks, sugarcane husks, saw dust and other by-products of the wood industry that flow into our rivers and eventually pollute the Atlantic Ocean, can be turned into high energy wood chippings, to burn in specially made stoves, to provide a good chunk of our domestic energy needs. Districts in the Central, Western, Eastern, Ashanti and Brong Ahafo abound in these by-products. Again in alliance with private capital, that is another source of "one district, one factory" realisation.

The rubbish mountains that are choking our cities and towns are another source of energy, through controlled incineration. . The gridlocks

Sir, the outrageous traffic jams in our cities and towns are not only killing businesses but family life as well. Parents these days barely manage twenty-four daylight hours in the whole week with their children. We need to invest in mass public transport – light railways, buses, trams and long distance train services. Building roads and interchanges is not the answer.

Research in other parts of the world has shown that the roads get filled nearly as quickly as they are expanded.

Vehicular traffic does not only cost money in fuel and spare parts imports, the psychological and environmental diseases that it brings in its trail, cost nations and their economies very dearly. In the meantime, it should be possible to regulate traffic flow by turning some roads and streets into "one ways" at certain times of the day.

The lack of quality family times and resulting breakdown of the family unit is a major problem that stands to cost our country dearly in the very near future.
Health system

Like most areas in the country, the health delivery system is also very sick. There is too much pilfering and arrogance of position in the health sector. While a majority of doctors and nurses do a great job with very little, there are large numbers who have turned themselves into demi-gods. Many of these people have forgotten that it is their duty to save human lives in as friendly an environment as possible.

Sir, it will be very simple and cost-effective to install close-circuit television in some wards in a number of hospitals in the country. The number of cases of hospital equipment, bedding and other supplies that will be retrieved from thieves will be mind boggling. It will also help to catch those who inflict emotional and mental pain on the sick and traumatised.

Government

Finally, Sir, government ought to be drastically reduced. The districts and regions can be run by elected local party councillors. The "non-partisan" district assembly system is a huge farce. It is already more partisan than parliamentary elections. You need to change the law so we can have competitive local level elections.

If they are held between national parliamentary and presidential elections, they will give voters the chance to punish non-performing parties. Politicians must cut their teeth at the local level, instead of sharpening them at the national level with no experience of ever writing an application letter of cleaning a bicycle.

If elected members of Parliament must run the regions, they do not need deputies. And what exactly do two deputy minsters do at the Ministry of Finance, for instance? Must every minister drive several state purchased and maintained fleet of cars? How about ministers being paid a reasonable maintenance allowance, to live in their own homes?
The Council of State ought to be abolished as quickly as possible. Any self-confident president like you does not need that appendage for support. It is a total waste of the taxpayer's resources. If it must exist, then it must be a completely elected chamber. However, with 275 members, Parliament is already too unwieldy. If any president needs praise singers, it will be much cheaper to recruit wailers at funerals as and when they are needed, rather than the expensive lot that are mostly handpicked by presidents to rubber stamp party propaganda!

Sir, these are my thoughts for now. I shall come back when I remember any new issues.

Please pardon me for the typos in part one. I was rushing to beat a deadline. May the Good Lord richly bless you as you embark on this arduous journey? Yours faithfully,