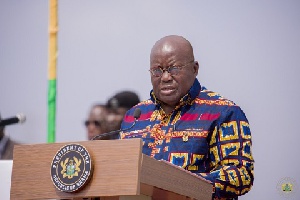 OFFICE OF THE PRESIDENT
H.E. NANA AKUFFO ADDO

FLAGSTAFF HOUSE, ACCRA.

Dear Mr. President

THANKS FOR THE INSURANCE PACKAGE BUT I AM BEING TRIED FOR WRITING AN OPEN LETTER TO YOU.

It's me again No. 44679 G/L/Cpl Daniel Kwofie also known as Ahanta Apemenyimheneba Kwofie III . This time I am writing to you from Abokobi and not from the police headquarters as I did the last time. Immediately after my last open letter, I was quickly transferred from the police headquarters to Abokobi as if all the police officers here are serving a prison term. It's sad how transfers are being used to punish police officers at times for no wrongdoings at all.

I wrote an open letter to you on 8th June 2017 and I am facing a trial but I am not disturbed at all, because the police service has a long tradition of victimizing police officers who have divergent views and opinions which should rather be accommodated for the growth and development of the police service. I am not the first and shall certainly not be the last so I am not worried one bit because I know what you stand for. I am probably the police reincarnate of Supt/Rtd/Mr. Paul Avuyi who suffered acts of vindictiveness and victimisations in the police even though he wanted the right things to be done. He was stripped off all his ranks but he remained resolute for the love of the police service and mother Ghana.
If today some of us have gotten a loud voice irrespective of acts of oppression, suppression, vindictiveness and victimisation in the police service , it is because we draw a huge inspiration from you so even if I am placed on the gallows, I will still talk. The police service is for Ghanaians and not for police officers. We will all leave it and go away someday but whilst life lasts in the police, we should make it comfortable for every police officer irrespective of rank. Every police officer deserves better.

Mr. President, I know your contributions to our democracy, its development and growth. I know your contributions to freedom of speech, expression, thoughts and conscience as guarantees by the Constitution. I know how you progressively fought for the freedom of the common Ghanaian and I know how you struggled to become the president of our dear nation against all odds.

Your struggles reminds me of my Kwesimintsim S.T.M. A JSS "B" motto - Perseverance conquers all. If I persevere and do not allow this petty trials and threats of dismissals to dampen me, we will have a better police service which will be a true reflection of what my IGP, Mr. David Asante Appeatu is struggling for. I pray for him a lot. It's not an easy task to transform this our police service into a world class one within the shortest possible time but I am equally doing my best to support him any time I come on counter duties at my new station, Abokobi. Together we can make the police service a world class one when we allow growth and development of new ideas and innovations.

Mr. President I want to thank you for what you are doing for the common police officer who is on the street fighting all forms of violent crimes. When the IGP announced that every police officer is going to get Ghc 50, 000. 00 and Ghc 25, 000.00 insurance packages, I was flabbergasted, mesmerised and intrigued. All my years in the police service, I have never been happier than that day and I know I am not the only one who became happy but thousands of police officers who come face to face with violent crimes like robbery will now comfortably lay down their lives to save lives and properties as the mandate of the police demands.

I was right when I said in one of my articles that Mr. David Asante Appeatu deserves an extension of tenure of office based on his transformation agenda. I think his extension of office and his transformation agenda seems be to be yielding results for the common police officer. Actually there is long rope hanging on my neck today dragging me to the slaughter house in the name of service because I wrote that Mr. David Asante Appeatu deserves to be given an extension of tenure of office.

For a very long time the police service has thrived on oppression and suppression of the common police officer and almost reduced him or her to a slave and Mr. President we need to shift the paradigm from that. We must have a police service where there is mutual respect for every police officer irrespective of rank because we cannot all be IGPs, Commissioners or senior police officers at a time but what matters is our various contributions to make Ghana free from crimes. If police officers are continually suppressed and oppressed in these our times, we will one day wake up and see them on the streets demonstrating like the civil society groups. The times and the dispensations we have found ourselves is not conducive for oppression and suppression. Policing of insults, threats of dismissal, vindictiveness and victimisation should belong to the age of Captain Glover and certainly not in our times. In these our times, the police officer must be appreciated and be praised by his superiors and not to be victimised at the least opportunity.
Mr. President, ever since the C.I 76 came into force, the only reward that the common police officer has received is disciplinary action just like I am facing a trial for writing an open letter to you. A police officer writes an open letter to his own president and that has become a problem in a democratic Ghana where freedom of speech, expression thoughts and conscience abounds. My charge is that my open letter to you seemed to have caused political controversies but like I have said I am not even worried because all other benefits in the C.I 76 have been replaced with threats of dismissal, vindictiveness and victimisation and this must stop. It is not helping the growth and development of the police service.

Mr. President how can we have a police service that treats its members particularly the junior ranks like chicken when they die in line of duties? These things went on for a very long time even though the C.I 76 stipulates that when a police officer dies in line of duty, at least 3 of his or her children should be catered for up to any level of education that they wish to attain. There was no attempt to have it implemented but immediately I wrote an open letter about it, charges have quickly been preferred against me that I did not use the laid down channels of communication to address my grievances and also my open letter is an act which is likely to cause a political controversy. You see how we are treated in the police?

Mr. President, I want to end here and wait for the charges that will be levelled against me for writing this one too. The more they level the charges against me, the more I will write to you. I appreciate your efforts particularly the insurance packages that will motivate us to die more in line of duties. We are equally human beings with wives and children and only God knows how this insurance package will go a long way to raise the morale of our police officers should it come into fruition. Mr. President, you and Mr. David Asante Appeatu have done what Napoleon could not do.

Mr. President, I am ending here but I will certainly write to you again. I pray for Solomon's wisdom for you so that you can rule our dear country with grace.