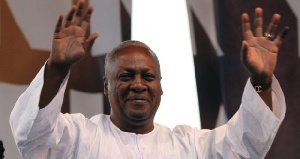 It's been four years since a victory speech was delivered by a President-elect in the country.
President John Mahama read his 2012 victory speech to a nation ripped. A section was for the governing National Democratic Congress (NDC) and the next for New Patriotic Party (NPP).

His applause was half-baked. The cheers were met with booing. The enthusiasm in the country was at an all-time low, a consequence of cloud of doubt hanging about his victory. He stole the verdict of Ghanaians, NPP lashed out.

Flash back, how did Akufo-Addo's speech compare to Mahama's in 2012. A thorough analysis produced the following.

President Mahama's confidence at the time of delivering his victory speech was low. His legitimacy was doubted. The cacophony generated by the election was enough to dash one's confidence. But politicians are pretenders. They will do everything to mask their weaknesses.

"We have indeed come to the end of an eventful journey to arrive at this moment of victory.

"This victory is not a partisan victory; it is a moment of achievement for the people of Ghana. Throughout the course of this journey, we have been convinced of Ghana's steady march toward its best and most promising days, and we have stood together side by side through the challenges and events that have characterized the last few months.

"We have shown the world that we have the will, the determination and the commitment to succeed."


President-elect, Nana Addo Dankwa Akufo-Addo

He was later to be dragged to the apex court over claims of rigging in the election. He was sworn-in as the leader of the country at a time his fiercest contender had not conceded. He governed Ghana on the back of the law because he was declared the winner of the poll by the Electoral Commission (EC) while NPP leader, Nana Addo Dankwa Akufo-Addo ruled the hearts of Ghanaians who believed he was the rightful leader.

"What we are celebrating tonight is a Victory that belongs rightfully to you, the good people of Ghana," he had said. Victory of deceit and lies Ghanaians were told repeatedly.

The nation was its own enemy for close to a year until the Supreme Court upheld Mahama's presidency. Mahama blamed the eight-month-old election petition for his underperformance. Obviously the cheapest of excuses created by a political actor.

Flash forward, Akufo-Addo's victory speech was seasoned with what every Ghanaian is expected to do at the right time.

"A few minutes ago, at 7:51pm precisely, the President of the Republic and the NDC presidential candidate, H.E. John Dramani Mahama, called me on the phone to congratulate me on my victory in the presidential election of 7th December 2016.

"He wished me the best of luck and God's blessings, and assured me of his full co-operation in organizing the transition from his administration to mine."

Mahama conceded in a fashion the President-elect described as a "graceful gesture, which is in the finest traditions of Ghanaian statesmanship and, on my part, assured him of my cooperation for a successful transition."
Akufo-Addo thanked the President for his service to the country. He also assured Mahama that "his contribution to the welfare of our Republic was by no means over."

No one conceded to Mahama. Akufo-Addo was convinced he was shortchanged. No time for niceties.

The President in 2012 reminded Ghanaians when and where their democracy all began.

"Our journey as a free nation that we began on March 6th, 1957, has not always been on roads that were smooth, or paths that were straight, but we have created our success by ensuring that we keep walking, and moving forward, step after step believing in the promise that this country's future."

The President-elect made no such reference. The closest he ever came was to remind Ghanaians of the rich resources their land has been endowed with.

"God did not put us on this rich land, a land blessed with an abundance of human and natural resources, to be poor." He cut the chase. An economy needs to be rebuild. Jobs need to be created. Prosperity needs to be shared. He has not the time for rhetoric. He was forthright with the work ahead.

Akufo-Addo like Mahama acknowledged the contributions of the Electoral Commission (EC), security agencies and election observers for ensuring the credibility of the polls.

"The Electoral Commission, under its new leadership, with Charlotte Osei in the Chair, is to be congratulated for organising this credible election.
"Our security services are to be commended for ensuring a generally peaceful conduct of the poll, and doing so in a professional manner."

He went ahead to personally touch the people who stood by him during what pundits say was a torturous campaign year.

"To members and sympathisers of the great Elephant family, to our illustrious former President of the Republic, His Excellency John Agyekum Kufuor, to our founding members, leading figures, members of Party organs, parliamentary candidates and Members of Parliament,

"Current and past national officers, regional, constituency, electoral area and polling station executives, thousands and thousands of volunteers, polling station agents, Kufuor-era appointees, campaign officials and staff, so ably led by Campaign Manager Peter Mac Manu,

"And to my running mate, the next Vice President of the Republic, Alhaji Dr. Mahamudu Bawumia, and his dynamic wife, Samira, I say a big thank you to each and every one of you for your hardwork, commitment and encouragement, and for your belief in me and in my leadership of our party over the last 8 years.

President Mahama didn't acknowledge the contributions of his running mate Kwesi Amissah Arthur to his victory in 2012. "Thank Party Executives Council of Elders, Founder, Activists and Cadres, celebrities etc."

He missed out the opportunity to connect to NDC founder, Jerry John Rawlings in his 2012 victory speech. This stoked the claim that he was not in the good books of the founder and former Ghanaian leader.

Both leaders called for calm and measured celebration but the nation had none of that. "Whilst this occasion would understandably lead to widespread jubilation amongst party supporters, I entreat them to respect the peace and the property and lives of everybody, especially those of our political opponents.
"We are the party of the rule of law, and we should act accordingly with magnanimity in our moment of victory," Akufo-Addo had said.

However, incidents reported across the country post-election were distasteful. Blatant attacks on state properties and seizure of toll booths as happened in 2008 were never the best.

Mahama's "Let's be restrained in our celebration do not be provocative," was equally ignored as happened to the NPP leader's call.

As Ghana's democracy evolves, a clear pattern for victory speeches would develop. This would help for a better analysis in the coming years.

**************************

Disclaimer:

Views expressed here are the Author's and do not represent the position of Management of Multimedia Group Limited.

The writer, Austin Brakopowers is a journalist with Joy 99.7 FM and could be reached via Brakomen@outlook.com or www.brakopowers.com