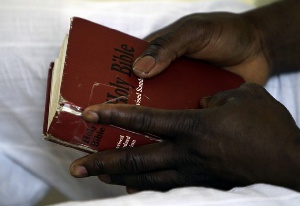 Christians easily forget who and what we are. First, we are children of the Almighty God. God created us in his own image, and gave us dominion over all his creation. We are precious in the eyes of God. Second, God sent his only begotten son, Jesus Christ, to die for our sins, and so we have been saved by the blood of Jesus that was shed for all on Calvary.
Third, God has filled us with his Holy Spirit who enables us to do his will and empowers us to overcome the world. Fourth, Jesus has taught us the weapon of prayer and we have the Holy Bible as our constitution to guide our ways. Finally, since we belong to Christ, God's blessings on Abraham, Isaac, and Jacob are upon us.

With all these attributes, ammunitions and many more, why do Christians often sell ourselves short and walk around timidly as sheep without a shepherd? Why do we allow ourselves to fall prey to the devil and his evil forces who prowl the world intimidating and destroying people and sometimes planting themselves within the Church to lead many astray? And why do we fail to use our God-given potentials to the fullest in order to benefit ourselves and mankind?

In the Lord's Prayer, Jesus taught his disciples to pray as follows: "Our Father in heaven, hallowed be your name, your kingdom come, your will be done on earth as it is in heaven…." (Matthew 6:9-10). We say this prayer often and so we should take it a step further by meditating on it and translating the words into positive actions. In the prayer, Jesus invites us to pray for the kingdom of God to come and for God's will to be done on earth as it is in heaven. At the end of each day, it would be helpful for each of us to ask ourselves what we have done or said to advance or expand the kingdom of God, or to make God's will to be done on earth. Conversely, we should take stock of what we have done or said to shrink the kingdom of God or to oppose God's will on earth so that we can avoid them.

We see a fellow human being in need and we walk by without giving any thought about our capability to alleviate that person's suffering, such as offering a prayer, a word, a smile, care, compassion, or a helping hand. It is not always about money or material things. Peter did not have money when the crippled beggar asked him for alms, but he did not just walk away. He gave the man what he had -- he commanded the man to walk in the name of Jesus and the man walked (Acts 3:6-8). It is obvious that you and I are not Peter, but we should aspire to reach our potentials and, by the grace of God, we have potentials to do what God empowers us to do at any given time and occasion. That is how we expand the kingdom of God and let God's will to be done on earth.

Even so, our brother James tells us that Elijah was a man just like us. Yet he prayed that there should be no rain and there was no rain for three and a half years. And he prayed again that there should be rain and the rain poured (James 5:17-18). Yes, James says Elijah – the powerful man of God who prayed and fire consumed the sacrifice that 450 pagan prophets of Baal had tried and failed to do (Kings 18) -- was a man just like us. James was not writing to super Christians, but to ordinary Christians like you and me saved by grace. If we do not exercise our faith, and do it as often as we have the opportunity, we would never know if we can do what Peter, Elijah, and the other men and women of God did to bring the kingdom of God closer to people on earth.
Sometimes, fear, failure, and shyness etc. prevent us from exercising our faith. What if I pray for someone or myself and the prayers are not answered my way? What if I preach the Gospel to people and they react negatively or do not repent? Well, we should not be overly concerned about failures; otherwise we may not achieve our potentials. Our task is to pray for the sick and leave the healing to God. Our task is to plant the seeds and leave the growth to God. Our task is to preach to people and leave the conversion and salvation to God. Our task is to fight for justice for the poor, the weak, and the oppressed and leave the emancipation or relief to God. And our task is to love all people, including our enemies, and leave vengeance to God. A little good deed here, and a comforting word there, can help to bring the kingdom of God to earth and let God's will to be done on earth.

According to a 2015 Pew Research Center study, "The Changing Global Religious Landscape," Christians are the world's largest religious group, accounting for nearly one third (31.2%) of the world's 7.3 billion people, or about 2.3 billion Christians. If we take it at face value, it means that what started as a small movement by our Lord and Savior Jesus Christ with 12 disciples has increased exponentially despite the persecutions, sufferings, and killings experienced by Christ, and some of the disciples and followers, and even continuing till today. While the growth is very impressive, it also means there is tremendous opportunity for Christians to work harder to bring the message of Christ and the kingdom of God to more than two-thirds of the world's population.

We have the potentials to make that happen. With a contingent of over 2 billion Christians, there are no forces that would be able to withstand us if we unite and agree to pursue a common goal. Each and every Christian has two hands – one to hold the Bible and the other to hold the cross of Jesus, and so we should not be afraid. We are more than conquerors. A thousand may fall at our side and ten thousand at our right hand, but they will not come near us, in part because those who are with us are more than those who are with them (Romans 8:37; Psalm 91:7 and 2 Kings 6:16).

However, ours is not a physical battle with human weapons, but an appeal with prayers and the Word of God for the minds, hearts, and souls of God's own children for whom Christ died. We can change the world if a small fraction of the number of Christians pray earnestly for God's kingdom to come and for God's will to be done on earth as it is in heaven.

Jesus said that "if two of you on earth agree about anything you ask for, it will be done for you by my Father in heaven." (Matthew 18:19). If two Christians can move God to act, can you imagine what God would do if over two billion Christians unite, agree, and ask God to change the world? And so do not say there is nothing you can do. Instead, determine to take action and join the Apostle Paul in saying, "I can do all things through Christ who strengthens me." (Philippians 4:13). We have to remember that it is not our battle; it is the Lord's.
As Christ's ambassadors on earth through whom God is making his appeal to the world (2 Corinthians 5:20), we should humbly lift high the banner and the cross of Christ. Christians may not necessarily be the richest and strongest people by the world's standards, but we have adequate wealth of gifts, virtues, and resources from God that can be used to satisfy the spiritual and physical needs of mankind. We have been blessed to bless others. Collectively, Christians are the best hope of mankind and we should use our God-given gifts, or lose them. We should live our Christian potentials. We should not be afraid of the evil forces of this world because our Lord and Savior Jesus Christ has conquered the world and is with us till the very end of the age. (Matthew 28:20).

Prayer is the key. May God grant us the grace to seek Him daily through our prayers.

Dr. Daniel Gyebi, Attorney-at-Law, Texas, U.S.A., and Founder, PrayerHouse Ministry, Kumasi, Ghana.

PrayerHouse Ministry is dedicated to providing a quiet facility for Christians to pray individually by themselves without any intermediary priest, pastor or any other person. This is a free service. No money is demanded or accepted. One facility is located at Kyerekrom / Fumesua, near Building and Road Research Institute Offices, one mile off the Kumasi-Accra Road and next to a house called Grace Castle. If you are interested, please contact Agnes at 027-7423815.

Another is located at Kantinkyiren, at the junction of Kantinkyiren and Konkori, off the Kumasi-Bekwai Road, branching left at Trede junction. Contact Kwadwo at 020-8768461 / 0246-989413.