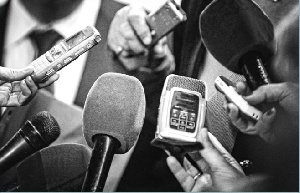 "What kind of salary can you expect to make as a journalist? If you've spent any time at all in the news business, you've probably heard a reporter say this: 'Don't go into journalism to get rich. It'll never happen.' By and large, that's a true." ~ Tony Rogers
These days, ambitious young men and women have some enduring motivations for deciding on their career paths, especially journalism. Years ago, we stumbled onto it, wandering on the minefield to navigate our way onto other professional callings. We wondered why we thought reporting news for a living was ever a good idea. Our mentors in the trade advised us not to bother coming in because it didn't pay well. Go into banking, insurance or PR. Journalism is hard work and you couldn't own a good car.

When journalism calls

I knew some brilliant people in the profession who appeared to be doing very well. They were popular and commanded respect from influential people in society. When the façade wore off, I was disappointed to confront the harsh reality of the life of the average newsman. They were essentially poor people who just loved the trade and had decided to die for it. They didn't care much what professionals in other industries were making.

They were loyal to the profession and considered leaving the trade a failure of their convictions and a betrayal of principle. Andrew Marr, one of Britain's finest journalists, puts it even more poignantly: Journalists who leave the newsroom for the corporate world of public relations have failed upwards. Marr had stumbled onto the journalism after he was denied a job in a second handbook store. He wondered what he could do next. Journalism called. Well, he called and made the best out of it.

Whether we were called to the profession or we stumbled onto it, journalists deserve a decent living, like other professionals. The average journalist (trained by a properly accredited institution) is paid between GH700 to GH1,000 a month. There are 'admirable outliers' such as Kwame Sefa Kayi, Bola Ray, Kafui Dey, Nana Aba Anamoah and a few others who command huge wages based on contracts. Generally, the young reporter wielding a microphone and a tape recorder, chasing after Kwasi Kwantakyi or attending the meet the press conference at the Ministry of Communications, is not paid well.

No sweetness here
Some are not paid money all; they joyfully go to work hoping to get something from a PR man or media liaison. When I worked in PR and corporate communications, I encountered many fine talents who suffered the necessary indignity of struggling for trotro to get to my event grounds at the least notice. I didn't pity them because I loved the fiery determination in their eyes, even if the motivations were not exactly honourable. I always had problems with my finance department because I wanted them to give these young reporters more money than what we budgeted for.

I loved their enthusiasm and dedication to the job, but I knew they would never be rich reporting the news with the inverted pyramid style. I resolved that journalism, (that is true journalism) would not make anybody rich. It made you powerful in the mind and gave you brilliant skills for analysis, but you wouldn't have money to sponsor a good wedding or afford honeymoon in South Africa. How many people read us anyway?

So, how did Anas Aremeyaw Anas become so rich to be able to afford high-rise buildings and expensive plots of land in pricy locations in cosmopolitan Accra? We also understand he owns a massive accommodation that serves as a hostel for university students in the national capital. How refreshing. I am happy for him. Journalists also deserve to drive good cars and own property. What did he do differently? We didn't know gotcha and gonzo journalism paid that good.

Kabral and Komla

Anas may be just as rich as musician Stonebwoy who reportedly splashed on a Trassaco Valley mansion worth $500,000 as a wedding anniversary present for his beautiful wife. Like Anas, the musician has good talent that is serving him well. The journalists who made him popular by skillfully telling his Ashaiman to Trasacco story may never be able to visit Trassaco to ask for the price of a kitchen coop. The security at the gate would not give them admission because trotros are not allowed in there. Even if the value of Stonebwoy's house was reduced to GH70,000, how many journalists can afford it?

Why is Ambassador Kabral Blay Amihere not rich? That man is a walking compendium of true journalism. The craft of investigating people to find out whether they had misconducted themselves predates TigerEyePI. That is the business of journalism. Kofi Koomson did very well without baiting and trapping people. Fiawogefia Komla Dumor intelligently investigated SSNIT and made some important findings. There were not traps or dodgy and surreptitious recordings. He did not use goats and cooking oil as props.
Dumor told his story. It served the public interest and we got good results. That is good journalism. Anas' investigative methods are cheap traps that would sink many, including himself. We should be worried that only two (2) out of 100 officials in his latest #12 video did not accept his bribes. To trap people is a big insult to their humanity. When they fall to the baits, the baiter should not be celebrated. It is crude and cheap.

Nyantakyi's Tartuffe

I have seen excerpts of the #12 documentary and I was shamed and appalled. Not at Nyantakyi or any of the referees and match officials who took little money; I am disgusted at the cheap journalism we are encouraging. Tiger Eye PI needs a lot of education on investigative journalism. Some fickle-minded people have asked: how else would we have found out about Nyantakyi and the others if Anas had not trapped them?

First, the voice overs are too intrusive and appeared powered by Gonzo and Gotcha motivations. Second, the characters looked like creatures who had been programmed to fall; we don't hear or see the natural sequence of events that lead to the climax, except what Anas wanted you to see. Third, if Nyantakyi's 'apocryphal' revelation (and let's not dismiss him anon) that Anas and his men tried to extort $150,000 from him has any merit, I will buy Kennedy Agyapong beer every day until 2020.