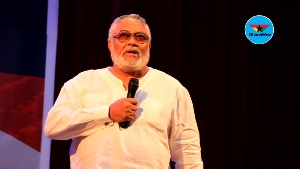 The essence of political responsibility is being able to concentrate on what is really important for a long period of time until the problem is solved, (Prez. Bill Clinton, My Life).
Former President John Jerry Rawlings, needless to say, has had his time on the political landscape of this country more than any politician in the history of this country. He had his pluses and minuses as Head of State during the uninterrupted 19 years he led this country, wearing different cloaks at different times. The world appreciates leaders who put smiles on the faces of their people through very good policies and leadership of exemplary nature. However, good leaders are mentioned in passing and in comparison because as the axiom in journalism states 'good news is no news'.

In modern world scenario, bad leaders who unleashed deadly blows to the human rights of their citizens are brought to book on the international level. Some are already in jail for crimes against humanity during their reign, long after they had exited from office. The world knows the excesses of the Rawlings administration, particularly the 11 years of the PNDC which saw the most egregious human rights abuses; open murder of innocent citizens without stated charges or trials; the torture of real or imaginary political opponents are all known to the world.

Ghanaians glossed their eyes over all these and voted for Rawlings in 1992 when global trends forced the PNDCs authoritarian governance style to a democratic regime. One would have expected that having been forgiven his sins against Ghanaians over an uninterrupted 19 years of leadership of terror and fear in this country, he would have been more introspective and less abrasive in his outbursts. No, as soon as he exited from office, he consistently unleashed an unprovoked tirade on former President Kufuor.

Well, since Kufuor was his political opponent, he was entitled to criticize him except that he (Rawlings) having ruled this country for 19 years, would have been more circumspect in his criticisms and attacks on Kufuor. He chose to go viral to the chagrin of even some of his own political comrades.

Meanwhile, within his own party (NDC), Rawlings was creating major divisions to the detriment of the unity of the party. Sure, as the immediate past leader and Founder of the party, he could not have been neutral in the selection of the party's presidential candidate for the 2004 general elections. His desire to ensure that only his favourites were elected to the national and regional executive positions deepened the woes of his party and created a huge segment of internal enemies for him.

His position on the party's national congress at the Ghana International Trade Fair Centre, where Dr. Obed Asamoah was elected as the national chairman of the NDC, was the beginning of very bad things to happen to the NDC. As an NPP man, I was enthused about the division which went on and further deepened at the University of Ghana, where Dr. Kwesi Botchwey, as a presidential candidate, was harassed by the pro-Rawlings elements in the NDC.
There was a follow up of this division in 2005 in Koforidua, where the supporters of Dr. Obed Asamoah were beaten and intimidated by pro-Rawlings's supporters who were against the re-election of Dr. Obed Asamoah. The fall out after the events in Koforidua was the breakaway faction, forming the Democratic Front Party (DFP).

With his support, the late President John Atta-Mills was elected as the party's presidential candidate for the 2008 elections which he won. Having supported Prof. Atta Mills all that while for him to eventually become the President of the land, Rawlings became the number one critic of his own protégé. Our expectations were that he was going to support and guide Prof. Atta-Mills to successfully govern this country. The party and government became more divided and Rawlings's image in the eyes of his party kept on diminishing. The bold ones in his party started calling him names and attacked his personality. After all, in their minds he was not going to become president again to have the powers to terrorize their lives so 'he can go to hell' as it were.

Atta-Mills passed on to glory in circumstances that are still shrouded in secrecy. His successor, John Dramani Mahama, did not have it easy either. Rawlings tongue-lashed him and exposed him as the most corrupt president the nation has ever had. It led to further divisions in the party and dwindled the respect for Rawlings. He used every opportunity he had in any public activity to tear Mahama apart.

In recent times, he has turned his anger on an otherwise insignificant individual in his party, Anita Desooso, who in her sober moments publicly apologized to Rawlings on behalf of the NDC. In our tradition, when a child publicly kneels down before an adult in public and apologizes for perceived or real wrongs committed, the child is forgiven and later called and advised or cautioned in private. Rawlings chose a different approach openly and went ahead later on to call Anita a 'crook'.

These are acts that harden people against elders who otherwise deserve our respect. This country and the whole of the African continent are going through very difficult times in our history. The massive unemployment and economic hardships our people, particularly the youth are going through are beyond imagination.

Thousands of our youth are losing their lives in the process of risking their lives in search of better living standards for themselves and their families back home. Worse still, Europe seems to say 'no entry for immigrants'. Many European countries which used to be alternative places for Africans are now electing 'anti-migration leaders' who are shutting their doors to African migrants for example.
The recent spectacle that saw desperate migrants being turned away by the Italian government should be a worry to all leaders of Africa, past and present since all of them have contributed in no small measure to this state of affairs. The unemployment situation is so dire, young ones are dying on very dangerous routs towards successful lives. The more we educate our people, the less knowledgeable they become.

People are dying on the premises of health facilities for the simple reason (it may be more complex reason than I see it) that we have no beds in those facilities. We are depending largely on imported food before we can feed ourselves on this continent. An hour or two rainfall takes lives and destroys property; I can go on and on.

These challenges should be the concern of past leaders and get them challenged to make inputs into the governance process to address the problems confronting us rather than be concerned about how one decides to make her colour look. Yes, the usual politicking must go on to ensure better governance, but such pettiness that generates into personal attacks by an ex-President of this country does not add to the solutions of the problems confronting the nation.

This nation is in crisis that blossomed from a simple problem that was not dealt with to an issue that was not properly and deeply discussed for solutions. Crisis that requires very desperate remedies to address. Crisis that also requires the concerted efforts of all who have been privileged to hold positions of trust at one time or the other in this country.

Former President Rawlings of 2018 is not the same as Flt. Lt Rawlings of 1981 to 1992. It is my humble opinion that he appreciates the fact that he is into his 70s, and that is the age that offers advice and wisdom to the young ones. My plea to him is that he should live above this pettiness and stand tall to be counted for the solutions to our problems.