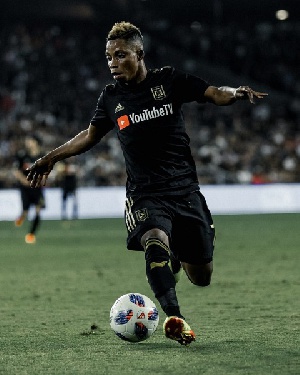 Latif Blessing is beginning to sound like a broken record, one that gets a bit more irritating and hollow with each replay.
Thrice in 2018 has US-based Blessing laid out — with little modesty, needless to say — his international ambitions on various platforms in no uncertain terms.

"I am ready to switch nationality and play for USA. I'm not focused on the Black Stars because I have done enough to merit an invite but to no avail," Blessing told Accra-based Happy FM in January. "One man's poison is another man's food, so if I don't get the chance to play for Ghana and USA offer me the opportunity, I will grasp it with my two hands."

A suggestive Instagram post (pictured above) followed six months later, before another blunt declaration further underlined the young man's intent.

"I will consider playing for the USA national team if they approach me," Blessing stated last week, according to a quote by Ghana's Daily Graphic. "I have been waiting for a Black Stars call-up for some time and it is not forthcoming."

Broken record, see?

For a player some way short of being deemed extraordinary — and who doesn't even turn 22 until the penultimate day of the year — Blessing's jabs are somewhat presumptuous.
To be fair, his desperation — that's how it appears, anyway — to get a senior international career started is understandable, with the closest he's been to ending the wait being inclusion in a provisional Ghanaian squad for the 2017 Africa Cup of Nations.

It's been two full years since Blessing — then a precocious teenager on Liberty Professionals' books — took the domestic scene by storm and signed off as the Ghana Premier League's topscorer. Blessing scooped that season's best player prize, too, and an arguably bigger reward for his success — a move to America's Major League Soccer — followed almost immediately. Sporting Kansas City was the initial destination in early 2017 but, following triumph in the US Open Cup (in which Blessing proved instrumental, by the way), he moved on to fresh franchise Los Angeles FC.

There, under former USMNT boss Bob Bradley, Blessing hasn't done badly for himself, earning rave reviews, but maybe he's exaggerating his worth with all the sudden loudness. Throw up his declined scoring rate and it could even be argued he's retrogressed in that respect.

The goals have dried up, and Blessing no longer looks the part of the prolific forward who fetched 17 goals — including three on the 2016 season's final day — to clinch goal-king honors for himself and survival for his club. His general development as a footballer may be enhanced from competing in more refined conditions, while Blessing has had other attributes of his come to the fore, but all that progress has come at the expense of scoring far less – just 14 in 68 games across two clubs and all competitions.

Then again, Blessing only plays in the MLS: a league that's trapped somewhere between high-profile veterans pursuing a pension plan and fresh-out-of-college wannabe superstars looking to jump on the first flight to Europe.

And Europe is just where Blessing probably needs to be if he wants to catch the eye of Ghana boss Kwesi Appiah, the man his not-so-subtle claims are primarily addressed to. Granted, Appiah looks to the MLS for a couple of his key men, but he rarely sees beyond Columbus Crew defensive pair Afful Harrison and Jonathan Mensah: established stars who have certainly earned their stripes.
Those are elite figures Blessing wouldn't have much of a chance of being reckoned among until he makes that giant step-up and, like it or not, Europe represents his best route towards getting such recognition. A taste of European football would be no guarantee of being invited to the Stars, of course, but it would surely improve Blessing's prospects.

Till then, Blessing ought to let his feet outperform his mouth in making his case for consideration by Appiah; doing contrary is just repulsive and only risks having his bluff called, with the pool of players for Appiah to pick from not getting any narrower.

Oh, and the well-documented alternative/desire to play for America?

Well, laugh it off — at least for now. Such dreams wouldn't be realized anytime soon, given Blessing only picked up his green card late last year and has to wait even longer to secure American citizenship and all the paperwork required to make him an option for the Stars and Stripes — and even then there would be no guarantees. Clearly, Blessing can't simply will/threaten his way to being capped — not for Ghana and definitely not for America at this point.

Time, quieter lips, and a surge in fortunes are surer allies in attaining the blessing Blessing so deeply craves. It can't be too faraway, can it?