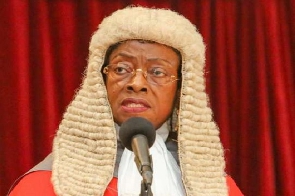 Dear Madam Chief Justice,
I have read with no surprise, your latest comment opposing the plan of the NDC to remove all bottlenecks in the admission of law students, when power changes hands in 2020.

My Ladyship, your conclusion is that "mass production of lawyers" after admitting all qualified Bachelor In Law graduates to study in the Law School, is tantamount to having a mass group of quack, incompetent and poor quality lawyers. This simplistic view of yours therefore makes it imperative for you to shut the door to access legal education in Ghana.

Unfortunately, My Ladyship has not been told the reality, that in an age of mass production of SHS graduates and University graduates, it makes no sense to shut the door for specialisation and professional qualifications in whatever field of study or practise.

Sadly, Madam Chief Justice believes that unhindered access to legal education is the same as Mass Production of Lawyers, when she knows too well that the Bar Exams is the barrier to one becoming a lawyer or an "attempted lawyer".

By your insistence that opening up the Ghana Law School to admit whoever has obtained an LLB and with a good grade, is an unfortunate call for mass production, puts you up as someone who sees the Bar Exams as not good enough a check point that separates the wheat from the chaff.
My dear Chief Justice and Chairperson of the General Legal Council, if the Bar Exams is no longer a good litmus test to enable us know the level of astuteness, acumen and dexterity with which a good quality lawyer must handle a case, then I will agree with you that merely admitting LLB students to partake in professional legal education is equal to MASS PRODUCTION of lawyers.

Alternatively, should you hold the view that the Bar Exams is relevant and a good enough measuring tool, then I am afraid, you are wrong to say, admission to study at the Law School is tantamount to Mass Production of Lawyers, because admission to study law is not certification as a lawyer.

My dear Chief Justice, the Custodian of our laws, my beautiful lady at the Bench, may I have the opportunity to ask some rhetorical questions???

(1) That had the gates to legal education been shut in those days, using subjective interviews and entrance examination as the basis, would you and many others had had the opportunity to become lawyers???

(2) Since you agree that the President was a good quality lawyer in his days of practise, do you care to think about the fact that the President never sat for your Entrance Exams as part of efforts to obtain legal education in Ghana????
(3) Meaning without your Entrance Examination, people gifted with the qualities of President Akufo Addo can also become good quality lawyers which you will later in life attest to their performance. So, why deny such people their rightful place in preparation towards becoming lawyers????

(4) Since you are talking about quality and high performance, my Ladyship, may I remind you that President Akufo Addo had 3rd class in Economics, which couldn't have made him eligible to sit for your Law School entrance examinations. What then do you make of the situation where you force today's 1st Class LLB students to sit for entrance examinations????

(5) I don't need to remind you that, even as the Bar Exams remain the final determinant as to who becomes a lawyer in this country, your darling President Akufo Addo, whose legal prowess you so much cherish, did not present himself for the Bar Exams. He was enrolled as a paralegal in the UK to learn the craft of legal practise, yet He was allowed to be called to the bar in Ghana, without an examination.

Are you saying Nana Akufo-Addo couldn't have become a lawyer if you were the Chief Justice at the time????

Meaning those in charge who allowed Him to become a lawyer did a disservice to mother Ghana???
So, it means you know better than all those who blazed the trail of professional legal education and certification in Ghana?????

Your citizen,

Benjamin Essuman