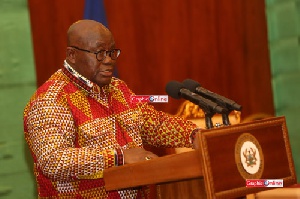 Dear President Nana Addo Dankwa Akufo-Addo,
I want to add my little voice to the 22 anti-corruption civil society organisations, which jointly issued a press statement thanking your government for terminating the fraudulent waste bins contract awarded to the Jospong Group of companies in November 2016.

The contract was worth 362 million cedis, and my investigation revealed it had been inflated by at least 148 million cedis.

My investigation across the country also revealed that the Ministry of Local Government and Rural Development did not need the waste bins at the time it awarded the contract to the five subsidiaries of the Jospong Group. Two years earlier, the ministry had awarded a contract to a different company to supply 150,000 waste bins.

The ministry took delivery of 100,000 waste bins and could not distribute them. In my tour of the 53 metropolitan, municipal and district assemblies across the 10 regions of our country, I saw and filmed piles of waste bins that had been left to rot.

When the company asked the ministry to come for the rest of the 50,000, it wrote back saying the company should hold on.
The Chief of Staff, Julius Debrah, then instructed the Local Government Minister, Collins Dauda, to go ahead and procure one million waste bins and 900,000 pieces of bin liners.

Waste bins earlier procured were abandoned across the country. I took this photo at Chinderi Police Station in the Krachi Nchumuru District of the Volta Region in February 2017.

The cancellation of the contract has saved the nation money that can be used for something beneficial to our society. You and your government deserve a lot of praise for that.

I agree with Linda Ofori-Kwafo of the Ghana Integrity Initiative that the cancellation is a huge boost to the anti-corruption fight.

While I laud you for this action, I want to bring to your attention the other fraudulent sanitation contracts that have crippled the assemblies but are yet to be acted on.
One of such contracts is the Youth in Sanitation (sweepers) contract with Zoomlion Ghana Limited. This contract expired in February 2013 and has since not been renewed. However, it has been allowed to continue till date. Your government served notice to Zoomlion last year that it would discontinue the contract by February 2019.

This contract has been running since 2006, but between February 2013 and next month (February 2019), this contract has cost the taxpayer ONE BILLION, SIX HUNDRED AND TWENTY MILLION GHANA CEDIS (GHC 1,620,000,000).

Out of this figure, ONE BILLION, TWO HUNDRED AND NINETY-SIX MILLION GHANA CEDIS (GHC 1,296,000,000) goes to Zoomlion as management fees while only 324 million goes to the 45,000 workers for whom the Youth Employment Programme was created.

February 2019 is almost here, but I hear your government is up to another trick.

Mr. President, my plea is that pay attention to this contract and others like that to avoid a needless scandal under your watch.
I will soon come your way with the details of the unfolding scandal, but, today, I want to keep it short. I just want to add my little voice to the civil society groups and say, this is the change Ghanaians voted.

Yours sincerely,

Manasseh Azure Awuni. I am a citizen, not a spectator!