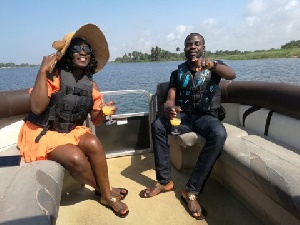 When I asked my wife where she wanted us to spend our first marriage anniversary, she said I should give her a surprise. Women are adventurous! I wouldn't have willingly left that big deal to someone's choice, which might turn out to be a disappointment. Perhaps, I had given her a good reason to trust my judgment on such matters.
We spent our honeymoon in the Mole National Park. While in the park, we discovered Zaina Lodge, the newest addition to the Mole experience. She had mentioned Dubai as one of the places she would love to spend her honeymoon. After our experience in Mole and a tour of the Upper East Region, however, she understood why I had always said there were equally breathtaking sites and scenes to discover in Ghana. The glitz and glamour of the artificial city of Dubai cannot compare with the manicured sounds, scents and sights of nature.

"We couldn't have chosen a better place," she said later. Those who visited Mole National Park after reading my article agreed with her.

On our wedding anniversary, we had only a weekend and we had to make it count. The location and the distance mattered here. And the lots again fell on me to come up with a holiday destination. We had to set off after work on Friday.

We both looked forward to a memorable weekend as we drove out of Accra. I knew the destination. She did not. She wanted a hint. And I would not drop any. When we went passed Tema, she started to guess. What came to her mind was Prampram, for there are many holiday destinations there. To mislead her, I said she was right, but I would treat the exact resort in Prampram as a secret. That would be the surprise, I told here. She was excited about Prampram, but I had a bigger surprise.

Thankfully, she was not familiar with that part of the Greater Accra Region so when we covered a reasonable distance that could have suggested we had gone past Prampram, she did not realise. When you're enjoying a trip, you hardly realize how long you have travelled. We spoke heartily. We laughed. Every kilometer was a distance away from the noise, stench, traffic and general pollution of the capital city, to another little city, a citadel of pleasure on the southeastern coast of Ghana.

When we passed Kasseh and turned to the only road that took us to Big Ada, I prayed she did not see the signposts that welcomed visitors to the Aqua Safari Resort. Thankfully, she was not wearing her glasses. In Ada, I missed the junction that turns into Aqua Safari so I decided to ask for directions. In order not to blow my own cover, I left her in the car and went to whisper to a woman who gave me the right direction.




About a hundred metres to our destination, the lights of our car hit a signpost.
"Aqua Safariiiii!" she screamed. She was still screaming when we got the main entrance.

"Oh my God!" she said as the real beauty of the resort unfolded before our eyes. "These people would think I'm crazy."

The room we were ushered into was an exquisite blend of modernity and antiquity. When we lifted the curtains, we saw the Volta Lake in its majestic serenity, providing a soothing balm for the evening's relaxation in the moonlit night. Outside, there was bonfire for those of us who were not accustomed to such weather.

A live band got the dance floor busy. Those who were attending to the delicious buffet nodded and tapped their feet as the band served tune after tune of contemporary and legendary Ghanaian highlife music. When the band announced its last performance, there was a shout of protest. The band was compelled to play a few more tunes.

When the band ended and the moon stood still over the noiseless lake we retired to bed. Let's skip what happened afterwards. For the elderly and legitimate "property owners", however, I must say if you surprise a man or woman with Aqua Safari, you get a beautiful reward.

Scientists say the early morning sunlight provides vitamin D. But those golden rays that shot through the cloudless sky and landed on the Volta Lake at Aqua Safari produced a spectacular look on the lake. It added colour to our boat ride.

There was a heavy buffet for breakfast and we took our time to maximize our enjoyment. The food and drinks were carefully packaged and our table was neatly set on the tourist boat that would ferry us down south, to the very end of the lake, which has its source from Burkina Faso. It is a boat for two. There was the captain and another helpful young man, and a waiter who doubled as a tour guide.

As the bow of the boat parted the water like a giant whale, another breathtaking scenery unfolded: the beautiful islands to the left as one moves southwards. To the right is the mainland. A few metres away from Aqua Safari, came the beautiful coastline that does not look like any place in Ghana. The coastline from Aqua Safari to the southern-most part of the Volta Lake is lined with beautiful beach houses and boats.
"Is that a hotel or a guest house?" I asked.

"No," our tour guide responded with a grin. "This one you see here belongs to Mr…, the CPP Presidential Candidate who…"

"What about that one?"

"That one is owned by the President's brother," came the response.

"Wow! This one is really grand! Who owns it?"

"It is owned by…"




Ada is a well-kept secret of our Ghanaian elite. The tour guides appear to know who owns every single property there. The properties are generally unoccupied. The big boys of Ghana hold parties and spend quiet weekends there with their friends, business partners and…, we were told.
I wondered if the Ghana Revenue Authority knew about this. But, hey, I was not out there to do investigative journalism. This was the time to celebrate love, one year of a marriage expectation that had been exceeded. I had to momentarily forget about the problems of Ghana and enjoy the beauty of Ghana.

Further down the lake, some white tourists were also admiring the scenery, the greenery of the islands and the spectacular coastline that was adorned with coconut trees and beautiful beach houses owned by the wielders of the nation's wealth.

By the time we got to the estuary of the Volta Lake, we had finished eating and now concentrated fully on the beautiful atmosphere while sipping fruit juice and bathing in the mid-morning breeze.

"This is where the Volta Lake meets the sea," our tour guide pointed.

The exact location was about 150 metres away from where our boat stopped. The somewhat brownish colour of the lake the azure sea appeared to be engaged in a violent confrontation that was so dangerous that only huge vessels could attempt to separate them.

"That is where Castro is believed to have drowned with his lady friend," our tour guide said.

On 6th July, 2014, popular Ghanaian hip-life artiste, Castro (Theophilus Tagoe) went jet skiing with a female friend, Janet Bandu. A search and rescue team later found the Jet Ski. The remains of Castro and his female friend were never found. That part of the strip is both saddening and frightening and we did not spend much time there. They were lodging at a different resort but went to rent the Jet Ski at Aqua Safari.

After the boat ride, we came back to rest and later toured the beauty of Aqua Safari Resort. There are places that look more beautiful at night than during the day. Aqua Safari is the opposite.
The vast landscape has countless fountains. Natural and artificial aquariums with dozens of colourful fish variety greet you everywhere you turn. Donkeys, horses, exotic and local breeds of rabbits and birds will make you feel you are in a game and wildlife reserve. The architecture of the resort is equally breathtaking. The white building shaped like a ship and the conference centre shaped like a fishing canoe turned upside down are captivating.

The conference centre shaped like a boat turned upside down

In fact, Aqua Safari is a holiday destination whose experience cannot be exhausted in one article. And not all the experiences can be captured by words. Unfortunately, almost every promotion in Ghana that promises a holiday destination as a reward makes reference to Dubai, Mauritius, South Africa and other destinations outside the country. Dubai may be good for shopping. But if one considers the amount of time to spend at airports and in planes, resorts such opting for the locations here can be more satisfying, especially when the holiday period is short.

A weekend at Aqua Safari is enough to leave one with a life-long nostalgia.