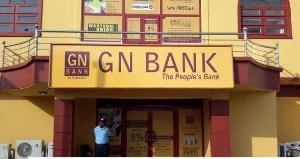 This week's edition of Made in Here (Part 6), focused on the origins of GN Bank, what has made the bank what it is today and why it should be considered as a product, company or entity that is made in here (Ghana) and strengthened so that it can help create the wealth of our nation so our people become prosperous.
Dr. Papa Kwesi Nduom, President of Groupe Nduom who doubles as the host of the show said, contrary to the belief by some Ghanaians that GN Bank was funded with money he made whiles serving as a government Minister, the bank didn't just become the success story it is today overnight but started small as a Savings and Loans company with investments made by him and his wife over the course of time.

Giving a brief history of the origins of the bank, Dr. Nduom revealed that GN Bank was incorporated on May 20th, 1997 as First National Bank and was licensed as a non-bank financial institution on May 10th 2006 by the bank of Ghana, nine years later. Dr. Nduom recounted how prior to achieving this feat he and his wife as well as potential shareholders went through a host of challenges mostly financial and having the rug pulled from beneath them anytime they seemed closer to obtaining the license.

He recalled one such setback when Provident Insurance with which his entity, Coconut Grove Hotel, had joined forces to register First National Savings and Loans as well as applied for license in 1997, had to be removed as shareholders because the National Insurance Company said that Provident Insurance did not have enough resources at the time to become a partner or shareholder of First National Savings and Loans.

Eventually, they presented the owners of a company known as BB Investments who were accepted as shareholders by Bank of Ghana leading to the acquiring of the license after nine years of relentlessly working to achieve that.

He revealed that GN Bank's primary purpose was not to be a loan making bank but to provide access to a safe place for the people and the businesses to keep and transfer their money and to provide services to facilitate trade and industry in Ghana.

Its vision was to be the bank for the ordinary person, delivering close to client services throughout Ghana and be known for excellent Customer Services while creating value for the shareholder. Thus, the introduction of Mobile Bankers who were hitherto referred to as Susu Collectors who could reach the teacher, the farmer or the market woman who could not make it to the banking halls.
Despite gold, diamond, bauxite, oil and gas and other natural resources abounding in Ghana, its people are poor because the nation is poor. This, according to Dr. Nduom, is because we have not been able to utilize the God-given resources in such a way as to protect and promote our own.

"If developed countries are protecting their own industries, why don't we protect our companies, protect our entrepreneurs, make sure the jobs we have here at home are safe? Why don't we work on making Made in Here something important? Dr. Nduom queried while stressing the need to support made in Ghana businesses to boost the economy.

GN bank has always had high an interest rate of 9% on Savings Account plus GHC 1000 insurance cover hence the banks stable Savings Accounts portfolio. It has grown from a small savings and loans company into a multinational bank boasting of over 300 branches both home and abroad including; in Liberia, Togo, Benin, Sierra Leone as well as the United States of America.

It is undoubtedly evident that if strengthened and protected, GN Bank can help create the wealth of our nation thereby making our people prosperous.

Made in Here continues next Saturday at 7 pm on ATV, GNTV GH and GN Radio