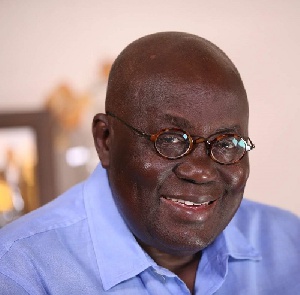 "Make the lie big, make it simple, keep saying it, and eventually they will believe it" (Adolf Hitler).
So, why must it come as a surprise when the Historian, President John Dramani Mahama consistently refers to Nana Akufu Addo as a dictator and intolerant?

"President Mahama has told Ghanaians not to vote for a divisive dictator in the December 7 presidential election" (classfmonline.com; ghanaweb.com, 24/08/2016).

"Addressing supporters of the National Democratic Congress (NDC) in Bimbilla in the Northern region on Tuesday August 23 as part of his campaign, Mr Mahama said: "What we need in Ghana is an understanding president".

Who is a dictator?

"A dictator is a person who behaves in an autocratic way". "A dictator could also be a ruler with total power over a country, typically one who has obtained control by force".

If we are to take the preceding definitions into account, then we can conclude that a typical example of a dictator is the founder of the NDC Party, Jerry John Rawlings.

A dictator could also be a leader who wields absolute power.

Apparently, Ghana's 1992 Constitution has conferred prerogative powers on our presidents, including President Mahama. By inference, they wield some constitutional absolutism powers such as the Article 72 which allows successive presidents to pardon even convicted murderers.
Moreover, it is the same constitutional absolutism power that he, President Mahama, exercised in the remission of the convicted Montie three.

Therefore, we may deduce that dictatorship is not always a bad idea.

And more so the perception of dictatorship is subjective. For example, some people saw former Libyan leader, the late Moammar Gadhafi as a dictator, but he never acquiesced to such cognomen.

Gadhafi thus insisted: "There is no state with a democracy except Libya on the whole planet" (Moammar Gadhafi).

Needless to say, Gadhafi performed incredibly well in terms of the economy despite the dictatorship tag, and he was patriotically attached to his country, as a matter of fact.

"We are looking for a leader who can unite Ghana and not a leader who will divide Ghana". "If you cannot unite your own party, how do you unite a nation?" Mahama asked.

I am afraid President Mahama's statement can be best described as a mere vague rhetoric, or a political inebriation devoid of substance.

As a matter of fact, am yet to hear, read or see a breakaway party from NPP Party. Needless to say, Nana Konadu Agyemang Rawlings, the former second vice chairperson of the NDC and the wife of the founder of NDC Party broke away from NDC and formed her own party which is called the National Democratic Party (NDP).
Where was the peacemaker Mahama when Nana Konadu got fed up with the corruption and the existential incompetence in the NDC Party and decided to form her own party?

Well, maybe President Mahama lacks conflict resolution skills, hence his inability to resolve the impasse. Oh, what a shame.

And more so does President Mahama realise how he has divided the nation following his controversial decision to free the three Montie boisterous brats?

Yes, you have divided the country; could we then say that you are a dictator for carrying out such an infamous action?

Indeed, we could call you a dictator, based on your own analysis of who a dictator is.

"The era of dictatorship is gone: we are not looking for a dictator, somebody who cannot stand criticism in his own party", said President Mahama.

May be President Mahama needs someone to point it out to him exactly who he is, and I am prepared to volunteer.

In fact, President Mahama is the biggest intolerant who cannot take criticisms.
Unbeknownst to many Ghanaians, President Mahama can be pugnacious. Thus I find it really difficult to understand why he is hiding behind the 'Mr Nice Guy' appellation.

Actually, President Mahama's recent condescending comments on Alhaji Dr Mahmoud Bawumia really exposed his hypocrisy.

In one of his recent 'changing lives' speeches, President Mahama sarcastically suggested that Bawumia has not been a president before and therefore cannot criticise his government.

President Mahama went ahead and uncharacteristically asserted that only our two former Presidents, Kufuor and Rawlings have the pedigree and therefore may criticise him.

Apparently, according to our President's logic, the rest of Ghanaians do not have the right to criticise him and his government because we have not sat on the presidential seat before.

Tell me, if this doesn't represent a dictator's view point, what is it then?

Again, in the wake of the public discourse on the suitability of the proposed burial place of our departed president Mills, President Mahama incoherently stated that Ghanaians who took part in the debate both on radio, television and even in their private homes and work places engaged in a "USELESS" discourse.

Tell me, who else can come out with such an incoherent remark, apart from an intolerant and a dictator who does not respect other people's views?
Let's remind President Mahama once again that most people may prefer a competent dictator to an incompetent and corrupt leader.

And who says only dictators can be human rights violators?

Apparently, the so-called democrats like President Mahama are the worst human rights abusers (Hafner-Burton and Tsutsui 2007; Hathaway 2007).

Let's also remind President Mahama that both the right to education and health are inalienable human rights according to the International Bill of human Rights (UN 1948, 1966a, 1966b).

So, for example, a supposedly dictator like Moammar Gadhafi who was providing free and accessible education and health to his subordinates was, in hindsight, human rights compliant.

While a so-called democrat who is corrupt and unable to provide free and accessible health and education to his citizens is a human rights violator.

Tell me then, who would you choose, a competent dictator or a corrupt and incompetent democrat?