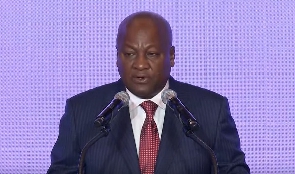 John Dramani Mahama in his effort to encourage young people to go into cocoa farming, spent an afternoon on the cocoa farm of Samuel Torbi at Assin Sienchem in the Central Region on January 7, 2015, where he was taken through various activities on the farm.
The huge nationwide media attention of the president's visit energised many youth to go into cocoa production.

And given that cocoa takes 5 years to mature for harvesting, the massive influx of young people going into cocoa farming after Mahama's visit to Torbi's farm was rewarded with an estimated 1.1 million metric tons in cocoa beans production in the 2020/2021 crop season. Hitherto, Ghana was doing 700,000 metric tons annually.

Of another interest is the fact that not only was the nation's cocoa output increased, but many of the young people who ventured into cocoa production earned good money, reducing unemployment in the country.

For example, the average annual cocoa yield per acre is 30 bags; 20 in the main season and 10 in the minor season.
At the rate of Ghs660 per 64kg bag, a farmer who did 10 acres for instance earned a gross annual income of GHS198,000.

Unfortunately, cocoa production plummeted to 689,000 metric tons in 2021/2022 because of illegal mining activities. This was confirmed in a report by the Ghana Cocoa Board (COCOBOD) in April 2022, which stated that over 81% of cocoa farms in the Eastern Region for example were impacted by illegal mining.

The benefits of that singular action by JDM as mentioned above were not only enormous, but exceptional and outstanding. I takes a leader with superior mojo to do such a thing.

And I am confident that God has already prepared him for an unfinished business in 2024 and the manifestation of it in the physical realm is what we are waiting for, that is where you come in. Your unstinting support will seal it.