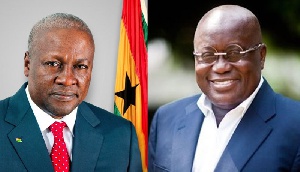 "It is not our diversity which divides us; it is not our ethnicity, or religion or culture that divides us. Since we have achieved our freedom, there can only be one division amongst us: between those who cherish democracy and those who do not" (Nelson Mandela).
Haruna Atta on hegemonic Akan ethnocentrism

Yet, there is no doubt in our minds that the phrase "northern brothers" is more inclusive, innocuous, and attractive than the exclusivist label "Yen Akanfuo"!

What is "Akan" anyway? Is it not as scientifically inane as the word "race"?

Even the concepts "north,' "northern" and "northern brothers" enjoy a far greater swathe of cosmopolitan inclusivity than "Yan Akanfuo."

All these terms and ideas are, in fact, only as good as the sentimental motifs of cultural geography, although we also have to concede the fact that President Mahama only spoke the gospel truth, truth many Ghanaians, historians and political observers have known all along.

The truth is like a severe open wound—which hurts, which really hurts so bad, but well-known Machiavellian Akan-centric Aryanists and ethnocentric hegemonists like Akufo-Addo, modern-day political originators of ideological ethnocentrism within the tight parastatal framology of political socialization in the Ghanaian body politic, have woken up from their long slumberous vegetativeness and suddenly discovered an imperative need to call it by a different name, a lie, "tribal politics."

Also J.B. Danquah, for instance, made fun of Nkrumah and his government as well as derogatory remarks about two northerners Nkrumah included in his cabinet.

In fact Danquah specifically referred to them disparagingly as "ntafo."
Thus Haruna Atta's revelation that, Akufo-Addo, an Eurocentric Black Englishman widely known for his idiosyncratic strain of Locally Acquired Foreign Accent (LAFA), is one of the most important architects of Akan hegemonic ethnocentrism within the NPP is actually no revelation at all.

Technically it is not even a teachable reminder; it is rather a normative fixture of the unsleeping habits of public knowledge.

It is, however, providentially welcoming and even heartening to see people, like Haruna Atta with insider knowledge, appear on the political scene from time to time to tickle the ever-sleeping collective memory of Ghanaians.

But then also, peradventure, it is the time and the platform on which he made those comments, rather than the implied content of the comments.

The implied content of the comments should not be cause for alarm because, as we have already made clear elsewhere, it represents a polished reprise or subtle reiteration of Akufo-Addo's.

The unvarnished truth about our hypocritical nature

Ethnocentrism is not an intrinsic trait of any particular ethnic group. Put another way, ethnocentrism is not unique to any group in that instances of it can be found in almost every national culture and ethnic group—there even exists in-group ethnocentrism such as in the Akan family, say.

The central idea of implicit bias ("stereotype") is a complex phenomenon—to say the least. As a matter of fact we also present these statements quite apart from the comical sentiments of ethnic stereotypes, of the possibilities of forced assimilation, and of own-race bias, so-called.
That said, the outrageous idea that only ethnic groups from resource-rich regions have a divine right to rule over others is as politically scary as it is ethically and morally stupid—if Ghana is indeed a unitary nation-state.

Granted, if ethnic superiority is a function of which ethnic group sitting on a groundswell of resource-rich environs has the divine and moral right to rule over others, then surely we must give that covetous title of ethnic superiority to the autochthonous Guans. The autochthonous Guans sat on these resource-rich lands before any Akan set foot in what is present-day Ghana.

The fact is that no ethnic group is actually inherently superior to the other ethnic group.

Besides, the Akan perception of the intellectual and leadership capabilities of the non-Akan as sub-par is largely driven by a misplaced sense of self-fulfilling prophecy, and from the perspective of illusory supremacy, both a figment of imagination of the Akan.

This remains an important normative fixture of the social psychology of ethnic relations.

One direct corollary of this phenomenon is the popular association of the non-Akan with imposter syndrome.

Yet this does not impute qualities of leadership and intellectual superiority to the Akan, namely that the Akan is not inherently intellectually and culturally superior to the non-Akan.

Here, we may want our readers to pardon us for creating a false sense of dichotomy between the Akan and the non-Akan, as it were since "Akan" and "non-Akan" both have no scientific validation.
We merely adopted the labels for reasons of simplistic elucidation of the non-obvious. Their adoption was for illustration purposes only in other words.

That is to say, a national database built on genetic genealogy will have resolved some of these standing controversies. Cultural ideas such as patriarchy and matriarchy blur the dichotomy even further.

Last but certainly not least, on the question of ethnocentrism and some of its causation variables we may mention the following, including, but not limited to, colonialism and the so-called Hamitic Hypothesis (which Europeans used to play one ethnic group(s) against the other(s)), imbalance in regional development as between the North and the South, different levels of industrialization across the country, slavery, xenophobic regionalism, the historical and continuing marginalization of the North, gross misappropriation of funds meant for the development of the North, religion, and so on.

We can reverse these negative trends as a people.

Finally, it is about creating equality of opportunity, and how groups avail themselves of this that we can hopefully level the playing field for all, regardless of a citizen's ethnicity, religion (creed), regional origins, gender, physical disability, and political persuasion.

We must also let go of unprogressive cultural practices that are antithetical to hard work, adventurism, collaboration, material and spiritual success.

We have not and will not forget Kennedy Agyapong's ethnocentric, genocidal incitement of Akans, mostly Asantes, against Gas and Ewes, two important ethnic groups in our beloved country. Once again Akufo-Addo never criticized Ken's ethnocentric, genocidal provocation, at least publicly.

Now he [Akufo-Addo] is crisscrossing the country begging for votes from all these groups his politics of exclusion slighted when he made those infamous, unpardonable "Yen Akanfuo" remarks.
And if Ken's Akans had genocidally slaughtered the Ewes and Gas, let us just ask for the sake of argument, will Akufo-Addo be now standing before them begging for their votes?

Did he not also recently acknowledge the fact that votes from Greater Accra are crucial to his potential victory? Is it only "Yen Akanfuo" or Akans who live in the region called Greater Accra? What about Ewes and Gas?

Perhaps we need to embrace the lingering illusion of a post-ethnic society. Perhaps also we need a national dialogue on ethnicity and ethnocentrism.

We shall return with Part 4, the final installment.

References

Ghanaweb. "Nana Addo Told Me 'Non-Akan Won't Lead NPP'—Haruna Atta." November 23, 2016.