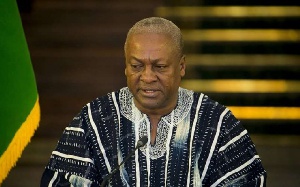 On so-called tribal politics: President Mahama said nothing wrong and will not apologize to anybody.
Folks, I have monitored happenings over the past few days regarding the politicking being done toward December 7. There is a lot to suggest that stakes are high and that the NDC and NPP continue to attract more attention than the other contesting parties.

The substance of the campaign messages have also made me know how the pendulum swings. Nothing spectacularly new is being said by any of the contestants; neither has emphasis shifted from development projects to anything novel.

All of a sudden, something has emerged from the anti-Mahama camp to find fault with his urge for Ghanaians of Northern Ghana extraction to do their best to keep him in power because he has good intentions for them in his second term.

Uproarious as his opponents are, the truth remains that President Mahama is no more guilty than those critics are when it comes to tribal politics.

First, let's state what has been attributed to him that his critics are falling head-over-heels over in their campaign of hate against him.

He is reported to have said that because plans by his government are in the best interest of the people from the north of the country– Northern, Upper East and Upper West regions–it would be unfortunate to call for a change of government.
He said the opposition NPP did not have their interest at heart as his government does.

The comment has been widely criticised, with the Media Foundation for West Africa calling on him to apologise for what it says are ethnic, divisive comments.

MY COMMENTS

Arrant stupidity on the part of those finding fault with the President. Is this the first time that anybody seeking voter support has played this kind of card? What is wrong about appealing to the conscience of those he sees as his constituency? And he has constituencies all over the country!!

I take issues with those making a mountain of this molehill, especially the General Secretary of the Christian Council of Ghana (Reverend Dr. Kwabena Opuni-Frimpong) and the Media Foundation for West Africa (MFWA), which has called on the President to apologise for what it says are ethnic, divisive comments.

Arrant nonsense!!
Where have all of them been all this while not to know how the NPP is playing the tribal card? What did they say in reaction to all that has been reported about Kennedy Agyapong, Yaw Osafo-Maafo, Dr. Bawumia, and Akufo-Addo within the context of tribal politics?

Akufo-Addo has said that President Mahama has impoverished northerners; Dr. Bawumia has said that President Mahama is not the kind of President that northerners want; Akufo-Addo has isolated "Zongos" for special attention in his quaInt plan for development and support should he win the elections; many other NPP elements have said a lot verging on tribal politics. What did the Media Foundation for West Africa or this Rev. Opuni say in reaction as they are doing now against President Mahama?

What has this Rev. Opuni said in reaction to the kind of negative politics being done by his fellow "Men-of-God," led by Owusu Bempah to ruffle feathers? Nothing. Absolutely nothing!!

What did this MFWA and Rev. Opuni say when ex-President Kufuor asked those in the Eastern Region to vote for Akufo-Addo because he is their own kith and kin? Nothing. Absolutely nothing!!

So, why come out now to take on President Mahama as if he is calling for hell and brimstone to burn Ghana if he doesn't win the elections? He is on record as having said that he will accept the outcome of Election 2016 and that he will do all in his powers to ensure peace in Ghana before, during, and after the elections. Has Akufo-Addo been bold and honest to go that way too?

To me, President Mahama doesn't pose as much threat to Ghana as Akufo-Addo and his team of desperate power seekers do!! It may not be palatable for Rev. Opuni and those jumping on President Mahama to be told that when push comes to shove, those bald-headed crows (Akufo-Addo and Bawumia) leading the NPP's campaign of intimidation and potential anarchy will be the first to suffer if what they are sowing bears fruit. They are very soft targets!!!!!!!!
In truth, this Rev. Opuni is an NPP surrogate just as the so-called civil society groupings, including this amorphous MFWA (whose contribution to the media scene is even not significant in any way) are.

I want to say here that President Mahama said nothing detrimental to national politics and will not apologize for anything. What he stands for is clear to all sensible Ghanaians who can read between the lines. Only trouble-making characters of Rev. Opuni's type and whatever that MFWA is will attempt to put President Mahama on the spot.

Clearly, the battle lines are already drawn and they are visible. Whatever weapon the anti-Mahama elements think they have to fight him is known and will be neutralized at the appropriate time.

Election 2016 is nothing strange to warrant all the nonsense coming from those characters hiding behind the smokescreen that they have created under the guise of the church, civil society groupings, or whatever to pursue their NPP interests.

When it comes to the crunch, steel will cut steel on December 7.

I shall return…
• E-mail: mjbokor@yahoo.com

• Join me on Facebook at: http://www.facebook.com/mjkbokor to continue the conversation.