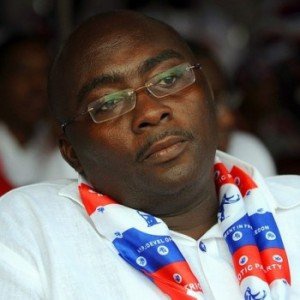 By Margaret Jackson
I have kept wondering why for eight long years the National Democratic Congress (NDC) has virtually allowed Mahamadu Bawumia, the three time vice-presidential candidate of the New Patriotic Party (NPP), to brazenly walk across the length and breathe of the country spewing lies and gibberish without blowing the cover off this common thief.

Since some top guns with the NDC family really know a lot about Bawumia and his days at the Bank of Ghana as deputy governor, I am surprised that this person has been treated with soft gloves and is having a field day. Bawumia is nobody who should be talking about corruption when indeed he basks in corruption. Today, I am going to give a peek to Ghanaians and explain why I can confidently say that Mahamadu Bawumia is a common thief.

Nana Addo Dankwa Akufo-Addo, Ghana's most-rated serial presidential candidate, started his campaign for the 2008 presidential bid in a twizzle. In fact, Akufo-Addo felt so good believing that he was walking straight to the Osu Castle, Ghana's seat of government without a sweat, so choosing his running mate was not one of his top priorities, way from January through July 2008.

But that attitude suddenly changed when Akufo-Addo got a windfall of cash from an unlikely ally, Mahamadu Bawumia.

Ghanaians will recall that on July 3, 2007 ex-President Kufuor assembled a team led by Bawumia, which redenominated the national currency (Cedi) at a base value of 100. Following the redenomination, the team led by Bawumia were to burn or destroy the old cedi notes that had been collected from Ghanaians.

But unbeknown to many Ghanaians, Bawumia had other diabolical plans. After collecting the huge sums of old cedi notes that were meant to be destroyed, this man Bawumia secretly turned around, and went and gave a huge chunk of them to Nana Akufo-Addo as his contribution towards his 2008 presidential campaign. This is not a conspiracy theory. It is not lies but purely the truth.
After Akufo-Addo had received the windfall of the old cedi notes from Bawumia, he sent his emissaries who went to change the money and got the new Ghana Cedis at a huge loss to the state.

But this brazen thievery by Bawumia did not go without a reward. Akufo-Addo immediately sent his cohorts to do a background check on Bawumia, and after they have spoken with Bawumia and realized that he could be of "substance" to Akufo-Addo they recommended Bawumia to be his running mate.

That was the reason why for the first time in the history of the NPP, somebody who did not even have the party's membership card let alone having natured the party was hurriedly pushed to the second topmost position of the party against lots of protestations from key members of the party. Ladies and gentlemen, Bawumia, the so-called "economic wizard" of the NPP paid his way to become the running mate of Akufo-Addo by stealing from the state to support Akufo-Addo.

I also want to take Ghanaians down the memory lane, when the Deputy Managing Director in-charge of Operations of the Ghana Commercial Bank (GCB), Mr Rocco Frimpong, who knew a lot about the thievery by Bawumia and others during the redenomination of the cedi, was brazenly murdered by four armed hit men at the Sakumono Estates in 2007. To date the case had gone cold with no prosecution of those arrested in connection with the case.

Mahamadu Bawumia thinks he had covered his tracks very well, believing nobody in the country knows that he's a common thief who perhaps bought the vice-presidential slot from Akufo-Addo with the stolen old cedi notes that he sneaked through the backdoor to support Akufo-Addo's presidential campaign in 2008.

Many Ghanaians believe that Bawumia and possibly Akufo-Addo know something about the murder of Mr Rocco Frimpong, who whispered to friends and relatives that he was going to expose those who made a fortune out of the redenomination of the country's currency before he was coldly murdered. Ghana spent so much during the redenomination exercise but Bawumia has to date not informed Ghanaians how much it cost the country.
Yet we have Bawumia who today junkets around the country branding members of the NDC ruling government as thieves. Between the ruling NDC government and Bawumia who is the brazen thief? Is it Bawumia who stole to buy his vice presidential position or the hard-working ruling NDC government, which continues to bring development to the doorsteps of many communities in the country?

This is the kind of guy who is seeking the second highest office of the land come January 2017. It is time members of the NDC, who know the exact role played by Bawumia during the redenomination implementation start talking because a common thief like Bawumia must never be left of the hook.

I know members of the NPP are always ready to defend every evil act conducted by the party. Even when their members are murdered or maimed they are more than happy to justify it, therefore I know they would jump to the defence of Bawumia.

But I dare Bawumia to come out and deny this story and top it up by telling Ghanaians how much money Ghana spent on the redenomination, rather than always comparing the cost of projects undertaken by Kuffour in 2002 and projects undertaken by President Mahama in 2015 as if prices of goods and services in the country are static.

Writer's e-mail: magjackson80@yahoo.com