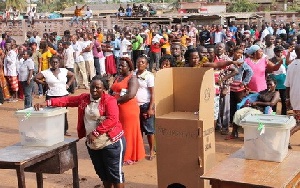 A worriedly livid "commatriot" went on and on over the telephone about the catastrophe awaiting the opposition in the upcoming elections with unchecked minor registration and voting.
She would talk to me because I would presumably listen.

She would not talk to the right person, the election woman, because she was certain madam election would only listen to bad advice and not the good one.

The complainant herself actively involved in trying to check election malpractice had experienced minor registration firsthand.

A compatriot had confessed to registering three minors ages ranging from 13, 15 and 17. He had actually handed in the cards when he realised he was courting trouble for father and offspring.

The 'commatriot' complainant's worry was heightened by her fear that the minor registration as an election abuse practice within the governing congress' 'strongholds' would work to cost the opposition the 2016 election.
She recognises that usually anyone who dares challenge voter status in a stronghold could end up brutally beaten.

I explained my inability to act. I thought, though, that this is the work of observer teams.

Organisations spend lots of money to deploy election observers. Why they cannot report minor voting as minor malpractice is a mystery. It's just like Kwame Nkrumah and the freedom fighter community bemoaning 'where and where we do not know,' in his: 'Somewhere in Katanga in the Congo' speech. Patrice Lumumba, Josef Okito and Maurice Mpolo had been murdered.

Observers are expected to know and report where and when minor voting occurs. But it is usually an ostrich see no minor voting or registration, hear no minor registration and voting. Minor registration and voting are projected as of rare occurrence and consequence to have affected the results of an election. Reports like that, though, make me wonder whether the work of the observer teams should not be counter-monitored for the monitor to be monitored.

Congress deflection tactics are many and varied
To me, they are happy with the tussle over NHIS registrants. It conveniently subsumes the issue of minor and dead registrants. They will, through the biased EC, drag the issue to the last minute.

So while all attention is on that, the effect of minor registration and voting would be stretched for maximum benefit on the opposition blindside. Poor you if you are in opposition, especially if you have to face election manipulators of the amp?br? kind.

Congress has enclaves Edubiase, Ejura, Ahafo Ano, Asutifi, Asawasi and substantial parts of Asokore Mampong and Oforikrom in the Osono stronghold to check on the opposition. So congress can claim to be working for one million votes in that stronghold. Osono, on the other hand, has no enclave anywhere in the Congress strongholds.

So working by winning regions and not votes, Congress people exploit their stronghold advantage. Any region you consider Osono stronghold, you find congress enclaves. In any congress stronghold region you find nothing like Osono enclaves.

Congress has thus surreptitiously imposed an American electoral college system that effectively diminishes the person's vote on the motherland. They ensure the motherland is ruled by geography by making the geographical area, and not population or people, the key to governance.
People don't matter to congresspeople. That is why they have failed so miserably and will continue to fail more miserably.

It is people who use their brains to transform nature to their advantage. Nature has no brains to transform. So when you decide to use that which cannot transform to do exactly that, you are guaranteed not to produce transformed results.

If you are a compatriot who wants to see change in motherland leadership that is causing you so much pain and anguish, please do not get tired or bored by the voter register issue.

The register is the source of all the horrible malpractices that were exposed during the Supreme Court election petition hearing.

Pink sheets without signatures, bloated list of overseas registrants, transposed figures, twenty-seven o, all happened because the register was bloated.
When names exist on a register which represent no living beings, it allows congress to do all those things they did to steal the 2012 elections.

A 'reasonably credible and accurate register,' will pre-empt some of their cheating tricks. That is why they will move heaven and earth to maintain a corrupt register.

Congresspeople are apostles of corruption. They corrupt everything they touch using their massive corrupt presence in the public service.

Until the majority of them, who are suffering dums? and other hardships as the rest of us in the motherland are, decide to take their destiny into their hands, they would be hoodwinked by the minority who chop on behalf of their majority.

I doubt if anything can happen in their strongholds that would check election corruption.