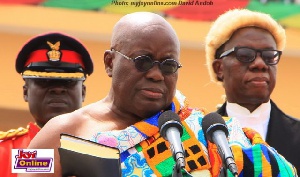 "I ask you to be citizens: citizens, not spectators; citizens, not subjects; responsible citizens building your communities and our nation. Let us work until the work is done" (George Bush, 2001).
AKUFO-ADDO A SPECTATOR, NOT A CITIZEN

Clearly the target of Akufo-Addo's plagiarized inaugural speech was the Ghanaian, supposedly an audiential referent very much in tune with the swearing-in hoopla.

Sort of an expectant maiden speech nonetheless, but one deeply marinated in or tinged with the sweltering heat of international ignominy.

And thus, Akufo-Addo presented his speech as though he was totally outside the collective experience of the social contract he had had to go into under no ostentatious compulsion, a tacit and overt agreement with his audiential referent on that momentous occasion.

Like the political paedomorphosis which he has sometimes represented in the Ghanaian body politic, Akufo-Addo spoke not unlike an exceedingly spoilt potentate or doted-upon brat.

The rhetorical semblance of his outside experience stems from the simple fact that he was not— and arguably still not—the originator of the line attributable to George Bush.

A speech given as if he was in the grip of astral projection.

That detachment, that out-of-body experience, was, and still is, a telling indictment on the intellectual personality of Akufo-Addo, of the nation at large.

And it shall remain indelibly so on the emotional graveyard of his political epitaph—so long as the public memory stays alive no matter what.

Still, the philosophical profundity of this Bush-esque line and its intellectual appeal to the human mind are not in question.

What is rather in question is Akufo-Addo's detached cemeterial silence over the politically motivated hooliganism, vigilantism, and vandalism of the Invisible Forces, a criminal organization, as well as of the so-called State Asset Retrieval Committee, or Assets Recovery Task Force. In one moment Akufo-Addo is telling a Ghana-based Diplomatic Corps that he will make Ghana a hub of social, political and legal justice—the Mecca of the rule of law in Africa.

The next moment his elitist, detached silence signals tacit endorsement of the gate-crashing tendencies of the Invisible Forces, a "militia" attached to, or a military wing of, the New Patriotic Party (NPP).

Thus he remains imprisoned in this paralyzing paradox of political inaction, from which it is also becoming abundantly clear that no tenable route exists for his escape, in this case lending credence to a popular opinion in some quarters that he is, after all, behind this blatant, articulate circumvention of due process by members of the Invisible Forces who have gone on a nation-wide rampage under the pretext of retrieving state properties.

Akufo-Addo has thus become a spectator, not a citizen. The man is in a full denial mode! This view however contradicts the moral and hopeful subtext of his inaugural speech, a speech made of stolen parts.

Akufo-Addo is playing the ostrich while his militant hyenas have gone on a rampage feeding on the blood-soaked carcasses of due process.

And this man is supposedly a human rights lawyer, supposedly one of the nation's finest lawyers, supposedly one of the key architects of "Kumi Preko."
On the one hand, Akufo-Addo's detached silence constitutes a natural antithesis of citizenship.

On the other hand, he makes it look as though citizenship does not require active participation in the political process and nation-building.

There exists no workable synergy among citizenship, collective responsibility and active participation in the political process insofar far as his failure to rein in members of the Invisible Forces is concerned.

This lack of operational synergy in our political duopoly is bound to turn the Flagstaff House into a den of political criminals and subverters of the rule of law.

And, this, unfortunately, is the trend. Or rather the case.

Now, let's refresh our memories with how Bush defined "citizen" for Akufo-Addo:

"Citizens, not subjects; responsible citizens building your communities and our nation."

What we are therefore getting from Akufo-Addo's behavior is that those whom the Invisible Forces are hounding tend to be the "subjects" in his political calculations, while members of the Invisible Forces and his sycophantic political playmates are "citizens."

Akufo-Addo is therefore denying his "subjects" due process in a court of competent jurisdiction.

This is actually what is done to Black America in many a sad, regrettable situation.

In other words, these "subjects" are treated without the benefit of due process under what Akufo-Addo calls "the rule of law," the same manner African Americans are subjected to racial profiling by some in White America who do not see their African-American brothers and sisters as "citizens" in the American experiment

Eugene Arhin, the man who reportedly took the heat for the plagiarized speech without knowing he will ever be caught and accordingly apologized for it, completely ignored the historical and contemporary context of race relations in America as far as the text of the Bush-esque speech goes.

The notoriety of Akufo-Addo's plagiarized speech, either advertently or inadvertently transplanted this controversial context onto the Ghanaian political and moral landscape.

A rather direct or indirect corollary of this working hypothesis is that it somehow evokes a striking parallel context between Akufo-Addo's Akan exceptionalism and his misguided take on the question of the presumed primacy of the Akan, who, again, in his warped opinion, is naturally endowed to fill the headship of political governance to the absolute exclusion of members of other ethnic groups, a dangerous political statement reflected in his Yen-Akanfuo nonsense as well as in those genocidal comments from Yaw Osafo-Marfo and Kennedy Agyapong.

Leaders like Akufo-Addo should not forget that our unitary nation-state, Ghana, was founded on the progressive principles of social inclusion, ethnic and racial equality, gender equity and equality, social justice, economic prosperity for all, and so on.

We cannot afford to underestimate the potential of these social-political variables to make and unmake the political character and integrity of the Ghanaian body politic.
It is, therefore, not strange that the social inclusion of all ethnic groups in the national enterprise constitutes the overwhelming motif of our philosophical world, our moral algorithm for a progressive national narrative.

Yet, while we may not have chalked or recorded sterling, inviolate achievements and successes in each of these categories, there is no excuse whatsoever for us not to be hopeful that asymptotic approximations of these measurable though burdensome categories of social indicators are far from practical realization.

Realizing these noble goals however boils down to citizenship, social justice, political morality, equity and fairness, and political action.

As a matter of fact any concept of citizenship devoid of patriotism is meaningless, absolutely meaningless.

Akufo-Addo's plagiarized speech failed to establish this distinction. This uninspiring speech, in a way, disregards the social contract between the moral roles of citizenship and patriotic citizenship.

In our opinion, his speech takes after Maradona's "Hand of God" in this regard.

And oh, yes, Dear Reader, we will also settle on the honorific titular address "cynical optimists" or "objective pessimists," however we deem fit.

THE ROLE OF EDUCATION IN MENTAL COLONIALISM

Free education is now the newly trumpeted panacea for all our myriad national problems. Of course, free education has become a homeopathic Midas touch under the new administration.

This is an excellent idea nonetheless, but we also need to ask ourselves this simple question:

What has become of the Unemployed Graduates Association of Ghana (UGAG)?

Maybe this question is not even necessary after all. What is necessary then? We are referring to the kind of education that produces the corrupt and unpatriotic breed of ruling class we have in Ghana today.

The kind of colonial education that, among other things, only leads to a Guggisberg-like learning economy which, in turn, churns out a desert-forest of unthinking spectators of the debilitating national dilemma.

This colonial Guggisberg-like learning economy with its concomitant market economy breeds what Frantz Fanon called "dependency complex." At the same time it is this Guggisberg-like learning economy of chew-and-pour or rote-pedagogy that has produced celebrated plagiarists like Eugene Arhin and Akufo-Addo. It is extremely to know that the latter has now come to terms with the idea of moving away from the Guggisberg economic model of dependency complex.

We should make it clear that what we mean exactly by "the Guggisberg-like learning economy" has nothing to do with any specific institutional character, per se, but rather by the categorical lack or absence of authoritative independence and initiative which the African Academy is expected to enjoy. Our argument is that the African Academy is merely an appendage to external authority and approval.

Our institutions of learning are so helplessly dependent on external research initiatives and findings, patronage and funding to such an extent that they are incapable of standing alone outside the approving authority of external chaperonage. This is not to attack or reject international efforts in the arena of research activities.
Rather, more often than not some of these research collaborations do not necessarily or directly speak to the immediate resolution of our myriad of problems. This reinforces the notion of dependency complex. Yet we still have the models of the West and emerging economies to learn from.

Rather, the kind of Freirean, Diopian and Nkrumahist education that says citizenship is a radical instrument of independent, confident mindedness, far departing from the kind of education that churns our men and women of first-order emotional buffoonery and spectatorial sychophancy.

Certainly, too, not what Dr. Kofi Kissi Dompere calls "irreducible ignorance" and "cognitive imbecility."

At the moment Africa cannot boast of an independent mind because it has none. What we have is a mongrel or hybrid of the Eastern-Western mind. It appears we have drifted too far from African-centered critical pedagogy to make sense of our entrenched yet sorry mental colonialism, particularly in the Humanities/Liberal Arts/Social Sciences.

What we need is a productive compromise between the best of the Western and Eastern models of development of against a backcloth of African-centered pedagogy. The African mind is in effect the property of East-West dichotomy, the African mind itself being remote-controlled by this bloodsucking dichotomy not in the interest of the African but of this dichotomy.

Akufo-Addo is therefore right to make his free-education signature a strategic policy focus of developing the "intellectual property of the mind." This should not be empty rhetoric as we have seen with almost all our political leaders, save the great Osagyefo Dr. Kwame Nkrumah, a visionary and political powerhouse whose progressive ideals continue to shape events in Ghana, Africa and across the world. Still, we have to ask this question that has long been a staple on our minds:

What kind of education makes reprobate thieves and political criminals out of an "Honourable" or "His Excellency (H.E.)" in Ghanaian politics?

Day in, day out, we are finding it almost difficult, almost impossible, to ignore the fact that the colonial and unpatriotic education being fed to Ghanaians today make for a tantalizing moral equivalency between armed robbers and our politicians.

Otherwise, what can sufficiently explain or account for the teeming idiots and buffoons we have in parliament, say, thieves and political criminals we respectfully address as "Honourables"?

We have lost US$6 billion, and still counting, since we began exporting oil and yet, it is these idiotic, morally corrupt, and unpatriotic parliamentarians who chose to promote and adopt the Ghana Hybrid System (GHS) over Production Sharing Agreement (PSA).

What sort of education breeds this kind of political criminals and thieves, the same kind of education that churns out lawyers and horse-wig-wearing judges who believe bribery, tubers of yam, goat meat, sex, massage and the like are superior to justice?

Is this the kind of education that the reformed cynic himself, Akufo-Addo promises to sell to our fertile forest of impressionable minds free of charge?

Akufo-Addo is that scheming, pomp billboard that preachifies virtue while practicing vice.

He does not see the glaring moral contradictions between the All-Die-Be-Die hooliganism, vigilantism, and vandalism of his Invisible Forces and his public pronouncements on his supposed uncompromising beliefs in the rule of law and due process.

The shady character is simply a stark status symbol of Orwellian hypocrisy.

Now look at Yaw Osafo-Marfo, Akufo-Addo's friend. Now also take a close look at Ken Ofori-Atta, Akufo-Addo's friend and blood relations. Which of these two looks more like the Heritage Fund?
Definitely the ethnocentric hegemonist Yaw Osafo-Marfo!

FOOD FOR THOUGHT: SOME CRITICAL QUESTIONS

Are the children who study under trees "citizens" or "subjects"?

Were those six children who died in that avoidable "deathtrap" which some are calling "classroom" citizens?

Are those children who are forced to study in KVIP-toilets "citizens" or "subjects"?

Are nurses, teachers, national service personnel and other public servants who go months without pay "citizens" or "subjects"?

Are our useless politicians who are always paid on time against the backdrop of humungous ex-gratia payments and awards citizens" or "subjects"?

How can those dead innocent children and loudmouth Kennedy Agyapong, perhaps Ghana's foremost political buffoon, share in the same citizenship of the same progressive unitary nation-state?

How could Akufo-Addo have been part of the institutionalization of the Ghana Hybrid System?

Does Akufo-Addo's "All-Die-Be-Die" and "Yen Akanfuo" make him a "citizen" or "subject"?

Does Kennedy Agyapong's reported genocidal pronouncement to the effect that "Akans (Asantes) should massacre Gas and Ewes" make him a "citizen" or "subject"?

Does Montie 3's threat to "kill and rape judges" make them "citizens" or "judges"?

Does Abdulai Naaba, Collins Dauda's brother's statement that "I kill people every day" make him a "citizen" or "subject"?

And, are our thieving political criminals, who are always on open display of material extravagance, also "citizens" or "subjects"?

We shall return…