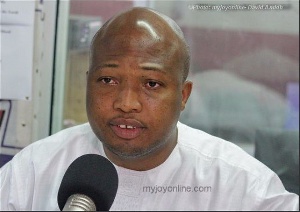 By Kwame Okoampa-Ahoofe, Jr., Ph.D.
For a government that had been taking undue advantage of Muslims and Zongo residents and left a humongous debt of GH? 33 million by its gross mismanagement of the Hajj Board, it is rather interesting to hear Mr. Samuel Okudzeto-Ablakwa, one of its leading shills and prime beneficiaries, obscenely claim that President Akufo-Addo's all-too-principled and conscientious decision to implement a tuition-free Senior High School system come September 2017, was made possible by "some strategic investments" that the former Justice and Foreign Minister supposedly inherited from the recently ousted National Democratic Congress' regime led by President John Dramani Mahama (See "Mahama Government Leaves GH? 23 M Hajj Debt" Citifmonline.com / Ghanaweb.com 1/19/17; also, "Mahama Made Free SHS Possible Not Akufo-Addo – Okudzeto" Peacefmonline.com / Ghanaweb.com 2/14/17).

Predictably, I did not expect the Tongu-North charlatanic Member of Parliament to offer any substantive evidence in support of his viciously vacuous propagandistic claim. The loud-talking thirty-something-year-old school boyish former Deputy Education Minister also claims that President Mahama had decided it best not to implement a tuition-free Senior High School policy because there was a woefully inadequate number of schools available to render such a laudable policy initiative a ringing success at the time.

Well, the problem that this young career politician has here in peddling such criminal mendacity is that Mr. Okudzeto-Ablakwa, predictably, does not and cannot offer any concrete or palpable evidence to shore up his claim. For instance, he does not tell his audience precisely how many more schools Mr. Mahama added to the already existing stock of Senior High Schools between 2012 and 2016, and also what percentage such an increment represented to make it more feasible for President Akufo-Addo to auspiciously implement his tuition-free SHS policy.

The Mahama flunkey also needs to tell us why he thinks and believes that all pupils who qualify would be able to secure a place at an SHS come September this year. Needless to say, if his claim had validity, nobody would still be debating the woefully inadequate availability of Senior High Schools in the country even as I write.
But even more importantly, as I noted in a previous column, why are Mr. Okudzeto-Ablakwa and his former prime benefactor also not talking about some of the specific and available funding sources specially created to make the implementation of such a policy initiative easy for President Akufo-Addo? The fact of the matter is that every Ghanaian is well aware of the indisputable fact that the main focus of the Mahama regime had been to "create, loot and share," as one pundit poignantly put it not too long ago.

To be certain, I am not even sure whether any of these NDC apparatchiks have ever created any worthwhile public intervention program for the use of all Ghanaians, regardless of ideological stripe or persuasion, from the striking of oil off the coast of Cape-Three-Points to the salutary implementation of the National Health Insurance Scheme (NHIS).

All they know how to do is to ravenously steal taxpayer-underwritten properties and march to the Flagstaff House rudely demanding to be paid gratuities for doing absolutely nothing productive in our august House of Parliament. Then also must be pointed out the fact that none of these Cash-and-Carry faux-socialist ideologues knew anything or cared about a tuition-free Senior High School system, until then-Candidate Addo Dankwa Akufo-Addo made it a part of his policy proposal in the lead-up to the 2012 presidential election; and then the self-proclaimed North-Star cannibalized it and started loudly talking about the same.

It goes without saying that it would take far more than making empty claims in the shameless attempt by these political goofballs and charlatans to take credit for policy initiatives and programs undertaken by the more progressive governments of the New Patriotic Party.