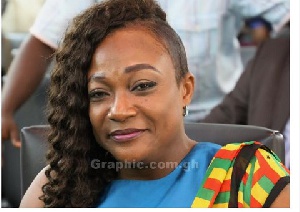 February 14 was St. Valentine's Day. The day and events that lead to it is when most men find value for females. Social media updates by men all point to engaging and showing "love" to their partners.
The past week or so, the media had given so much attention to the deeds, lifestyle and manners of women. This attention, of course, has been fueled by what you and I have engaged in, in our homes, offices and on social media.

From the women Ministers of State, who were vetted by Ghana's parliament to our female media personalities and celebrities, we have had our own idealizations of them. Stereotyping women isn't new. I have written about it before, but the past weeks make me want to have a bite on it again, thanks to Counsellor George Lutterodt.

There is this video that went viral on social media where Counselor Lutterodt is seen chiding Ghanaian actress Victoria Lebene, popularly called 'That Ghanaian Diva.' "You are in love with your father. Small girl like you, you want to kill Kofi Adjorlolo; you want to kill the man for us, the only actor we have," the Counselor is seen warning the young lady, amid sobbing from her.

The husband-to-be, Kofi Adjorlolo, last year disclosed her relationship with the 27 year old actress. The actor had plans of making her his wife. In 2011, there were reports that the actor, who is in his 60s, lost his wife-to-be, after previously failed marriages. The young actress is reportedly considering suing the Counselor, if he did not retract his "attacks" on her.

Mesdames Otiko Djaba and Ursula Owusu-Ekuful, ministers for Gender and Communications respectively, also got Ghana talking during their vetting in parliament.
The fact that they both exhumed intelligence were not hidden; however, their composure, and so-called respect or lack of it, was what gained grounds.

For Otiko, the controversy was all about her attitude as a woman. She was found to be confrontational, and unrepentant, attributes that did not match a woman, more so a Gender Minister. She also had some explaining to do about her hairstyle, a style Mr. Alottey Jacobs, Central regional Chairman of the NDC described as "gladiator hair cut."

Otiko Djaba, over the weekend couldn't have reiterated the point any better, in an interview with Joy News, where she described her hairstyle as symbolic of the new Ghanaian woman: "When you ask me about my hair, you discriminate against me because I have the right to maintain my hairstyle; it is not crazy, and it is very African. People call me the Swagger Mama. They enjoy me because I am young at heart, and when I hit the campuses, they are happy."

For Ursula, she has been known and branded as firebrand, but she "surprised" even the men on the vetting Committee when she indicated she was a "changed person." She was praised for her admission and unexpected candour. The fifty-five year old Gender Minister and former TV host and producer, obviously has a statement to make: that women should be allowed to have their way, so far as it does not breach any cultural and societal norms and rights of people.

It appears society has its own prescribed codes for women. By far, the most cantankerous minister to be vetted was Dr. Owusu Afriyie Akoto, the Minister for Agriculture. We talked, but no one, none attributed his arrogance to the fact that he was a man, and men are not supposed to act as such.
When it comes to marriage for instance, women are put under a lot of pressure. Even those who are married and are childless are not spared either. So when Counselor Lutterodt for example takes TV presenter Nana Aba Anamoah and actress Joselyn Dumas "to the cleaners" for having children out of wedlock, and appearing comfortable with the situation. According to the counselor, the ladies will never marry because of their situation.

Then I ask: why are the women at the receiving end? In our society, I am yet to come across a situation where a man has been married off to a woman, or where an adult woman has married a man against his will. I presume the man has a lot of stake who he decides to marry. So if a lady in her twenties decides to accept the proposal of an "old" man like Kofi Adjorlolo, why should the woman be the object of scorn? Why do we see it normal on the part of the man, but abnormal on the part of the woman?

On GH One TV's "Hard Talk" last Friday, Counselor Lutterodt admitted to being a good friend of the veteran actor. Then I ask, why can't he counsel his good friend to make a wise choice, so that the actor's life is spared, instead of attacking the lady?

I believe men find solace in targeting women, rather than their fellow men. This may just be in our genes. And these stereotypes we have made of women have reflected in our creatives, where we have made them symbols of objectification. Next week, I will analyze some of these works by a popular Ghanaian artiste.