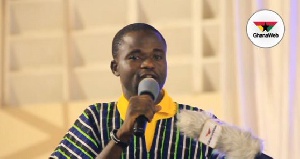 My brother Alhassan Suhuyini, it's not wrong for a journalist to openly praise a government for doing something right. I have my reservations about this policy, but what the NPP has done is far different and better than the NDC's so called free SHS.
We cannot ignore the political capital the party will score for being honest with the people as far as this policy is concerned. In 2008 and 2012 elections, the NDC's promises to ensure quality and expand access in secondary education were more convincing than the NPP's free SHS slogan. But your party seemed to have taken the mandate of Ghanaians for granted. Next time when your party gets the people's mandate to rule, it can go and build day schools in the middle of villages, many kilometres apart, where commuter vehicles don't ply; and get a deputy minister to fly drones and flood social media with the images. Build an interchange, commission it at night and tell us that you have achieved an eight wonder of the world.

Subsidize fees by 48 cedis per student and call it free SHS. Let the president go to Ada with pairs of sandals (some as large as size 42) for basic school kids, take photos and put it in the green book as a social intervention. With all its faults, the free SHS and how comprehensive it is is a message to the people that the government takes them seriously. It's political capital is massive. If President Akufo-Addo gets serious about the stealing of state resources by public officials and so-called business people, the programme can be sustained.

We will continue to criticise the seeming neglect of the infrastructural development, but the details of this free SHS deserve commendation. One may hate Mayweather but one must not fail to acknowledge his boxing prowess.
Happy birthday, bro.

Me:-I have not finished laughing????????????????????