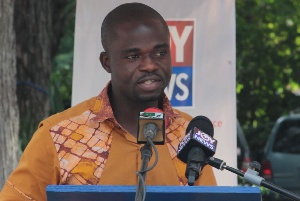 I perused through Manasseh Azure Awuni's seemingly tentative and pompous missive addressed to His Excellency President Akufo-Addo with a gleam of suspicion (See: 'What happened to the mess you promised to fix-Manasseh asks Akufo-Addo'; ghanaweb.com, 10/11/2018).
The Joy FM journalist stressed: "Mr. President, the GYEEDA scandal was one of your main campaign weapons in the 2016 election. It was one of the main reasons you and the NPP said the John Mahama government was incurably corrupt and must be changed."

"Why is President Akufo-Addo refusing to act? Is it because you are "benefitting directly from the theft" which your party accused President Mahama of?"

I could not agree more with Manasseh: indeed, John Mahama's administration was corrupt to high heaven.

It is also true that but for Ghanaians pragmatic intervention in the 2016 general elections, Ghana would have been wiped off the world map without a trace.

Our point of departure, though, is Manasseh's isolated thinker's assertion that Akufo-Addo has failed or failing to fix the mess he promised to fix.

Besides, I bet Manasseh Azure Awuni did not think through before choosing to ask President Akufo-Addo whether he is benefiting from the alleged theft. How pathetic?

Isn't it boundlessly unconscionable for anyone to suggest that a politician who can even reject the juicy trappings of a ministerial post can be corrupt?

Like him or not, it is absolutely true that the man Akufo-Addo has been in active politics for well over forty years and there hasn't been a single corruption case against him.

So, why must anyone with a reflective mind think that the septuagenarian president will now indulge in malfeasance?
Let us remind Manasseh that in the GYEEDA corruption scandal, a competent court of jurisdiction has convicted two of the numerous corruption suspects and sentenced them to six and twelve years respectively.

More so despite Ghanaians concerns over the lack of prosecutions of more corruption cases, a few of such cases are being prosecuted in the competent court of jurisdiction.

Take, for example, on 14th March 2018, the State filed a case of causing financial loss against the former Chief Executive Officer of COCOBOD and the CEO of Zeera Group of Companies and Agricult Ghana Limited, who have been accused of embezzling over GH260 million under the watch of former President Mahama.

What is more, the alleged SSNIT $72 million corruption scandal will most likely end up in the law court. And, the NCA corruption scandal is pending in the law court.

Besides, credible sources have confided in some of us that forensic investigations are progressing steadily in a number of bribery and corruption cases which took place in the outgone Mahama's administration.

There is also a possibility of the double salary grabbing NDC Members of Parliament having their day in the law courts.

I have always maintained that Westerners are not less corrupt than their African counterparts. But what makes the people elsewhere much more responsible than a Ghanaian and Africans as a whole is the rigidity of the state institutions and the effective laws and regulations.

It is absolutely true that elsewhere, the laws and regulations are strictly enforced, and as such the vast majority of the citizens and denizens prefer the observance to the stringent fines and the harsh punishments.

It must however be emphasised that in as much as the followers have a duty of obligation, it is up to the leadership to bring sanity into the system by strictly ensuring that all laws and regulations are enforced without fear or favour.
So to me, the introduction of the Office of the Special Prosecutor by President Akufo-Addo is a pragmatic way of tackling the rampant bribery and corruption cases head-on.

Indeed, the appointment of the Special Prosecutor and the subsequent inauguration of the Special Prosecutor's Board by His Excellency President Akufo-Addo on Thursday 12th July 2018 was a testament to the president's unwavering commitment and willingness towards the fight against the canker of corruption.

It is against such background that I cannot buy Manasseh's specious claim that Akufo-Addo is not committed to the fight against corruption.

In fact, throughout Manasseh's dreary and lengthy pompous critique intended to address His Excellency President Akufo-Addo, he recklessly nagged, grouched and censured his addressee with impertinent boldness.

In fact, it is somewhat heart-wrenching that a supposedly seasoned journalist would choose to show gross disrespect by attacking a serious, a committed and a forward-thinking president who has vowed to venture deeply into corruption issues.

How could a supposedly trained mind defy the ethics of his profession and show boundless disrespect to no less a person than the president of the land? What sort of parental upbringing did Manasseh receive?

Is that how Manasseh addresses his parents? He is indeed making nonsense of the majoritarian Africa culture of respect. How disrespectful can he be?

In fact, I cannot get my head around Manasseh's somewhat sophistic and an isolated thinker's view that the president is not showing enough seriousness and commitment towards the fight against the canker of corruption. How pathetic?

How could anyone with the skill of reflective thinking aim accusing fingers at a leader who has created the Office of the Special Prosecutor with the view to investigating, prosecuting and retrieving stolen monies from the corrupt public officials?
To me, the creation of the Office of the Special Prosecutor, arguably, remains the single most important accomplishment of President Akufo-Addo's administration thus far.

And more so I was extremely intrigued reading Manasseh's understanding of effective governance. Apparently, he fecklessly cast aspersions and sought to denigrate the presidency.

I was also baffled when Manasseh out of impishness and youthful exuberance, decided to tear into the JOSPONG Company for reasons best known to him.

Of course, it is a known secret that Manasseh has an issue with JOSPONG's business approach, and hence the open enmity.

But as the indefatigable Nelson Mandela of blessed memory once said: "why must your enemy be everyone else's adversary?"

In fact, Manasseh's argument is, at worst, infantile. As a supposedly seasoned journalist, doesn't he know that a man is innocent until proven guilty? Is he that ignorant?

In his obvious high sounding and lengthy pompous critique of an article intended to censure President Akufo-Addo and JOSPONG, Manasseh revoltingly made references to the effect that the president is not doing much about the GYEEDA corruption scandal and more so he is ignorant on the ongoing JOSPONG corruption investigation.

But let us remind the journalist that they are mere allegations until a verdict by court of competent jurisdiction.

To be quite honest, I cannot get my head around Manasseh Azure Awuni's bizarre line of argument. Did he really expect a lawyer of high-standing like President Akufo-Addo to condemn JOSPONG publicly because, he, (Manasseh) has allegedly found JOSPONG complicit? That is never a reflective thinking, so to speak.
Get it Manasseh: the fact that JOSPONG is allegedly being investigated by the law enforcement bodies does not mean a president of such repute can interfere, upbraid and criminalise the said company in the open without any conviction by a court of competent jurisdiction.

Well, no matter how hard you may try, your worst enemies can never be anybody's antagonists. Why must you harbour such a bizarre mindset?

In fact, Manasseh's pompous critique of an opinion piece is impugnable. It rather scandalises the intelligence of President Akufo-Addo. Is he trying so hard to take Ghanaians for fools?

Frankly stating, if anything at all, discerning Ghanaians have the ability to decipher between good and bad.

In the past, I defended Manasseh against what I viewed as unfair criticisms on his person, but how wrong I was, after all.

K. Badu, UK.

k.badu2011@gmail.com