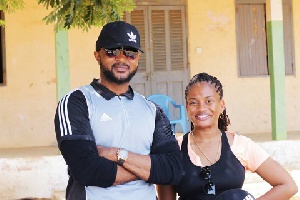 As the youth population in Ghana continues to spiral, it brings with it enormous challenges on families, communities, institutions and the state.
One of these challenges is youth unemployment which potentially breeds crime.

Social commentators have warned that in Ghana, the problem is nearing crisis proportions.

If you have never been a victim of crime, perpetrated by a youth, you might dismiss the statistics and warnings.

Yet we are all potential victims; either someone we know personally or someone who has been a victim of a crime in a public place, at a function or even in their own home.

Records available indicates that a lot of these crimes are being committed by young men, sometimes with young female accomplices.

The number one motive is to get money either to feed themselves, an addiction or a habit.
Whatever the case, there is a serious problem in Ghana.

The number of young juvenile offenders in detention should be a major concern to society.

It is for this reason, that Martha's Compassion has devoted time, resources, logistics and expertise to support the institutions that deals with young offenders.

Martha's Compassion which is an NGO charitable agency has been working with juvenile delinquents and young offenders for some years now.

A sewing center at the Senior Correctional facility encourages training of the boys.

Significantly, occasional contracts for them to sew and improve their skills means the boys can also earn money even whilst in detention.
Meanwhile Martha's Compassion has held a number of beading workshops at both both Correctional Centers( Boys and Girls) to enhance what they have already been taught.

Martha's Compassion believes beading is an art and hence engage master beaders to teach the detainees how to express the art in their own unique way.

My personal experience with the mentoring sessions was truly a humbling experience.

Again, it forms part of the vision to connect detainees with with celebrities, successful entrepreneurs and even ex convicts who have defied all odds to make it.

Ultimately, the bigger picture is to radically change the mindsets of the youth so that the cycle of crime is broken.

This is in line with Martha's Compassion's main aim of bringing total reformation in order to cut down risk of re-offending thus reducing youth crime rate.
When I was invited to be a speaker at a Sports Day organised by Martha's Compassion, I did not hesitate to accept the invitation.

It was a fascinating experience and insight for me.

My encounter with over 200 mostly teenagers allowed me to address them as ordinary youth and not necessarily young offenders.

As Jasmin Baidoo explained to me during the course of the interactions; " The whole idea is to talk to them, engage them and find out how we can improve their lives so that they leave the detention centre as better citizens".

I was curious to learn about what caused them to commit the offences or crimes, that got them into trouble with the law.

Beyond this, and more significantly, what steps are being taken to be reform and integrate these youth back into society.
In our part of the world, it is easy for society to judge, to label and to look down on young offenders for various reasons.

Yet we must be mindful of the fact that if we are not victims of their crime, it could be a brother, a sister, a friend, a relative or a colleague, as recently occurred when a colleague TV producer and his wife was attacked in his own home by thieves.

Whatever you can support with, whether it's one bag of sachet water, one tin of Milo, one carton of drink, cooking oil, or reading books would be greatly appreciated.

If you cannot donate, then perhaps your time and presence at strictly regulated interaction sessions would also be greatly appreciated. "No act of kindness, no matter how small, is ever wasted". Aesop

Since my first encounter with the young offenders in Accra, I have fully pledged to support Martha's Compassion using Sports to Engage Young Offenders.