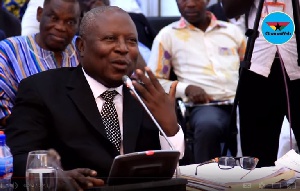 I want to make a few observations on comments made by Honourble Haruna Iddrisu, during the vetting of Special Prosecutor nominee, Mr. Martin Alamisi Amidu.
First, let's look at the question by the Honourable Iddrisu as reported: "The man in the arena doesn't knock his chest as you are doing. (Emphasis Mine) Are you sure we won't settle matters the builsa way, knowing that you're from Kadema?" He went on to add: "give assurance to this committee."

First, according to the Merriam-Webster Dictionary, "chest-thumping" (knocking), is a conduct or expression marked by pompous or arrogant self-assertion – political chest-thumping (knocking). This is my first concern. To have used such a description on the nominee was not only provocative, but also suggestive. I guess Parliament's work is guided by decorum and respect for others. To have cast his statement this way, was totally a blow below the belt.

Another fact to note is the fact that in the north, various tribes are what we term as "play mates". Tribes that are playmates can joke with other, irrespective of status. So a Sisala person can call the Builsa paramount chief his slave and that will be for the passing. Examples of such playmates are Dargabas and Frafras (Grunis), Kasenas and Sisalas, Builsas and Gonjas/Sisalsas. Builsas are not playmates with Dogombas so, even if the Honourable Iddrisu said it jokingly, I think he forgot we're not playmates. Under the circumstances, to joke over an issue, which is serious, couldn't have been accepted by Mr. Martin Amidu. Let's assume it was a joke. Jokes are between peers or close friends. The two are not peers (not sure they are close friends) and traditionally not playmates, so the joke was misplaced.
The other issue is about the "Builsa way". It is a misnomer as there is nothing as the Builsa way. The use of the term "Builsa way" started with a secondary school teacher in the 70s. The context in which it was used has been misrepresented over the years and has become derogatory. People use it to depict the Builsa person is violent, prone to fighting and aggressive. This negativity is unwarranted in Parliament and much more, to link it to a tribe and specifically, Mr. Amidu's hometown. Mr. Amidu's response was to reject this negative tendency as expressed in the statement. This blow was below the belt and therefore unacceptable. It was good Hourable Iddrisu apologized, though with reservations.

What a lot of people don't know is that the typical Builsa man or woman, is fearless, truthful, assertive and unwavering. Because we uphold our integrity and adhere to our convictions, others think Builsas are difficult to work with. But, what they fail to realize is, we're friendly, jovial, accommodating and flexible in our dealings with others. I have read on other platforms how arrogant Mr. Amidu is because of his posture and how he responded to the question being discussed. The socialisation process within the Builsa culture teaches you to be bold and fearless. It teaches you to be upright and to respect elders. Mr. Amidu is a typical Builsa man, irrespective of growing up in Bawku and therefore was being his true nature – a Builsa man.

We live in a multi-cultural society and in analyzing the behaviour of people, let's not forget their cultural backgrounds, otherwise, we will be stereotyping. Let us not instigate anger and hatred under the guise of "doing my work". I am convinced, Honourable Haruna Iddrisu did hit below the belt hence the response received. Action and reaction are always opposite and equal to each other.