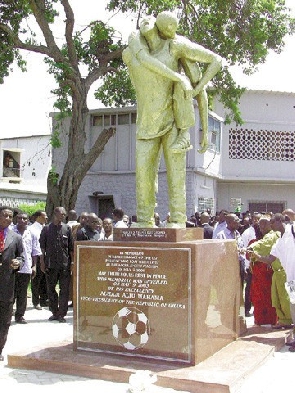 Tell me, please…
What's the scariest thing you ever saw on television in your childhood?

Michael Jackson's epic yet incredibly ghoulish Thriller video?

Or, perhaps, was it one of those Nollywood movies with a coven of witches happily feasting on some poor soul's liver at midnight?

Whatever it is, everyone has a dusty folder of such frightening memories locked up in some obscure corner of their brain that probably still sends shivers down their spine whenever recollected. It doesn't matter how much you've grown since last seeing them; they're just so bad they simply wouldn't be wished away.

Well, I'm no different, only that the most terrible pictures I ever saw on a TV screen weren't some creepy, make-believe stuff. No, they were far more real and far less forgettable. Heck, it's all so vivid I even remember the date itself!
I was just a little boy back then, on that fateful night of May 9, 2001, watching football on the television with my dad and his dad (both deceased now), a game between Ghana's two biggest clubs, Asante Kotoko and Hearts of Oak. Growing up, I supported the latter for one simple reason: whenever the Phobians won, life at home was so much easier, even if only for a few hours.

My grandfather was more likely to fulfil any odd wish of mine when high on a Hearts victory, while my usually composed Papa would always go into a tailspin — anger at everything and anything initially (at which point it was best to just avoid him), followed by a total breakdown. All the years I knew that man, nothing plunged him to the depths more than a Hearts defeat, trust me.

On this particular day, though, it was I who wasn't feeling well — and with good reason. Hearts were losing at home to the old enemy and I was in a room which had suddenly grown stuffy with these two staunch fans on edge. Actually, I'd joined to watch the game hoping to benefit from a possible victory, given what substantial windfall I could reap if the spoils from such a high-profile encounter went the Oak family's way, but things weren't looking particularly bright at this point.

Before long, though, the storm cleared and a big, bright rainbow — courtesy two quick goals from Hearts' star forward Ishmael Addo to peg the score at 2-1 – shone through. My lips curled into a mischievous, satisfied grin only I could interpret. My grandpa, a devout Catholic, was literally kneeling in front of the TV set saying his silent prayers as he usually did whenever Hearts were holding on for a win.

Oh, my dad?
Well, he had one eye on the action being transmitted on the screen, while the other scanned his wardrobe for what attire he'd step out for a drink in, if indeed this was going to prove one of 'em good nights the Black Eyed Peas sung about.

And then it started — that nightmare I mentioned at the outset. The television cameras panned to the stands to show some spectators, aggrieved by what they perceived as biased officiating, breaking the plastic seats and hurling them onto the field.

"What in the Virgin's name are they up to over there?" grandpa yelled in alarm.

As though on cue, my dad echoed those words a few moments later — only in reaction to something else that was now happening at the Accra Sports Stadium. Police officers present had spotted the brewing trouble and, in a rash, thoughtless response, started firing tear-gas into the terraces to quell it.

They'll kill people," dad said. In the next few hours, his prediction would be fulfilled in the most horrific way imaginable. Nobody could have guessed how many, and few believed the final death toll even after it was officially declared sometime later: 127.
One-freaking-hundred and twenty-seven!

Even uglier were the details. The tear-gas triggered a stampede as the thousands present at the stadium — located not too far from our Nungua home — rushed out of the place for dear life. The weakened got trampled to death, but the majority fell to compressive asphyxia in what would be recorded as Africa's worst stadium disaster ever. The cameras no longer focused on the pitch — there wasn't much to see out there, anyway, with the footballers long huddled up in the dressing room for safety — but merely alternated between the fans in the stands and the police on the tracks below.

Father put on the shirt he'd picked for his celebratory outing and exited the room, my hand firmly locked in his, while my grandpa moved towards his radio for more information on the surreal developments. We found more people outside, including some who had loved ones at the stadium on a short trip they made every week. Were they returning safely tonight as always?

That question was rudely answered when radio stations started breaking down the direness of it all. Lives were being lost at a rate that didn't inspire much hope in hearts craving the embrace of absent friends and family. And then came the indecision: should they head to the stadium themselves or to the capital's many hospitals (where ambulances and taxis were conveying victims) — or simply wait out at home to see who would turn up and who, Heaven forbid, wouldn't?

That feeling of panic and despair continued as news — mostly bad — began filtering in. As hours extended into days, families were either relieved or thrown into mourning depending on the state – dead or alive — in which their beloved were found.
In the larger picture, though, it didn't matter whether or not you lost someone on May 9; we — from those as old as my grandpa to young ones like myself who could barely understand what was going on at the time – all lost a piece of ourselves.

Indeed, that wet, dark night's ghastly events robbed us all of something that hasn't been regained even 19 years later. And, regardless of how much more time passes, that missing part of our fabric as a people would never return — and neither should May 9.