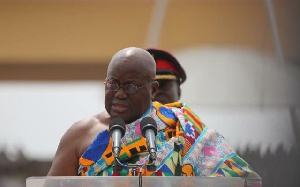 Open letter to the president.
Dear Sir,

During your third State of the Nation's address to Parliament, you begged both the NDC and NPP to meet and voluntarily disband their party militia.

That gave you up either as an accomplice in the crime of party militarism or a weak leader to deal with insecurity which has hemmed the country in.

Firstly I begin with why you have become an accessory to crime.

Sir, why are you treating political crime differently from other crimes?

Will you give known armed robbers, kidnappers, traffic offenders, wife butchers and rapists the laxity of a political conference to willingly give up on their crime or the state will seek justice for those they have hurt?

Those engaged in party militarism are involved in crime. They kill. They maim and they destroy state assets. They subvert the sovereign will of the people by brute force to impose their choice of leaders on the polity.
Your failure to punish these acts, committed against the people of Ghana by persons, including those in your political party, makes you an accomplice and complicit in their criminal acts.

Already there exist potent accusations against your government of integrating party militia in your political party into the regular security agencies.

For instance, one gentleman, Double, who testified before the Short Commission, probing the Ayawaso violence, admitted to being polling station chairman of your party prior to being drafted into the National Security Council.

Another example, yesterday the world was treated to shocking revelations by one of Ghana's foremost investigative journalist, Manasseh Azure Awuni. In that documentary was "de-eye group," a political militia with about 5000 men whose office is at the office of the president annex, the Osu Castle.

Again your claim that there is no law banning party militarism only shows the extent of your complicity and attempt to buy time.

Sir, here is what the law says. In Section 200A of the Criminal Offences Act, 1960 (Act 29), inserted by section 5 of the Criminal Offences (Amendment) Act, 2012 (Act 849), it states:

"Organised criminal group"
(1) A person who participates in an activity of an organised criminal group commits an offense and is liable on conviction to a maximum penalty of death and to a minimum penalty of not less than five years imprisonment.

Sir, you have admitted openly that your party also has party militia. The question though is the extent this criminal organization contributed to making you the president, which would explain your lethargy in disbanding them according to the law.

Weak leader

Sir, has the security situation of this country overwhelmed you?

Does it not strike you as odd that over a single by-election security concern, you have set a presidential probe, the Inspector General of Police is also conducting a national investigation and political parties have been asked to meet to also fashion out a remedy?

Sir this was just a by-election. How then will you handle national electoral crises? Can the district administration of the Ghana Police Service where the election took place not handle any security fallout from that election?

Already you have called for the assistance of the United Kingdom and the United States of America to help you find three girls in Takoradi, allegedly kidnapped by a suspect who is already in police custody.
This is no different from your earlier call on 194 Interpol countries to help you find one man, Nana Appiah Mensah, who is alleged to have violated a bail bond, when in fact he was already in police custody in nearby United Arab Emirates.

If we need the assistance of the UK, USA and the other 198 countries to find three missing little girls and one man, what kind of assistance will Ghana require when the country is attacked by a foreign power?

Already crime is festering and flourishing in every single corner of this country since you became president.

Aside from the missing Takoradi girls, in Kumasi, the shooting of the NDC activist remain unresolved. In Madina, where Ahmed Hussien Suale was murdered, he remains dead there with no sign of justice to his widows.

The same story is true for JB Danquah Adu in the Eastern Region. His widow alleges that instead of justice, she is being sexually molested by officers of the state investigating her late husband's death. So too is the story in Tema. The murder of the Ghana Ports and Habours Authority staff remains unresolved.

Sir, the above points to a weakness on your part to keep this country safe. But more than that, it points to a failure on your part to create the economic environment which will make crime less attractive to the youth.

What work do you expect the party militia to do when they are disbanded?
You do not expect "Mr. Double" to go back to selling mobile phones. Do you?

Who will be interested in vigilantism if they had legitimate means of earning a living?

Even worse is the rising costs of living. Interest rates are high. Lending rates are high. The cost of doing business is high. Fuel prices and other commodities are still on the increase.

When you make a man unemployed and increase the prices of commodities, you are simply asking him to either choose death by starvation or crime. They have chosen the latter knowing that you are incompetent at both. The end.

I remain a citizen.