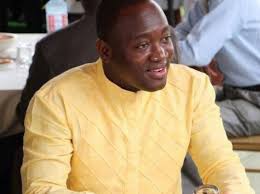 If the eyes of a corn will grow bigger, it starts from germination, our elders say. Alhaji Alhassan Suhuyini has proven that his service to the people of Tamale North Constituency is his life, even before he is voted to represent them in Parliament.
They can now heave a sigh of relief, because it is established that they have found their Moses in him as a dependable candidate therein who will lead them to cross the political red sea out of political oblivion).

He has hit the ground running .His works have shown that he is getting down to business. And so are his words.

As somebody who has been monitoring him from the time he declared his intention to contest the NDC's parliamentary primaries, which was held in 2015, his passion for the constituency's progress keeps increasing like a fire in harmattan. I have realized that he has begun fulfilling the promises he made to the people prior to the primaries.

He had vowed that he would bring all his contenders on board to help reclaim the lost seat for the NDC, if he won. And true to his words, he visited all of them; his colleagues who could not make it at the parliamentary primaries, in their various houses, just a day after his victory, and sought for their support.

Even as I write, his main contender, in the person of Mohammed Abdul Salam has been spotted severally in his company doing party works; communal labour. Clean-up exercise. Monitoring poling centers during registration, and so on and so forth.

And this union means - danger for his opponents and the president on 7 November. He has used his connection to secure a bus for one of many Senior High Schools in the constituency; Kalpohini Senior High School (KAAS). He has provided many street and security lights to the people. He avails himself to the people. Visiting them every fortnight and sometimes weekly to find out their problems and possibly get them solutions.
Hon. Dahamani, the current MP who won the seat independently due to internal disagreement that resulted from the 2012 parliamentary primaries should have resigned honourably, because the party is now as united as a swamp of bees behind its candidate.

The MP is described by many as the worst MP the constituency has ever had. "He has virtually done nothing since he was voted into power," a constituent said. To him, Tamale North is beyond Hon. Dahamani's ability. He is Mr. go-slow, steering the affairs of the constituency at a chameleon pace...

He acts like a dazed boxer in a boxing ring, throwing punches at everyone, including those who have come to help him to his corner to regain his energy. As per the information I am privy to, he has fought with all those on whose support he rode to the house of legislature. And they have dumped him for Alhaji Alhassan Suhuyini.

To me, it isn't that he won't, but he can't. Because he is "ma ka duu," which literally means, a child of a divorced mother. And if I were him, I would gladly throw in the towel.

The NPP has been overly sluggish in their desultory search for political power in the constituency. Alas, they have made a woman their candidate for the 2016 elections. He is considered a political weakling; a tyro in the game. Worst of it all, she is virtually not visible on the ground which is a sign of NPP's frivolity, going into the November 7 elections. Suffice it to say, the party is not ready for the seat.

In a nutshell, if the NDC and its candidate maintains this fervor, vigor and valor, they shall emerge victors with a widest margin on November 7 .