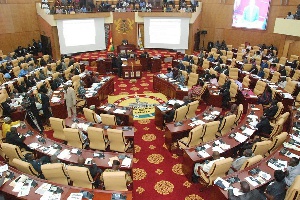 Ever since the NPP assumed power,most of the NDC MPs and executives have always been throwing dust into the eyes of the good people of Ghana.
The former Deputy Minister of Information and Education and MP for North Tongu in the Volta Region, Hon. Okudzeto Ablakwa alleged that the first Eastern Regional University main campus which is going to be completed in 2019 and is situated at Somenya is going to be resituated at Bunso in the Akyem Abuakwa Constituency, hometown of the President.

The minority MPs recently alleged that the government was going to increase the number of Presidential staffers which was totally false.

And just few days ago, The Minority in Parliament accused the government of diverting US$650 million, which is the first tranche of the $1.3 billion cocoa syndicated loan for the 2018/19 crop year, into other areas.

This was made in a statement signed by the NDC's ranking member on Parliament's finance committee, Cassiel Ato Forson.

The minority MPs have made a lot of false allegations against this government just to make the government unpopular but that won't stand.

The Minority MP's have every right to criticize the government but they must make sure they get their facts and figures right and must be ready to prove their allegations.
We have pressing issues as a nation that we need you to add your voices to but not to make false allegations.

#2020 is A Must Thank you. 0204904295 David Antwi Boasiako Arise Ghana youth for your country the nation demands your devotion,let us all unite to uphold her,and make her great and strong,

We are all involved in building our motherland.

Service to God and Nation God bless our homeland Ghana. Long live Ghana Long live NPP Long live Ghana Parliament Long live Nana Addo Dankwa Akuffo Addo

( Member, Critical Thinkers Int(CTI) - Middle belt./NPP Communicator/Youth Activist/Secretary Tescon - Gcuc/Executive Member Youth For Accountable Governance(YOFAG) )