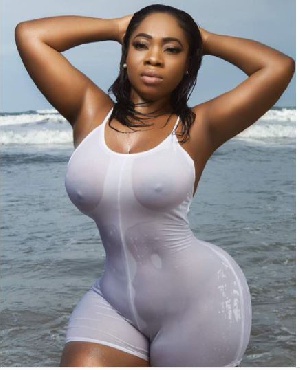 Introduction
The media was agog with condemnation, criticisms, and high moral perspirations after Moesha Buduong interview on CNN by Christiane Amanpour. This article is intended to focus on what I refer to as the 'Moral Economy' that should be examined from this interview. It is a fact that the rise in side-chicks, mistresses, and side-cocks is a worldwide phenomenon.

The issue of side-chicks, sugar daddies, and concubines are nothing new. It has always been associated with humanity, long before the age of internet technology of people who are of high and low, rich and poor, and highly spiritual and earthly inclinations. It becomes more pronounced during the so called 'mid-life crisis' for men.

The Hypocrisy

The pretence of Christian Amanpour - feigning surprise at Moesha's statement of dating a married man because of an economic factor - is a demonstration of hypocrisy and skewing the situation as peculiar to Ghana and for that matter, Africa. There are more sugar daddies websites in America, Europe, and the Middle East than Africa. Secondly, the hypocrisy of the Ghanaian, especially the women, is most shocking. What is even more sad is, the press release by Otiko Afisah Djaba, Minister for Gender, Child and Social Protection condemning Moesha. It may be assumed that, the Minister is deficient in the socio-sex and money trends that have developed over the years in Ghana and the world, and her lack of understanding the true import of Moesha Buduong's interview.

This is not to say that there are no hard-working Ghanaian women out there.

Some Statistics

As recently as January 2018, the Miami New Times reported findings of a new study: "Florida Students Choose Sugar Daddies Over Loan Debt". It stated that "Forty-four million Americans owe a total of $1.48 trillion, and the average class of 2016 grad is saddled with $37,172 in debt". As a result of this, "about a third of sugar babies are college students".
Does this not sound familiar in Ghana and Africa as well?

A research conducted on one of the sugar daddy websites (sugardaddies.com) revealed the following statistics; 1,379,706+ Active Members out of which 258,830+ are Real Sugar Daddies, and 1,120,876+ are Beautiful Sugar Babies.

What is the purpose? The girls are there for financial help. And the men? Because they want someone young and hot. It is an open arrangement. Is this not more honest than 'stringing someone along pretending to be in love when you are using them as a meal ticket'?

The 'Moral Economy' Figures

In order to justify how 'morally' pure we pretend to be when it comes to love, sex, and money, a further research was conducted on pornographic websites. I shall use the statistics of the most visited website (Pornhub) to conclude.

2016 Year in review revealed quite informative statistics. In 2016, 91,980.225.000 porn videos were viewed. That is, 12.5 videos viewed for every person on earth. Total visits to Pornhub in 2016 was 23 Billion. 64 million per day, 2.6 million per hour, 44,000 per minute, and 729 visits per second.

Apart from Google and Netflix, Pornhub is the third bandwidth consuming company in the world. According to various reports, currently, the porn industry's net worth is about $97 billion. This money is enough to feed at-least 4.8 billion people a day. Porn Sites get more visitors each month than Netflix, Amazon and Twitter combined. In fact, X-rated Video, on its own, is bigger than Dropbox, CNN and New York Times combined.


Hours Spent on Pornhub And Bandwidth Used in 2016

Hours

4,599.000.000 hours, 191, 625.000 days, 27,375.000 weeks, 524,641 years, 52,464 decades, and 5,246 centuries.

Bandwidth

3,110 Petabytes or 3,110.400.000 Gigabytes (GB). This is enough to fill 194 million USB sticks, 11,000 kilometres around the moon.

Top Ten Countries With Per Capita Page Views in 2016
USA comes top with 221 per capita page views, followed by Iceland with 202 per capita page views. 3rd is United Kingdom 189, 4th Canada 186, 5th New Zealand 173, Ireland at 6th with 171, Norway 158 at 7th, Australia 154 at 8th, Sweden 152 and 9th and Netherlands with 144 per capita page views at 10th position.

Conclusion

Moesha Buduong generalization is spot on and accurate. Generalization is a general statement or concept obtained by inference (conclusion reached on the basis of evidence and reasoning) from specific cases.

The increasing number of Sugar Daddy websites in thousands across the globe and over 23 billion visits to pornographic websites yearly at increasing crescendo, is clear evidence that the 'moral economy' is the fastest growing industry in the world. The methods of making money are just different: it may be through porn, sugar daddy/side-chick, pseudo-boyfriends, prostitution or any form of relationship that is financially beneficial.

Sugar Daddy or relationship- induced by economic factors is a worldwide phenomenon which Moesha Buduong appropriately explained and was honest with her subscription to it. She raised very fundamental economic situations that confront Ghana and the world which is shaping love, sex, and money decisions of both men and women. It will be appropriate to embrace her honest position and collectively deal with it with solutions instead of pretentious condemnations. Plus, if we claim we are so morally pure, is it aliens that visit and patronize these websites?

Shalom!

The author is a Governance and Policy Analyst