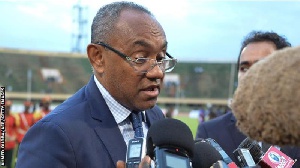 I recall the small hours of the morning of 16 March. At the Reception area of the Radisson Blu Hotel in Addis Ababa, Ethiopia, little groups huddled together, chatting, whispering silently, with the occasional outburst of laughter.
People were walking across with somewhat confidence – a swagger that could be seen from a mile off as nervous and unsure.

Truth is – no one really knew what was about to transpire in the coming hours.

Every FA President knew what he was going to do at the ballot booth, but was unsure of what his colleague will do.

Hmmmm….the morning of elections in African football – always a spectacle for the neutral, but nerve-wracking for the candidates.

It is exactly one month to the day today – one month since that momentous, historic moment when, from the Observers' viewpoint – the votes were counted, the CAF General Secretary went from the counting table, had a very brief chat to the First Vice President Patel, and a simple shrug of the shoulders was all that was needed to know history had been made.
One month now since Ahmad, Malagasy, 57 year old deputy head of his country's Senate, and President of Madagascar Football Federation since 2003 was announced as the elected President of CAF – to steer the ship of African football for the next four years.

It has been one quiet month that has seen the development take its time to sink in with every watcher and follower of the African game. The calm that has enveloped African football has no doubt allowed many football federation leaders to take stock on their respective roles in what happened on the 16th of March.

It has allowed Ahmad to see first hand, what he is stepping into.

It has raised controversy, questions, debates and discussions across many platforms in Africa, on where we go from here.

We have talked extensively about the Lagadere contract; talked about the fairness of who should host AFCONs and why. We have found people talking about the secretariat of CAF and how it is positioned regarding staffing and resources. A lot of big debates have been going on.
The beauty of it all is that new CAF President Ahmad has remained calm in it all, watching, listening, reading and learning. He is not rushing into anything. He is taking his time. Because when he does move and takes steps, they will be decisive, meaningful and will serve the overall interest of developing the game of football in Africa.

Ahmad has a lot of work to do. He has a lot on his plate. Africa is looking up to him. Many, however, are also looking for him to fail so that they say "we told you so".

But it has been one month of calmness – one month of taking it all in and sizing things up.

But surely, one month where we have come to accept that Change has come to African football, and Ahmad is the symbol of the change. And it remains our collective duty to ensure that he does not fail, because we do not want African football to fail.

From this month on, the only way is up for African football.