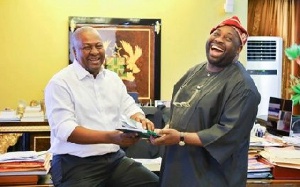 By Prince Obeng-Adjei
That is, if he ever had any on the Ghanaian market. It will be preaching to the choir about how Mr Dele Momoudu has done really well with his ovation magazine business and all the international recognitions he has gotten in his lifetime.

However, Mr Momodu has in recent times surreptitiously turned himself into an unofficial mouthpiece of the ruling National Democratic Congress using his magazine to tout the achievements of Mr John Mahama.

The corporate guru has been throwing around cold comforts to suffering Ghanaian people about how heaven sent this government is through his publishing and granted interviews. Mr Momodu deserves national plaudits, really, for using how 'transformed' the Kotoka Airport has been under this administration to be a parameter for how frightening Ghana is making progress towards the goal Dr kwame Nkrumah had for us.

I cannot peacefully agree to how Mr Momodu rates this government but I guess that is the beauty of life, we are diverse people. Transforming the lives of the people who spent 2 hours or more in queues shouldn't be about the ambience at the airports, the superfluous designs at the Kwame Nkrumah circle or the Senior high schools which their children won't attend (for reasons best known to themselves).

Contrastingly, it should be about the improvement in the quality of healthcare delivery, an improvement in education (remember ISSER said the quality is decreasing?), a careful guidance of the national purse and the pursuit of auspicious plans.
I am painfully aware of the loss of jobs due to 'dumsor' and the effects it has had on several families. Mr Momodu, I presume, should be aware of the number of graduates who are unemployed due to harsh economic conditions we are facing. All Ghanaians are aware of the emptying of our troubled nation's treasury by some 50 plus million Ghana cedis for a business man called Woyome and fierce defense the AG is putting up against the Citizen Vigilante, Mr Martin Amidu for the reversal of the payment in court. He should not turn a blind eye to all of these!

We have lived in this country long enough to know whether or not we are actually being transformed or only a sect is being transformed. Mr Momodu may be a part of those who have been sheltered enough from the harsh economic conditions we are facing. If you ever happen to meet him, do tell him that a scam called SADA once existed and it is now re-branded and given new wads of cash, a man called Woyome is still enjoying his loot and Mansions are springing up with 'graduate' ministers as their owners.

Change is what Ghanaians are clamoring for. It is not about the ads in the Ovation Magazine or the glossy billboards, Mr Momodu! It is about a government that will create jobs, a government that has promised to set up an independent prosecutors office to deal with graft, a man who has openly thrown a challenge to anybody on God's green earth to bring up any accusation of corruption if there is any against him, and a government that has proven to be well grounded in sound management policies and economic forecast through their 'economic prophet' (Dr Bawumia).

This government will not come by the force of arms or by violent interpositions but by the thumbs of suffering Ghanaians. We will not barter our future for the little goodies given to us.

Our pains of hardship may not be familiar, Mr Momoudu but please do not call them unfounded. Congratulations on your new alliance, Godspeed in your efforts.