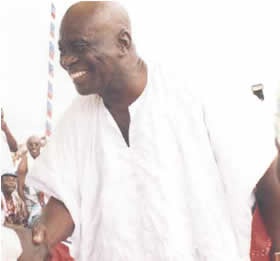 Can President John Agyekum Kufuor nominate Akwasi Agyeman as a Kumasi chief executive again?

Kwasi Agyeman should have realized that his NDC status cannot keep Ashanteman under the image of an autocratic NDC regime. Akwasi Agyeman has human rights abuse records under his belt and faced ethical issues during his time as a chief executive in the Kumasi Metropolitan Assembly (KMA). Now Akwasi Agyeman is trying to use the influence of money with some assembly members to help him get the position that he thinks he was born with: to be the only chief executive in Kumasi. I am therefore warning those assembly members who are using this unethical procedure in helping Akwasi Agyeman. They should understand that if they pursue Akwasi Agyeman?s agenda, we will make sure that they will never get elected again.


I am calling for the attention of the Kumasi Metropolitan Assembly to indict Akwasi Agyeman on two counts; unethical conduct and human rights abuses. During Akwasi Agyeman?s time as a Kumasi chief executive he took billions of cides from the city?s tax collection revenues, which were supposed to be used for developments in the Kumasi metropolitan area to his NDC boss John Jerry Rawlings to support their autocratic party. This is a serious crime to the assembly. They need to file criminal chargers against Akwasi Agyeman. If the president appoints Akwasi Agyeman as a chief executive, the NDC party will laugh at Kufuor and his NPP?S party.

Nanaanom Oyoko Abusau and Nana Otuo Siriboe Juabenhene should advise Akawsi Agyeman to stop disgracing the Ayoko families in the Ashanti Region. They should vigorously disagree with John Agyekum Kufuor for giving any political appointments to Akwasi Agyeman for thinking he can challenge Otumfuo Osei Tutu 11 the Ashantehenen, and be disrespectful to him as he did during the NDC administration. We don?t need Oyokoba, who underhanded motives against his own ethnic group. Kumasi metropolitan chief executive positions are not for school dropouts. We need a professional person who has the skills to manage our resources and improve the quality of life for residents in the Kumasi metropolitan area.