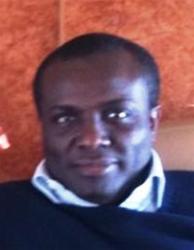 Libya has been in the news a lot lately, but for the wrong reasons. Once tagged a state sponsor of terrorism by Western powers, notably the United States of America and the United Kingdom, Libya would earn a comeback to the international community, after Muammar Gaddafi startlingly turned over to The Hague two Libyan intelligence officials implicated in the Pan Am Flight 103 bombing over Lockerbie, Scotland, in December 1988; renounced the pursuit of nuclear weapons; closed down terrorist training sites, once littered across his country; and compensated the families of the victims of the aforesaid Pan Am Flight 103 air disaster that killed 270 people – 259 aboard the plane and 11 on the ground. Sadly, while Gaddafi appears to have improved Libya's foreign policy significantly, Libya's leaders still have a dark side: the unwarranted arrests and executions, mainly over trumped-up charges, of many foreign nationals residing in Libya. One such victim is Henry Kwadwo Djaba, Jr. – and his family wants some answers.




Henry Djaba, Jr., is now the face of the large number of Ghanaians currently serving time in Libyan jails, detention centers and prisons. Each independent nation wants its laws and jurisprudence respected by the international community, but the international community cannot be held hostage to Libya's laws that are unjust, selective and dehumanizing. It is also true that Libya endorses the death penalty, but such a penalty cannot be considered fair if it is applied injudiciously and unlawfully. Sadly, many black Africans, conceivably because of their Negroid features, are unfairly harassed, beaten, jailed and, at times, executed in Libya, the courts passing judgments that are based primarily on the embellished testimonies of a few xenophobic indigenes.





While many Ghanaians domiciled in Libya have complained about the rough treatments meted out to them constantly by their hosts, our national government, spearheaded by John Atta Mills, seems to be uninterested in seeking the facts of each case and assisting its citizens. Ghana has an embassy in Tripoli, but reports emanating from different sources reveal that senior officers at the embassy, those in whom the powers of the Ghanaian Government are vested, generally refuse to assist fellow Ghanaian citizens in distress. What then is the purpose of the Embassy of Ghana in Libya, if I may ask? Is assisting Ghanaian citizens not one of the roles of our many embassies?




It is very easy for some of us reading this piece to take a condemnatory position against Henry Djaba, Jr. – some may wonder if innocent foreigners are actually ever mistreated in Libya – but people are wrongfully jailed or executed in some part of the world every day! Just a few years ago, it came to light that several black men were either jailed for long periods or put to death in the 1960s in Texas – and the appalling executions were, contemptuously, based on the false testimonies of some incorrigible racists. We all must applaud those who discovered DNA, because it finally gave back freedom to many blacks – some were held in U.S. jails for between 20 and 30 years! – who were incarcerated over trumped-up charges. Some Ghanaians are facing a similar problem in Libya, where their light-skinned hosts presume that their skin color makes them superior to their guests!





Ignorance is a disease, so goes a popular adage, but the Government of Ghana and its citizens do not have time to dwell on skin pigmentation at this time – there are Ghanaians languishing in Libyan jails and they ought to be freed! These Ghanaian men and, possibly, women are not all in jail because of crimes committed in their host nation. If a non-Arabic-speaking Ghanaian is arrested and sent to court, and then proceedings are held in Arabic without a translator being present, how could anyone declare such a trial as fair and just? We need to, as a nation, take the pleas of fellow Ghanaians languishing in Libyan jails very seriously, for many of them, because of their penury, cannot afford private attorneys, which means that they must depend on state attorneys who are also part of the same tyrannical system!




It was reported recently that a 37-year-old Ghanaian, Kaizer Hemman, was tortured and killed by some notorious Libyan agents – but could Hemman have been freed if Ghana's consul to Libya had intervened and sought a fair trial for him? Perhaps, the answer is "yes." Libya executed 18 foreigners in June 2010 alone, and only the Libyans would know if all of these men were, indeed, guilty of the crimes for which they had to pay with their lives. While the majority of those who died were said to have hailed from Chad, Egypt and Nigeria, Libyan leaders' disregard for human rights has reached an unpleasant crescendo – and Amnesty International's Malcolm Smart, the organization's director for the Middle East and North Africa, and the Honorable Abike Babiri-Erewa, a member of Nigeria's House of Representatives, are among notables who have denounced the recent killings. But why are many national leaders across the continent of Africa quiet about Libya's illegal executions?





I am saddened by the fact that Ghana's Foreign Affairs Minister, Alhaji Mohammed Mumuni, has not fully investigated the situations of Ghanaians illegally detained in Libya, but has rather come out to deny news reports that some Ghanaians faced imminent danger of death in Libya. That the taxpayer-supported Embassy of Ghana in Libya has done very little for poor Ghanaians caught in the mesh of Libyan injustice is what Alhaji Mumuni ought to be most concerned about. Unless our foreign minister makes it clear to his Libyan counterpart that Ghana will no longer tolerate the indiscriminate incarceration, torture and execution of its citizens – some of the incarcerated Ghanaians have made it very clear to Ghanaian leaders that they did not receive fair hearings – the Libyans will continue to abuse the rights of foreigners.




Henry Djaba, Jr., 45, a British citizen of Ghanaian descent, was invited to Libya by Mohamed Treki, son of Dr. Ali Treki, the current president of the United Nations General Assembly. Mohamed Treki is a business associate of Henry Djaba's. Mr. Djaba arrived in Libya on August 4, 2009, but no one has heard from him since March 31, 2010 – and calls to the Libyan authorities have yielded nothing. We are calling on Dr. Ali Treki, Libya's ambassador to the United Kingdom, Libya's ambassador to Ghana, Ghana's ambassador to Libya, and Libyan authorities in Tripoli to use their collective influence to help locate Henry Djaba, who is, unquestionably, being held in a Libyan jail without being formally charged with a crime.





Reports reaching Henry Djaba's family indicate that the former was forcefully taken in the streets of Tripoli by plain-clothes security agents; his location is, so far, unknown, as alluded to earlier. I am thus appealing to the Libyan leader, Muammar Abu Minyar al-Gaddafi, and his progressive son, Saif al-Gaddafi, to order the immediate release of Henry Djaba and other Ghanaians who are being held unlawfully in Libyan jails. The Libyan leader should free Henry Djaba because he has the power to do so and also because the latter's human rights have been clearly violated, as he has been held for several weeks now without an indictment.




Please visit the following page on Facebook.com for more information on Henry Djaba: http://www.facebook.com/pages/Missing-Person-Henry-Djaba-junior/119250861437164?ref=ts





The writer, Daniel K. Pryce, holds a master's degree in public administration from George Mason University, U.S.A. He is a member of the national honor society for public affairs and administration in the U.S.A. He can be reached at dpryce@cox.net.