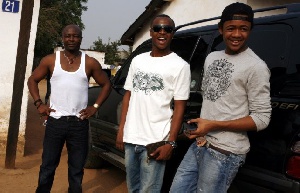 Sat, 16 Mar 2013 Source: Tetteh, Nii Ayitey
by Nii Ayitey Tetteh




I took part in a volunteer program once, during my days at the university. The program was curiously named 'Creating Typhoid Fever Awareness' In the midst of sensitizing students about this tropical disease, we realized how easy it was for people to personally misdiagnose typhoid fever as malaria, and go on to treat for malaria. Luck eluded many, losing their lives in some cases.


My object here is to point out the similarity in the misdiagnosis of one ailment for another, even in the circles of football. My concern has to do with the unnecessary fixation on getting the Ayew brothers to rescind their decision to temporarily retire from Ghana's senior national team, the Black Stars.


The football space in Ghana over the past 3 weeks has been filled with talk, and letters going back and forth about the temporary retirement of Andre "Dede" Ayew and Jordan Ayew from the Black Stars.




The 2 sons of arguably Ghana's greatest player ever, Abedi Pele Ayew, wrote separate letters informing the Ghana Football Association about their decision. Dede cited psychological trauma after being dropped from the team that participated in the 2013 African Cup of Nations (AFCON) in South Africa. Jordan sarcastically cited lack of playing opportunities, though he Jordan, deemed himself fit and in form, to be a part of the team. So they said, but then you could clearly read between those fine lines that the boys were hurt by their omission from the AFCON team for reasons they believed were more political than football. The trust was clearly broken.


The Ghana Football Association (GFA) dramatically rejected the retirement letters, asking the brothers to reconsider their decision to which the brothers responded, further reiterating their position to break from international football. You would think that, the matter would end there, but no, calls from different stakeholders; fans, media, current and past administrators of the game are growing for some form of intervention to bring the boys back to the national team. That right there is the source of my peeve. Just like treating malaria for typhoid, the Black Stars ailment has been misdiagnosed as lack of quality players while the real causal issues are being glossed over.


I concede that the presence of Dede especially will add to the quality to the team, but should administrators and other stakeholders lose sleep over players, who for one reason or another have fallen out of love with the Black Stars? By all means, resolve the issues of poor man management which seems to be driving players into early retirements, do so indeed, but that is only a symptom not the real cause of the Black Stars' failures. If half of the man hours and energy channeled into persuading the Ayews and other retired players to rescind their decisions are channeled into addressing the real problems of the stars, then the Black Stars might finally have so much of a sniff at the elusive AFCON title in the nearest future. Do I think too much premium is being placed on the Ayew bothers' retirement? Yes I do, and I would proceed to show you why.





The whole is always greater than the sum of its parts

Have you ever heard someone refer to Messi, Casillas, Mikel, Maradonna or Pele as having won the Champions League, AFCON or World Cup? No, they say Barcelona, Spain, Argentina, Brazil or Nigeria. It is teams that win championships. Yes, star players can influence a great deal but NEVER have great players thrived in a fundamentally weak structure; technical or management wise. Don't we all remember the generation of Eddie Ansah, Frank Amankwah, Joe Addo, Tony Baffoe, Emmanuel Armah, Ali Ibrahim, Prince Polley, Nii Odartey Lamptey, the great Abedi Pele, Tony Yeboah; such glorious talents should not only have won cups but should have qualified and represented Ghana at the senior World Cup. Sadly, that generation is remembered more for factionalism than 'functionalism'; Ghana won nothing and couldn't qualify for the world cup. Rather, it was a group with less talent but more heart, unity and an overriding sense of purpose, lead by charismatic Stephen Appiah, that qualified Ghana, not once but twice in succession for the 2006 and 2010 world cups, reemphasizing the point that achievements in football goes beyond an assemblage of super stars.


A team's health and ability to play as one cohesive unit (Tactics and human relations wise) should NEVER be sacrificed to accommodate perceived players of quality who are not ready to give their all. Indeed, if it was about putting 11 quality players together alone, Argentina should have won the last COPA America she hosted in 2011, Chelsea should never have won the 2012 Champions League and more recently Nigeria should never have beaten Ivory Coast en route to winning the 2013 AFCON against all expectations. That Nigerian team dropped and played without some of its big stars like Peter Odemwingie, Obafemi Martins and Taye Taiwo. Indeed, it was a local boy Sunday Mba who starred for the Super Eagles.


Don't get me wrong, quality talent is essential when that talent is available and willing to sacrifice personal issues for the greater good of the team. Those talents also need to be directed and shaped into a winsome side by an experienced coach who does not only pick shrewd tactics but man manages player dissensions. Those talents also need to know and trust that the FA or management team has their welfare at heart, those players need to be given something bigger than monetary consideration to play and die for. When you marry these elements, there may be no guarantees that you would win a trophy but your chances are increased. That is why Zambia with no significant monetary rewards and super stars, were able to play out of their skin to win the 2012 AFCON to honour their 1993 fallen heroes. That was a team united for a cause bigger than their personal ambitions.





Build ye first the team

And the players would come knocking and appealing to honour the national jersey. That is how it should be and not the other way round of chasing after stars hoping their presence would bring success. It is in order to resolve conflict with the Ayews or other retired players, but the energy and attention should NEVER outweigh that which should go into team building. Team building goes beyond assembly of super stars. It is time for the GFA to ensure that there is proper structure to identify talents from the local league and abroad, that way, solid lateral defenders and strikers we desperately need would be identified.


It is time for the GFA to appoint a coach who is actually in charge and picks players for footballing reasons; a coach who wouldn't need to learn on the job by committing elementary tactical errors. It is time for the GFA to employ some of the retired players who can speak the language the players understand and reach out to them in solving inevitable camping issues (Am thinking a Stephen Appiah or Tony Baffoe). It is time for the GFA to stop using monetary motivation and give the players something bigger and larger than life to believe in. When these things are done, the Black Stars would become attractive again, pride and honour will return to the shirt and Ghana will have a team ready to challenge for honours. These are the issues that should engage our time and energy; not an endless pursuit of perceived quality talent, because it is clear, talent alone, has and will never be enough. That is the 'team building awareness' we should be creating. Any volunteers?


niiayitey29@gmail.com


(90 Minutes Newspaper)
Source: Tetteh, Nii Ayitey