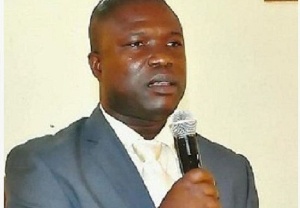 Some elements within the New Patriotic Party NPP in the Volta Region have launched unwarranted attack on journalists and media houses within the region in an attempt to intimidate and kill press freedom.
We called on the NPP leadership in the region, to take urgent steps to protect, preserve and defend the press freedom they inherited from H.E. John Dramani Mahama led National Democratic Congress NDC government.

Free elections, freedom of association and freedom of speech are key pillars in every civilized democracy.

It is most unfortunate that, on Friday October 12, 2018, some NPP hooligans and militants stormed the studios of a Ho based Kekeli Radio, attacked and disrupted their morning show program for hours.

In a related development, the NPP Regional Chairman Mr. Makafui Wongah is alleged to have verbally assaulted and threatened two journalists, Mr. Akpagana Kesedovo Logah and Eyram Ameshi who were both on official duty at the Keta Municipal Assembly. No arrest has been made by the police in these alleged criminal acts of assault, threat and unlawful entry.

We commend the Volta Regional chapter of the Ghana Journalists Association GJA for the swift manner in which they condemned these acts of lawlessness, intolerance and hooliganism.
The call by the GJA on all media houses to tightened security at their premises is a welcome one, though long over due because, if NPP activists could not spare, but chased their own MP from a meeting at Tafo, attack journalists at their National Headquarters and make it a no go area for the Ghanaian press, break and attacked competent and lawful court, then it is just, and most appropriate that, every Ghanaian is reminded about the need for greater individual, corporate and state security under President Nana Addo -Bawumia led NPP government.

Whilst commending the GJA, we also urged them as a matter of necessity, to blacklist and boycott all NPP activities indefinitely to guarantee their own safety because, the atrocities being meted out to the fourth state of the realm and the inky fraternity for that matter has reached its elastic limit.

Long live Ghana

Long live Press freedom

Long live the NDC