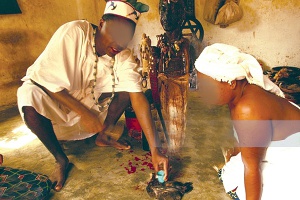 I overheard a conversation between an uncle of mine and his friends over two decades ago and that has prompted this article.
They were sitting in front of our family house waiting for the call to dinner which in 99 out of 100 cases was bound to be fufu. As was their routine, Uncle Joe and his two friends had just returned from the "blue kiosk" nearby in anticipation of the job at hand; the beads of sweat on their foreheads attested to this. I was standing within hearing distance and was therefore privy to their idle chat.

Their conversation had no theme and covered anything which met their fancy. First, it was the village referee who was assaulted recently after a match. Their verdict was straight forward, he deserved it because he was too corrupt.

As Mansah, the young lady with the big behind passed, their remarks were unanimous, "they had come to the world too early". If only they had waited a bit longer, they would be enjoying such juicy girls and not the skinny, bonny women they were cursed with as wives. Surely their mirrors had deceived them.

Then appeared Mr Odineho in his shiny Mercedes Benz, driving leisurely as though deliberate to allow time to enjoy the waves and applause that greeted him. Instantly, the conversation switched to him.

"Koo, and this boy too what is the source of his wealth?"
"Oh you don't know, it is sika duro; how else can such a small boy be wallowing in money while we, his father's mates, are languishing in poverty".

"I hear he acquired some family gold through his mother", another remarked.

"Which gold? My brother forget it, the source of his money is Niger, I know the place", the other said.

"The rate at which he is getting rich, only two things are open to him, either he loses all his wealth and manhood before he turns 50 or dies prematurely. You cannot make genuine wealth at this early age, that is not how God made it".

The last of the three musketeers tried to bring their mind to the availability of loans and the fact that the young man was industrious and may have secured a loan for his business. His friends will, however, not want to hear that. They shouted in unison, "tweaaaa".
This was long ago but sadly, after all these years and the massive exposure that we have gone through as a people, the average Ghanaian tends to attribute success to anything else except hard work. At first, it was Sika aduro then it became Sakawa and now it is occultism.

In a recent publication, two of Ghana's successful musicians, Sarkodie and Shatta Wale, were alleged to be involved in occultism, and that was thought to be the source of their success. And the list of successful people on the occultist list keeps increasing by the day.

While not attempting to hold brief for them, one is tempted to ask whether in our part of the world, it is possible to be successful without resorting to juju and occultism? Are we by extension impugning that all the people making Forbes' Wealthy list are there because of occultism? Are Bill Gates, Mark Zuckerberg, Oprah Winfrey, Mo Ibrahim, Dangote wealthy because of occultism? So, are we by extension saying that successful artistes such as Michael Jackson, Barry White Jay Z, Fella are linked to occultism?

Why can't we acknowledge our own when they get to the top through hard work and innovative ideas? Won't it rather help the up and coming if the media harped on their industry which has made them successful rather than such unfounded and warped allegations?

To cut a long story short, the man who was sentenced to an early death because he had opted to become rich at an early age is not only alive but richer and stronger today.
Those who made him a subject of their discussion and failed to be innovative have rather died very poor without impacting their communities.

While not discounting the existence of evil forces, our main effort as a nation should be to take inspiration from the thousands of our compatriots who are making it through genuine hard work. The youth need to be conscientised to appreciate that success through genuine means is attainable. That should be the focus of our national conversation and not occultism.

The Writer is the acting Director of Public Affairs, University of Cape Coast.

Writers Email: kbaah-bentum@ucc.edu.gh