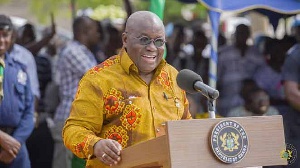 The exact origin of the annual tradition of declaring "New Year wishes" may be unknown, yet the practice is so widespread and popular that millions of people around the world proclaim their "New Year Resolutions" or state their expectations/wishes as they enter each New Year. It is in this spirit that as we just ushered in the New Year—2018.
I will also like to quickly take my Wish Lists to the Jubilee House right there on President Akufo-Addo's desk, hoping that soon after the 2017 end of year holidays, my lists may catch the president's busy eyes.

New Year Wish Number one

Decentralization, and more decentralization is my number one wish. Mr. President, if I'm not mistaken, you campaigned that you would relocate GNPC to the Western Region if you become president. Many of us can't wait to see that happen. There is no point having the bulk of (say) cocoa production in Brong Ahafo or Ashanti region and then have big Cocoa House/Headquarters in Accra. How about petroleum headquarters in Tema or Accra instead of Takoradi/Cape Coast? History will look kindly on you if you focus on cutting-edge policies rather than give in to intimidations and distractions from all the non-creative-obstructionist-empty noises directed at every move you make.

As you may know, when cities and towns overflow with a large population, they become more urbanized and sprawl phenomenon often becomes part of everyday life. Sprawl is simply defined as directionless/arbitrary growth represented by insufficient access to important uses of land such as building jobs, houses, public schools, health centers, recreational facilities, and mass transportation. No doubt, sprawl not only threatens the quality of life in the cities but also it creates huge socioeconomic disparities between urban centers and rural areas; where the latter areas perpetually remain at the disadvantageous position.

Even as Ghana becomes more cosmopolitan today, it still looks like no city matters that much except the capital town; everything centers in Accra. In U.S., Washington DC doesn't really matter to average American. One doesn't have to go to DC for a common passport and other important government services. Almost everything is in the state where one lives, so there is no need to travel to the Capital.

Contemporary capital cities serve as administrative enclaves rather than industrial and financial centers.
Clearly, one of the smartest ways of easing congestions and overcrowding in modern cities/towns is to pursue the policy of decentralization. Prospective job seekers flock to areas where they think there are high concentrations of employment opportunities. We all know why the nation's capital, including Kumasi, is a slum now. It is past time many of the industries and bureaucratic agencies be relocated far away from Accra, Tema, or Kumasi. This effort will serve as a disincentive to most potential Ghanaian job seekers desperately looking for work in Accra/Kumasi.

I was in Ghana in May last year; and honestly, an impassioned look at Accra and Kumasi, the two leading cities, presents a prototype substandard metropolis full of traffic gridlocks, trashes, streets replete with potholes, dust, people buying and selling almost everything along the already crowded, tiny streets and roads. Taxis and Trotro drivers stop at unauthorized sides of the roads to load and offload passengers, while the motor traffic police officials busy doing what they know best: Taking bribes from poor motorists. Surely, Accra and Kumasi need decongestion, and decentralization can help a lot.

New Year Wish Number Two

Countries serious about development are fully committed to building first-class roads, bridges, railroads, mass transit, and possess more than one international airport. It takes money to build all that but they worth it because Ghanaian streets and roads are deplorable and full of death-traps.

New Year Wish Number Three

Mr. President, whether they're credible or not, move quickly to investigate or shut down any of your ministers trying/engaging in corrupt practices as many media outlets are alleging recently. Any minister who thinks he/she is a "founding member" of the NPP so he or she can do whatever he/ she wants has no place in Nana Addo-led government. Keep reminding them that there is a veritable chasm between party membership and being a public servant/state minister. At the end of it all, the blame falls on you as the president before anyone else. Any minister who doesn't meet your governing standards can go back to being a party member and leave your government alone. And yes, let the special prosecutor rolls on this year. Ignore the darker kettle calling your pot black.
New Year Wish Number Four

Nana Addo, please do something never before about the galloping police bribery and corruption in Ghana. The most dangerous, anti-governmental progress police officers are those at the MTTU. Some of them even take bribes and tell the poor drivers: "You want a change in government, you get what you want" as if the government of the day asks the officers to collect bribes. "As the recent Anas' police bribery expose' truly reveals, the main reason many innocent Ghanaians are needlessly dying on the nation's roads and highways is because of the MTTU officers.

They're soullessly corrupt without any shred of shame. Most of them own taxis and other private cars out of bribery. According to a relative who drives tractor trailer (articulator truck), the worst MTTU officers are located in Brong Ahafo/Techiman and Upper West areas. I will write in detail soon regarding the disgraceful and anti-national development activities of MTTU in the country.

Lastly, Mr. President, next time you come to the United States try to include Atlanta in your busy itinerary as you visited here during your second presidential campaign in 2012. I don't think we are asking too much for a presidential visit for one of the most important black American cities. After all, ex-President Mahama came to Atlanta when he was president. Such visits enable your teeming backers here to get the chance to mingle with you freely without all the "huuhuu" protocols associated with the Jubilee House.

Happy New Year, Mr. President!